In China, wedding portraits are a Big Deal. Let's put it this way: the whole shebang — sets, makeup, costumes, photographer — can run a couple up to $15,000...in a country where the average income is $3,000.
As Foreign Policy's terrific photo essay makes clear, these images are all about glorifying the bride. While the groom might be in full makeup, he's typically in a subservient role.



While there are often costume changes, the vibe is always different shades of "European." (And this is totally my favorite shot of the gallery, as if it needs saying. It's like what editorial layouts should be.)



G/O Media may get a commission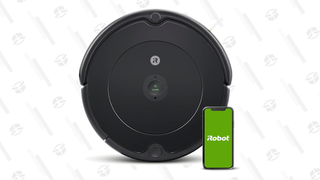 35% Off Black Friday Deal
iRobot Roomba 694 Robot Vacuum
Even if a couple can't afford a real honeymoon, "exotic" backgrounds that suggest travel are popular. When I worked at the American Cathedral in Paris, it was not uncommon for a Chinese couple to come in for a "photo op wedding" — even if they'd actually been married at home. The package also included photo ops in front of the Eiffel Tower. Generally, due to the expense, they were alone or with a very small party.


Due to the large number of wedding parties, locale overlap is inevitable. (Of course, that's also true on the Brooklyn promenade in prime Statue of Liberty position.)



The article doesn't say so, but Jack Vettriano would seem to be a serious influence on a lot of these. It's amazing how different images filter together to create a unique and unified aesthetic.




Beautiful Me! [Foreign Policy]