Fucking Sephora, man. There's nothing like it. Part store, part museum, part laboratory, part psychologist. Densely packed with products, brightly lit as an operating room, gleaming like a jewelry counter, frenzied like a factory, Sephora is not just a cosmetics store. It's a beacon, a flame to which women flit and flock like moths.
Ana Gasteyer Satirizes the Girl Boss in 'American Auto'
Sephora's irresistible allure is global. Earlier this month, Sephora opened a flagship store in Shanghai, China. It has 7,000 products spread over five floors. FIVE FLOORS. Five floors of perfumes, eyeshadows, moisturizers, tweezers, serums, makeup brushes, lipglosses, teeth whiteners, eye creams, nail polishes, hair dryers and body glitter. My god.
The top four fascinating things about Sephora are:
1. How addictive it is
2. How you will find women of all ages and races and socio-economic levels inside (in NYC at least)
3. The oh-so-public grooming on display
4. The complete and utter lack of a male equivalent
G/O Media may get a commission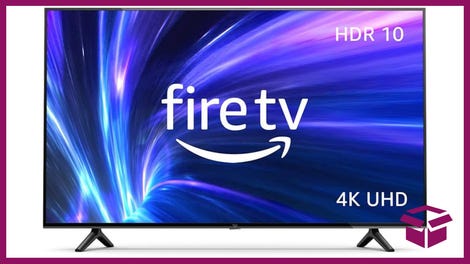 42% Off
Amazon Fire TV 50" 4K Smart TV
This is something women do. Gawk at packaging, test shades of lipstick, search for self-improvement, hope for the best. One mirror at a time.
Men do not do this. Men do not gather en masse and gaze upon their pores in magnifying mirrors. Men's grooming is marked by its brevity; the barber shop may be a chatty hang out, but when it comes to services, guys are usually in and out — snip, snip, done. Yes, men may buy shaving cream or hair products. But not the way women wander, browse, search, look, read, question, quest in Sephora. Weaving through the aisles, ogling but not seeing, wishing for miracles, flashes of brilliance, a magic solution for under-eye circles.
Sephora turns the simple act of maintenance into a luxurious journey towards self-creation (or re-creation). Whether you're into self-help or self-acceptance is up to you; Sephora has not only what you need but what you never knew you needed or wanted.
We arrive at Sephora with dragons to slay: dull skin, small eyes, lifeless hair, lack of a signature scent. On Sephora's shelves stand the tiny knights ready to do battle on our behalf; that Nars Multiple is a little soldier who gallops into war, rose-colored banner waving for you. It's all for you. A better you, a different you. One with longer lashes and bee-stung lips, courtesy of Diorshow and Lip Venom. If you can dream it, you can be it, as long as it involves only your most superficial level of being. Sephora is for your outsides. But, of course, your outsides can change your insides: Slathering on a new bright red lipstick can tap into your inner screen siren, giving you confidence and putting pep in your step. Daubing a new scent in your décolletage can draw out a sensual, reflective side, one who breathes more deeply and suddenly has an urge to read poetry out loud. And there's no explaining the earth-shattering effects the right eye makeup can have — a lingering gaze ignites sparks, and suddenly you're smoldering hot. And feeling it. I can't count the number of times I had a meeting after work — whether it was work-related, a date, or a drink with a friend — and I stopped in Sephora on my way. A blush here, a lip-freshen there, a spritz everywhere and suddenly my whole aura is brighter, bolder. Shoulders back, chin up. Armed.
The problem with Sephora — and there is a problem, ladies in Shanghai, be warned — is that, like many drugs, too much is never enough. Sephora is a smoke monster, a rainbow, a Mobius strip of promises. There's no getting a grip on it. There is no end. There's only more. You can chase the dragon of self-improvement slash self-enhancement slash self-acceptance until the day you die; there's always a new fragrance, a new lip color, a new miracle cream right around the corner. Sucking your bank account dry. You go in for a lip balm and come out with body polish, dry shampoo, BB cream, and Kat Von D's "Sinner" smoky eyes palette. (The are over 100,000 videos titled "Sephora Haul" on YouTube to watch should you have any doubts.) Oodles on display, a myriad of options, infinite possibilities. When you think you've finally found the solution, the crutch, the key, either you run out and need more; they stop making it and it vanishes like so much sparkly Guerlain Terra Cotta dust; or you find that what once satisfied you no longer does the trick. A deliciously sticky honey trap, from which you never fully escape; you leave, but the pull is strong, keeping you coming back.
Fucking Sephora, man.
SEPHORA Opens Its Largest Flagship Store in China [Herald]
Sephora Opens Largest Store in Asia [WWD]