Whether you're going in for an eyebrow wax or a full Brazilian, paying somebody to rip your hair out can present some etiquette challenges. Today, we tackle those challenges head-on.
Before we begin, let's be clear: waxing isn't for everyone. Plenty of people prefer to shave or go natural, and the idea that all women must be completely free of body hair at all times is disturbing to say the least. That said, some ladies (and dudes) may want to avail themselves of commercial hair-removal options from time to time, and our tips can help you do that.
Find an esthetician you're comfortable with.
I talked to Tiffany Taylor, esthetician and founder of Body Waxing Saved My Life, who suggests that to find someone who will make you feel at ease even as they're applying hot wax to intimate areas, you seek out someone who's made other customers feel comfortable. Get a referral from a friend, or turn to Yelp, but look for someone who has good "tableside manner." Consider calling and talking to the person a little before setting up an appointment. Taking your clothes off in front of a stranger can be nerve-wracking, and you'll feel better if you pick someone who makes you feel calm.
If it's your first time, let them know.
Lora Condon, author of Spa Wars: The Ugly Truth about the Beauty Industry, gave me this tip:
If you're getting a service you've never had before, I suggest telling them you've never had this service before and ask the receptionist or esthetician what you need to do or NOT do to prepare and get the best possible result.
G/O Media may get a commission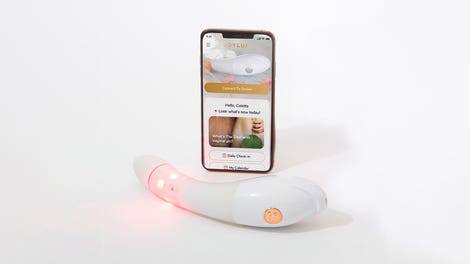 $50 Off
Joylux vFit Gold Device
If you let the staff know beforehand that you're a newbie, they may also be able to set your mind at ease about any concerns you may have.
Be on time.
Says Condon:
Don't be late! Spas run on time and if you're late, the therapist will still stop your service at the time it was supposed to stop so they're on time for the next client.
To maximize your visit and minimize your stress, show up at the appointed time.
Discuss any allergies or sensitivities beforehand.
Whether you're violently allergic to latex or just hate the smell of vanilla, the time to talk about this is before your clothes come off. Condon suggests,
ALWAYS let your esthetician know about allergies, sensitivities or medications, when making your appointment. If you wait until your appointment, you may not be able to get the service and then you risk being charged for the missed service. If you don't tell your esthetician about potential irritants, you can permanently damage your skin.
Taylor adds that your provider should take a full history from you, including any allergies, before you remove any clothes. If that doesn't happen, you may want to go elsewhere.
If you're getting a Brazilian, be prepared to remove your underwear.
This may seem like a no-brainer to waxing veterans, but lots of people who have never gotten a bikini wax before are confused about what to expect. Taylor says that while for a classic bikini wax you could potentially keep your underwear on, for a Brazilian at her salon you'll need to remove it. She adds, however, that she does drape her clients for added modesty and that disposable panties are available upon request. But your comfort level with nudity is something you should think about before you make a waxing appointment.
Don't get a bikini wax on your period.
Taylor advises against getting waxed during your period, both because it's more painful and because it's unsanitary for the esthetician. Condon adds,
For a more painfree bikini wax, do not get waxed around the time of your period. The swelling of the cells during PMS makes waxing more painful. If there is no other way to change your appointment, I suggest PLEASE, wear a tampon instead of a pad and make sure your underwear is clean with no stains. Yes, I have to say this!
If you're satisfied, don't forget to tip.
Both Condon and Taylor told me that a 15-20% tip is customary if you're happy with your wax or other spa service. Condon adds, "It's best to tip in cash so the esthetician gets the full tip with no spa deductions." Tipping well can insure that good estheticians stay in business to wax other people's ladybits with grace and aplomb.
Need help with a sticky social situation? Email us! We'll sweep your social minefield!
For all Social Minefield columns, go here.

Spa Wars: The Ugly Truth About The Beauty Industry
Body Waxing Saved My Life [Home]
Image via red rose/Shutterstock.com