Donald Trump loves traveling, maintaining a lot of properties, sending his kids abroad on Very Important business trips, and living separately from his wife. This means the people charged with keeping him and his family alive are stretched a little thin, and have had issues getting paid for it. Now the Secret Service is running out of cash to pay for this whole nightmare.
USA Today interviewed Secret Service Director Randolph "Tex'' Alles, who seems to want to the American people to know it's a freaking drag following the president around, especially because there isn't enough money to pay them. The federally mandated caps for salary for the entire year have already been hit for 1,000 agents, about a third of the agency's forces. This is in part due to fact that the number of people being protected in this administration has jumped from 31 to 42 since Trump took over. And because he sure loves his golf weekends.
"The president has a large family, and our responsibility is required in law,'' Alles said. "I can't change that. I have no flexibility.''
The constant traveling has also driven a lot of Secret Service agents to leave the ranks. Though they've hired 800 agents and uniformed officers in the last year, there was only a 300-person net staffing gain after people left. Alles is applying to Congress to raise the salary and overtime cap from $160,000 per year to $187,000, but even if it's approved just for Trump's first term, 130 veteran agents will still not be compensated for the hours they've already put in guarding the president at the 9th hole.

While things are far worse now with Trump and his traveling children, the Secret Service has struggled with issues around payment and maintaining their numbers in the recent past. However, things have become significantly more stressful since Trump appeared. The campaign was rocky, and agents had hoped things would level out following the inauguration. Didn't we all? They haven't.
G/O Media may get a commission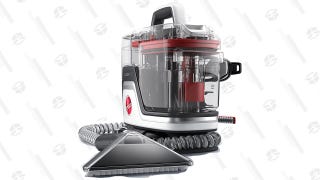 Save $10
Hoover CleanSlate Plus Carpet & Upholstery Cleaner
The costs of safety aren't just related to salary. It's expensive to maintain security infrastructure at all of Trump's favorite locations. Both Mar-a-Lago and his preferred golf club in New Jersey have had to keep regular staff on hand. The cost of housing and travel for the agents is expensive too:
Always costly in manpower and equipment, the president's jaunts to Mar-a-Lago are estimated to cost at least $3 million each, based on a General Accounting Office estimate for similar travel by former President Obama. The Secret Service has spent some $60,000 on golf cart rentals alone this year to protect Trump at both Mar-a-Lago and Bedminster.
Don't forget Melania and Barron in their golden tower, where agents have to rent space from the president to protect his wife and son. Then there's the rest:
Earlier this year, Eric Trump's business travel to Uruguay cost the Secret Service nearly $100,000 just for hotel rooms. Other trips included the United Kingdom and the Dominican Republic. In February, both sons and their security details traveled to Vancouver, British Columbia, for the opening of new Trump hotel there, and to Dubai to officially open a Trump International Golf Club.

In March, security details accompanied part of the family, including Ivanka Trump and husband Jared Kushner on a skiing vacation in Aspen, Colo. Even Tiffany Trump, the president's younger daughter, took vacations with her boyfriend to international locales such as Germany and Hungary, which also require Secret Service protection.
They're protecting Tiffany? Wonder if Trump knows about that.