Oscar-winning screenwriter David Franzoni created Gladiator, and now he's writing the story of a man who battled within the arena of his own mind. The Muslim poet and scholar Rumi lived in 13th century Afghanistan, then the outskirts of the Persian Empire; he is still well beloved, and soon his life will be on the big screen.
Franzoni discussed his new project with The Guardian, and he is drooling over the popular mythology of Rumi's history:
"He's like a Shakespeare," Franzoni said. "He's a character who has enormous talent and worth to his society and his people, and obviously resonates today. Those people are always worth exploring."
Though not completely off-base, the fact that he compares Rumi to Shakespeare might make you wonder for a second if he thinks Rumi was also white. Perhaps he really does:
Franzoni and Brown said they would like Leonardo DiCaprio to play Rumi, and Robert Downey Jr to star as Shams of Tabriz, though they said it was too early to begin casting. "This is the level of casting that we're talking about," said Brown, chief executive of Y Productions, who was also a producer on other hit films such as Se7en, The Fugitive and the Devil's Advocate.
G/O Media may get a commission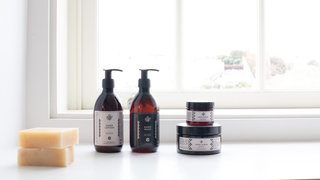 Exfoliate and Hydrate
The Handmade Soap Company
The "level of casting," of course, means they want to whitewash the movie because they can.
Franzoni and producer Stephen Joel Brown have already traveled to Istanbul to interview Rumi scholars, and to visit the poet's burial place in Konya, but they don't seem to have picked up any context clues about Rumi's race and religion.
"We're trying to invent and resurrect a character at the same time because there is so much missing in the shadow of history, and some of it is idealised so you have to go back and find the human being who became a saint, because we can't write about a saint," said Franzoni.
Oh, they're inventing and resurrecting him, that explains so much!
It's actually a banner week for this, as it always seems to be: Comic Book reported that the Korean-American character of Ganke Lee from Ultimate Spider-Man (which also features the multi-racial Spider-Man Miles Morales) has been cast. He's not Korean.
Michael Barbieri will be playing Spider-Man's bestie in the upcoming Spider-Man: Homecoming, alongside our third iteration of a white Spider-Man played by Tom Holland. All my senses are tingling.
---
Image via Getty.