The first season of Ryan Murphy's Scream Queens was a roller coaster—not because it was an unexpected thrill, but because it varied so much in quality, coming strong out of the gate, plunging in the middle, and making a steady comeback by the end. The second season is at a greater disadvantage, mostly because it feels like the exact same roller coaster is upon us—it's just been painted and rebranded as a new ride.
Which is not to say the Scream Queens' Season 2 premiere—titled "Scream Again"—was terrible. It was just boring, which in some ways is worse. Emma Roberts's Chanel maintains her frantic bitchiness, Jamie Lee Curtis's Cathy Munsch (no longer a dean and now the head of an experimental teaching hospital) maintains her steady bitchiness, and Keke Palmer's Zayday is still... there. And that's all fine. These women are very good at the roles they're playing and there's still some enjoyment in watching them play off of each other. It would just be a lot more enjoyable if it didn't just feel like more of the exact same.
Even the structure of "Scream Again" is all too familiar in comparison if you've watched the series pilot. The episode begins with a flashback to a party (this one in 1985 instead of 1995). A group of doctors and nurses at a hospital called Our Lady of Perpetual Suffering (okay, I laughed) are going all out at their Halloween party, ignoring their patients in favor of dancing to Sheena Easton and creating furry homages to Room 237 in The Shining.
So devoted are they to their party that a doctor (Jerry O'Connell) and a nurse (Laura Bell Bundy) would rather ignore a pregnant woman's plea to help her ailing husband and instead leave him to die in the toxic swamp behind the hospital. "I never liked this swamp," the nurse says before watching the dying man sink into the toxic muck. "I grew up around here and kids used to always talk about a monster who lived back here: the Green Meanie." And so we have this season's Red Devil. You know what else? I'm also willing to bet that the pregnant woman's child comes back later with a thirst for revenge.
G/O Media may get a commission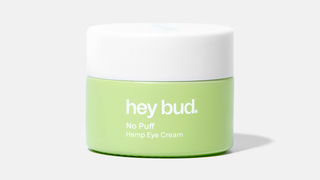 15% off
Hey Bud - No Puff Hemp Eye Cream
Jumping back to present day, we do get to meet some new characters, though are they really new? Middle-age hottie Oliver Hudson has been swapped out for middle-age hottie John Stamos, playing a doctor who happens to be the recipient of the world's first successful hand transplant (the hand, we can safely guess, came from a murderer); teen heartthrob Diego Boneta has been replaced by teen heartthrob Taylor Lautner, a possible love match for Chanel #3 (if this means more screen time for Billie Lourd, I'm all for it); SNL's Nasim Pedrad has given up her place to SNL's Cecily Strong; and then (thankfully I'm struggling to find comparisons here) Kirstie Ally has come on as Dean Munsch's new sidekick, Nurse Hoffel (pronounced "awful"), and James Earl has arrived as the world's most enthusiastic (albeit unpaid) candy striper.
The episode's jokes—campy, current, and cutting—are what we've come to expect from a Ryan Murphy joint, which, again, is kind of the problem. Nothing, even a jab about Bill Cosby getting his honorary doctorate taken away, feels risky, fresh or funny. (I will, however give it up to whoever came up with the name of the Chanel's Making a Murderer-esque documentary, Entrap a Kappa Kappa: Murder on Sorority Row.)
"Scream Again" ended with cliff-hanger, the fate of one returning character swinging in the balance. Even so, it's hard to care when you think you know where things are going and your connection to the characters has—not for lack of trying—petered out. But who knows. Maybe episode two will be a pleasant—and hopefully terrifying—surprise.