The Satanic Temple wants the LGBT community to know they've got your back, and that they will also cover your dessert.
In 2012, David Mullins and Charlie Craig were turned away from Masterpiece Cakeshop in Colorado after they attempted to commission a cake for their wedding. The owner, Jack Phillips, told the couple that accommodating their business went against his religious beliefs. The couple filed a complaint which has gone all the way to the Supreme Court in a case to be heard this Fall.
In a press release, the Satanic Temple announced that they're prepping for the worst outcome. Given "the political persuasion of the majority of Supreme Court Justices" the right to discriminate against couples like Mullins and Craig could very possibly be set as a precedent in the United States.
The Temple's founder and spokesperson Lucien Greaves, gave this statement:

"Our organization has received a lot of concerned messages from people who are upset by the prospect of an environment in which the LGBTQ community are openly and legally treated as second class citizens. The laws of the United States require that no one may discriminate by way of refusal of service against an evangelical theocrat for their religious beliefs, but the evangelical theocrat may discriminate against LGBTQ people because of who they are. Because religion is a protected class, a baker may refuse service to LGBTQ people, but they may not refuse service based upon someone's religion. If they aren't willing to make a cake for same-sex unions, let's have them make a cake to honor Satan instead."
G/O Media may get a commission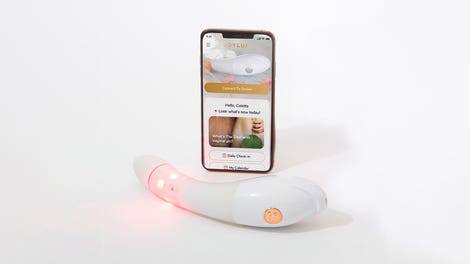 $50 Off
Joylux vFit Gold Device
"If you can't get a cake for your same-sex union," Greaves said, "we'll host a party in your honor at The Satanic Temple headquarters in Salem and order a cake that praises Satan from your offending discriminatory 'religious liberty' enthusiast." The Temple also encourages those who feel "alienated or oppressed by the privileged status that religion holds over sexual orientation," to request that their baker makes a cake in Satan's honor.
If Phillips's bigotry is legitimized by the Supreme Court, it will open a dangerous loophole of discrimination, and there's not much that's positive to say about that. But there is the prospect of ordering Satan cakes from every homophobic bakery in the phone book:
Thank you for making me believe in the power of religion again, Satan.