Stars Kristen Stewart and Dakota Fanning were at the New York premiere of The Runaways last night, but the girls (and some guys) behind the barricades outside the theater were yelling "JOAN! JOAN! JOAN!" God bless Joan Jett.
I found the film worthy of their enthusiasm — worthy, too, of Jett, who was an executive producer. The story of the all-girl rock band The Runaways has both the kinetic energy of a concert film and the character development and psychological tension of a good feature film. And then there's the music: "The first time I heard a tape of Kristen singing 'I Love Playing With Fire,' I thought it was me," Jett told The New York Times.
But the movie's most authentic parts are about female sexuality and its uses and abuses.
"This is not about women's lib," snarls the character Kim Fowley, their producer and Svengali. "This is about women's libido." A manic and visionary figure, he embodies the paradox of the Runaways themselves: a vision of female empowerment through guitars unapologetic sexuality — but it's engineered by a calculating, emotionally abusive man. He pushes the teenage girls to get angry and fight back and be openly sexual (as opposed to being groupies) but he does it for titillation and profit, neither of which the band seems to benefit from much.
G/O Media may get a commission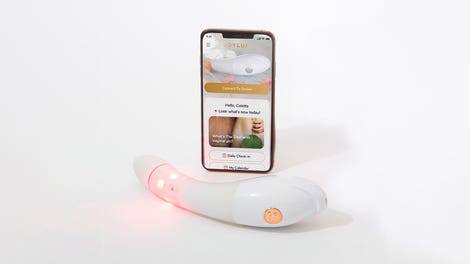 $50 Off
Joylux vFit Gold Device
As Jett, Stewart blew my mind — despite having a kind of believable teenage gangliness, she is terrifyingly composed, all fierceness and aggression. Fanning was also well-cast as a cold-eyed yet vulnerable ingenue shedding her inhibitions, but I found myself bypassing her in the frame to look for Stewart. (The two were adorable at last night's Quintessentially and Tommy Hilfiger-hosted premiere, adjusting each other's hair in the doorway before making their grand entrances.) The sex scenes between Stewart and Fanning manage to be explosive without being exploitative.
It's not that the film doesn't linger on the "jailbait" aspect of the Runaways. But in this retelling, the girls' sexuality is complex: It's something they're pursuing for themselves and their own pleasure, but they're also intrigued by it, experimenting with its power and at times pushing past their own boundaries. A pretty fair approximation of teenage girl sexuality, I'd say, even for non-superstars.
It's not a coincidence that The Runaways was written and directed by a woman, photographer and music video director Floria Sigismondi. This is her first feature film, and it was made for under $10 million. She told Melissa Silverstein recently that she was often mistaken for the makeup artist on set. Hopefully this film will mean that won't happen again.
Related: Jett Set [VF]
Floria Sigismondi Interview [Women & Hollywood]
The Girls Who Kicked In Rock's Door [NYT]
Earlier: Critic: The Runaways Is A Feminist Film That Rocks
Real Rockers Show Pretend Rocks How Its Done At The Runaways