The Rock deletes nothing, but he does issue beautiful apologies full of wise words on the nature of family, conflict and personal growth. Good luck with that.
On Tuesday, the Rock posted his own blind item to social media, calling out some "candy asses" who had his blood "legit boiling" on the set of Fast and Furious 8. Though many pointed fingers at the entitled legacy known as Scott Eastwood, it seems like the dude riling up the strongest man in the world was Vin Diesel, grandaddy of the franchise.
The Rock is a passionate man. We all know this. We also know that he cares about and respects his co-workers (and his image). On Thursday, he posted a gracious explanation for his hot headed ass-kicking, along with a thank you to the cast and crew:
You guys reading this know how much I believe in the idea of TEAM EFFORT. That means respecting every person, their time and their value when they step on to my set or partner with our production company. And like with any team - that's a family - there's gonna be conflict. Family is gonna have differences of opinion and fundamental core beliefs. To me, conflict can be a good thing, when its followed by great resolution. I was raised on healthy conflict and welcome it. And like any family, we get better from it. At the end of the day me and #F8 co-stars all agree on the most important thing: Delivering an incredible movie to the world.
Families make movies.
G/O Media may get a commission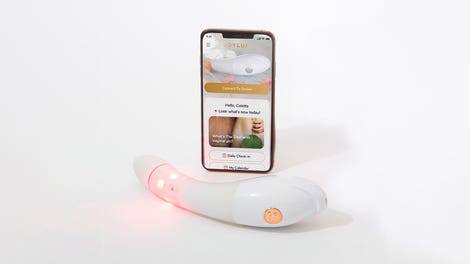 $50 Off
Joylux vFit Gold Device
That apology is well done. Like, if he cooked it.
The origins of this whole conflict, according to People, is who was late to set the most. Vin Diesel says the Rock was. The Rock says Vin Diesel was. Is it possible that both high-profile action stars were careless of other people's time?
"Tension has been building up for months," the source said.

"Vin has been having problems with The Rock because The Rock keep showing up late for production," the source said. "Sometimes he doesn't show up at all and he's delaying the production."

"I don't know what's going on with The Rock," the insider continued. "He is always late and it really has delayed our production. Vin just couldn't take it anymore."
But another source told Page Six, "Vin has a reputation for being difficult — he shows up late, keeps people waiting, holds up production and is disrespectful to people on the set. Dwayne lost his patience with him."
The two supposedly had a mediation on Tuesday, and though the Rock has semi-apologized, there are storm clouds on the horizon. Vin Diesel appeared to be making cryptic reference to this bald muscleman feud today:
In the short video, he talks warmly about coming home, after being on set since Christmas, to discover that his little girl Pauline had learned a new word: happy. That's how Vin Diesel is feeling right now, but he promises that once he chills for a sec he'll be telling us "everything." If you didn't make it to the end, he says "everything" in a scary monster voice.
Dun dun dun!!