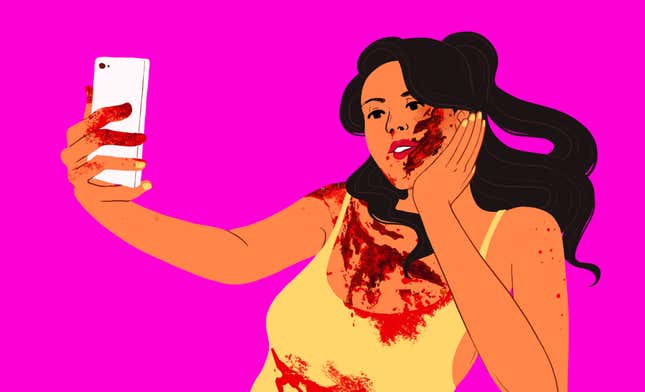 Like most makeup bloggers with hundreds of thousands of followers, Kiana Jones gets stressed out over the never-ending task of increasing her views and likes. With more than 152,000 followers on Instagram and over 427,000 subscribers on Youtube, the 28-year-old vlogger from Perth, Australia, thinks that the views on her posts are declining because her techniques have become too professional, and therefore too difficult to replicate, for the fans who follow her. Also, the hacked limbs and bruised bodies can be a bit much for some.

"I had this severed fingers video from a few years ago—it had like 18 million views and I was getting hundreds and thousands of views on the video but then it went down to just 300 overnight," Jones says of the video, which featured her friend's real hand with hacked fingertips made of gelatin. "It got reported enough times that YouTube just took it out of the suggested videos list."
"When it comes down to that, to me being hidden, it just feels unfair," she says, exasperated.
Rather than use Instagram as a way to teach others how to perfect a smoky eye or review unicorn beauty products, Jones, who goes by @freakmofx, is just one of hundreds of makeup bloggers on Instagram who shares her experiments with special effects makeup. The images they post are gruesome, elaborate—these aren't quick Halloween tutorials on how to make your face look vaguely like a skull—and vary from cuts and bruises to full-on severed limbs and detached eyeballs. Most of these women are young, in their teens and early 20s, and exist as beginners outside the special effects industry, teaching themselves how to do the makeup or studying it in specialized schools.
Jones first started doing horror makeup when she was a 23-year-old visual art student who was practicing for a zombie crawl at her university. After receiving compliments on her makeup acumen, she kept experimenting with it and posting to YouTube and Reddit. She didn't grow up particularly interested in gore, however. "I hated horror movies and anything gory and I never understood why people liked this stuff," she says, laughing. The fun, for her, is recreating traumatic, real-life images as realistically as possible. There's also something thrilling about makeup being used to make something disgusting and even difficult to look at, especially on a platform most popular for carefully curating the most attractive parts of one's life and beauty routine.
Twenty-year-old Elly Suggit (@ellysj on Instagram, with over 49,000 followers) from East Yorkshire, England, grew up loving movies with intense special effects like Alien and Frankenstein. When she was a teenager she began to teach herself special effects basics using YouTube, starting with bruises and cuts. She now studies makeup in college, where she's learning how to seriously mould and sculpt prosthetics. "My family and friends were pretty creeped out by it all," she says. "But after a few months it became the norm for me to answer the door for the postman with a full face zombie makeup on my face and no one batted an eyelid."
"It's kind of shocking to see this in your Explore page, which is mostly how people find me," says Tindra Ferner (@sfx.stuff) a self-taught 15-year-old artist from Sweden with 26,000 followers. "It's a bit gory and weird and people get curious like, what is that, is that real?"
When most people think of makeup bloggers, they think of beauty bloggers who parlay their vlogs and Instagram cred into full-time jobs and sponsorships with major brands. And a lot of special effects makeup bloggers say that commenters—particularly men—are confused as to why these young women are prioritizing guts and gore over traditional makeup.
In the past few years, the beauty industry has been cruising at an all-time high, with the US beauty industry gaining $1 billion for three consecutive years according to market research company NDP. Stores that once sold mostly clothes have pivoted to include mostly beauty brands. And the most popular makeup trends today, what consumers seem to want the most, tends toward a heavy self-care angle: taking time for yourself to put on a face mask, looking for natural products, slathering on acidic serums to perfect your skin so you don't need makeup. Wellness, however vague the term still is, is the present and future of beauty.
Gory special effects makeup blogging defies everything makeup is "supposed" to offer women, and what women are "supposed" to want from makeup, on Instagram and elsewhere in 2017. These artists don't insist on precision or ease for viewers, and looking perfectly feminine or presentable is never the universal goal. In an industry that increasingly demands young women be "well"—which so often means conventionally pretty, gooey, laboriously clean inside and out—it is refreshing that there is a parallel Instagram universe where girls are using makeup to make themselves look purposefully unwell. Perhaps even half-dead.
"I've had comments before on photos saying that I need to be more girly or that I need to put mascara on because I need to be more of a girl," says Rani Haese, the 15-year-old artist known as @raniratt, who has over 228,000 followers.
"I have gotten quite a few messages, mostly from men, who tell me I should stick to normal makeup," Ferner says. "I look kind of androgynous and sometimes people just assume that I'm a guy because I do this kind of [makeup.] It's why I had to write in my bio that I was a girl—because I wanted people to know that!"
According to her metrics, 80 percent of Ferner's Instagram followers are between the ages of 18 and 24. "If you look on social media the majority of people doing special effects makeup are women and if if you look at the schools for special effects the majority of students are women," Jones confirms. "But if you go to special effects shops and you look at the owners the majority of owners are men."
In recent years, more women have written and directed some of the most innovative horror movies being released, from The Babadook to Raw. But despite being a medium that tends to prominently feature battered and frightened young women, big-budget horror films are still rarely written and created by women. And the same still applies to the special effects industry, where—aside from artists like Ve Neill (of Beetlejuice and Mrs. Doubtfire fame)—the most famous creators, like Rick Baker (who won the first Academy Award for Best Makeup for American Werewolf in London) and artist Tom Savini, are men.
"I remember I was the only girl in my shop for years," says Samantha Breault, a special effects artist known for her gory silicone fabrications who has worked on Santa Clarita Diet, Stranger Things, and The Knick, among others. "I started to downplay the fact that I was a girl, never wearing makeup to work and starting to call myself Sam instead of Samantha." Once, after being hired by a special effects studio for work on a prominent supernatural '90s show, Breault sat around in a waiting room before the men who hired her off her artwork finally realized the Sam they had hired was a woman, not a man.
"I know a lot of the guys that are doing this and they see my work and it's like I have to work harder to earn their respect," says Jennifer Suarez, a special effects artist and in instructor at MakeupForever Academy in New York City who first broke out in the industry by creating dead, decaying bodies for Law & Order. "I have to be better and more meticulous otherwise it's never associated with women. It's always like, oh, you do beauty makeup, okay. Actually, no, I am the department head for special effects!"
Both Suarez and Breault (who also teaches at the College of Makeup Art and Design in Toronto) have both noticed a huge influx of women interested in special effects makeup classes. At the moment, they both teach almost exclusively women. Both connect the surge to the rise of social media and makeup blogging. But an interest that stems exclusively from the Internet can end up hurting or misleading a lot of young, aspiring female special effects makeup artists, Breault says.
"I notice a lot of young women want to do gore, they have these images online, but they don't know the history of effects," Breault says, who notes that many women coming into the field tend to see special effects as a simple extension of beauty makeup. "They need to look deeper than Instagram, they need to be consumed. Not one girl in my class knew who Rick Baker was and that was sad to me, because if you don't know makeup's past you can't move forward."
Jones also notices that the more professional the makeup look is on Instagram, the less popular it seems to be. Age makeup, for instance, is the hardest kind of special effects technique to do, she says. But an exceptional age makeup look doesn't translate to Instagram, where users will just scroll over an image of what they might think is actually an elderly person. The looks that use cheap items like toilet paper and latex and are covered in blood (which makes it easy to disguise mistakes) tend to get the most likes. "People want it to be achievable for them," Jones says. "It's always frustrated me, but the looks that are more DIY get more hits."

The future of practical effects in movies has been compromised by the increasing usage of CGI effects in recent years. Suarez and Breault still remember the wave of fear in the 2000s, when creature effects in movies like Lord of the Rings and Avatar led them to think their industry was dying. But both believe that special effects makeup will never go away.
"If you look at CGI, it gets dated in two years," Breault says. "Your eyes know something's wrong. But you can watch Aliens or Predator now and it looks the same." And an influx of big-budget fantasy television like Game of Thrones, Stranger Things, and American Gods means that there's a return to the practical effects of the '80s and '90s. "I have been more busy in the past four years than I have in years," Breault says.

"A great example is in The Dark Knight with Two Face and he's wearing practical makeup," Suarez says. "But the CGI person and the makeup artist are going to talk and figure out where the eye and the cheek sink in and that's where CGI will be. The communication between the two departments is really important."

While younger Instagrammers like Haese and Ferner aren't sure if they even want to pursue special effects makeup professionally, Kiana Jones is steadily trying to move above and beyond her Instagram. After moving to Sydney to be closer to leading makeup studios in Australia, she worked on her first feature film last year as a lab tech making prosthetics on set. But the industry, Jones says, still doesn't take artists who use social media seriously.
Not that she'll ever stop posting: "When I spend a lot of time on YouTube I miss working in the industry and when I spend a lot of time working in the industry I miss YouTube," Jones says. "I feel halfway between both."
It may take a few years to transform the men-dominated shops that have persisted since the industry first got off the ground, but considering the overwhelming amount of women in classes and the rising popularity of the field, artists and teachers believe that the future of special effects makeup is female.

"Horror is for everyone," Elly Suggit says. "Girls like grossing ourselves out too."