One of the earliest urban rent strikes in United States history was organized in New York City, in 1907, by a 16-year-old girl named Pauline Newman. In its reporting on the strike, the New York Times described Newman, a Jewish immigrant who worked at the Triangle Shirtwaist Company and would go on to become an organizer with the International Ladies Garment Workers Union, as a "frail-looking little woman, who is hailed throughout the Grand Street section as the east side Joan of Arc."

Apartments on the city's Lower East Side, which two years earlier had rented for $15, were now going for $20, though landlords had made no improvements to their properties; multiple families sometimes shared a single apartment to keep costs down. "In Clinton, Cherry, and malodorous Eldridge streets, whole families exist in tenements of two or three tiny rooms," Harpers reported at the time. "Many of these are compelled, in addition, to take in lodgers. For such, the only possible accommodation is upon the floor: attempt at privacy is out of the question."
Newman, with support from the local Socialist party and 400 other young women garment workers (with considerable overlap between the two), began organizing with her neighbors. They demanded an immediate rent reduction of 18 to 20 percent and, later, an overall rent cap at no more than 30 percent of a worker's earnings. As word spread through shop floors and other tenements, the number of striking tenants eventually reached into the thousands.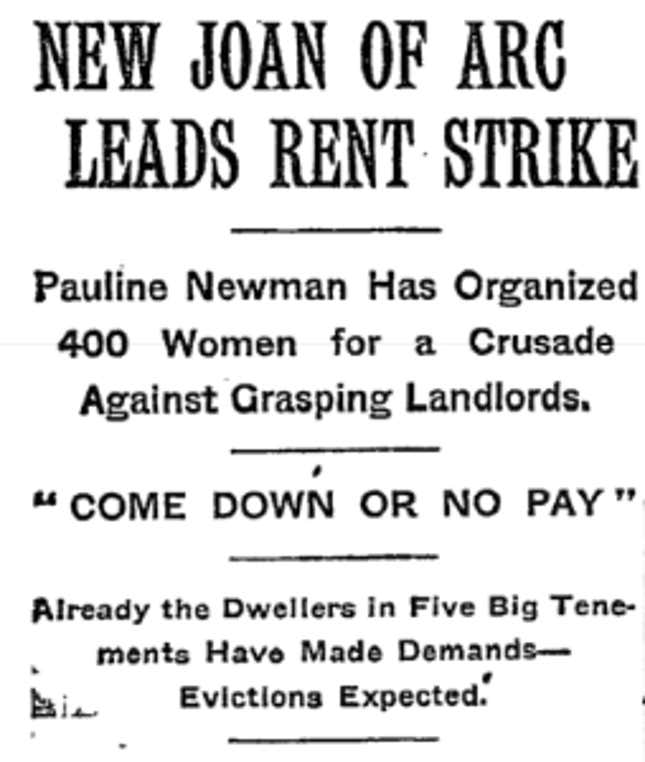 "When served with notices of dispossess, tenants will take their cases to court," the Times noted. Lawyers would then ask for a delay, buying the tenants more time. A young socialist lawyer enlisted by the striking tenants put a finer point on the dynamic being leveraged: the landlords had the money, but his clients had numbers. "The police will execute only one eviction a day from a given house," Jacob Panken told the paper. "We will arrange that any evicted family shall be harbored at once by some other family in the same house. This the landlord cannot prevent. Thus we would have an endless chain of evictions, by which the landlord will accomplish nothing."

Of the nearly 10,000 families that reportedly participated in the strike, which went on for two weeks, just 2,000 received reduced rents. But the periodic rent strikes of this time would—as the labor movement gained strength in the city and tenants began to cohere around shared political interests—become a seed for more sustained organizing. More than a decade later, the city passed its first slate of rent regulations.
In the century that followed, through a depression, two World Wars, and a rise in tenant militancy between the 1960s and 1980s, rent regulations were enacted and repealed as cities and counties cycled through various levels of desperation around housing. (After the city of West Hollywood incorporated in 1984 and began to implement its own rent regulations, some landlords began painting their buildings red in protest of laws they called "as close to communism as you can get.") But by 2018, more than 30 states had enacted laws preempting rent control; in the handful of states and cities where it exists at all, there have been steep declines in the number of existing regulated apartments.
Yet as the cost of housing climbs, wages stagnate, and homeownership remains out of reach for so many, the "rent wars" of the early and mid-20th century appear to be coming back. Low-income and working-class tenants, overwhelmingly people of color, have fought displacement by organizing themselves and, in a growing number of cases, staging rent strikes in cities from Washington, D.C. to Cleveland. As billionaire developers remake cities in their own images and levels of income inequality point back to the Gilded Age, tenants across the country are fighting for something more fundamental: not simply where we live, but how we live.
In California this November, driven by a statewide tenants movement growing in numbers and militancy, the question of who our cities are for has found its way to the ballot.
---
On language alone, there is nothing particularly stirring about Proposition 10, the California ballot initiative that would repeal a 1995 law that limits the ability of cities and counties to enact rent control. Its official title, given by the organizations that sponsored it, is the Affordable Housing Act, though people sometimes call it "the rent is too damn high thing" or "the rent control thing." Still, what is easily one of the most consequential measures on the state ballot is identified as the dry, if perfectly descriptive, "Expands Local Governments' Authority to Enact Rent Control on Residential Property."
While other ballot proposals being considered this year are more direct in their impact, Prop 10 does not create any kind of rent control law. Instead, if passed, it would restore local control over rent regulation, and, in all likelihood, open up a lengthy and contentious fight to determine Democrats' political tolerance for such regulations. The ballot measure, then, is not the thing; it is the thing before the thing.
This level of bureaucratic abstraction can make for strange canvassing. "What is this?" a woman in a floral smock apron and a pair of loose slacks says to the group of strangers standing at her door, clipboards in hand. It is an overcast Saturday afternoon in mid-October, and a group of 20 or so people has spread out around Westlake—a primarily Latinx, working-class neighborhood in Central Los Angeles—to turn out voters. "We're canvassing for Yes on Prop 10, which is going to be—" one of the canvassers begins to say before she cuts him off. "Election?" she says. "Yes, coming up in November? This is the one that's going to help renters," the canvasser continues, now tentative. "So we wanted to see if you were going to vote yes on it. It's going to repeal Costa-Hawkins—" She cuts him off again: "Yes or no?" "You want yes—you want 'yes' on 10. It's going to let Los Angeles decide if we can have rent control." "Oh, yes," she says, decisively.
A couple of blocks over, a woman comes to her front gate after the canvassers use a barking dog in her yard as a kind of doorbell. "I see so many commercials about saying 'no' but nothing about saying 'yes,'" she says, quieting the one dog as another dog appears barking behind her. "I want to know the two sides, but then I will choose by myself."
The afternoon goes on like this. While most of the doors stay closed, the people who do answer seem receptive, if a little impatient or bored, about committing their support. "We are neighbors," Cutberto Camero, one of the canvassers, tells me. He is 58 and lives just up the street in a two-toned building the color of mud and red dirt. "We are all in the same situation."

The situation, at least for the last half year, was a rent strike that involved an estimated 200 families, including Camero, across more than 80 apartments in a three-building complex on South Burlington Avenue. They started to withhold their rent, he says, in March of this year. Their building's management company had served them with notices of rent increases ranging between 25 and 40 percent, a $300 jump in some cases, which many tenants found impossible to pay. They had tried to meet with their landlord to negotiate an alternative to the rent hike—forming an association they call Burlington Unidos—but those efforts failed.
The building where Camero lives was built after 1978 and ineligible for rent control under the Costa-Hawkins Rental Housing Act of 1995, which Prop 10 seeks to repeal. The law prevents cities from regulating apartments built after 1995 (and in some places as early as 1978 and 1979), forces vacancy decontrol—which raises rent-regulated apartments to market rates as soon as a tenant moves out—and bans all single-family housing from rent regulation. The bill passed with bipartisan support; its Democratic co-sponsor, Jim Costa, currently represents California's 16th congressional district. "We're ecstatic," the president of a Santa Monica-based landlord group told the Los Angeles Times in 1995. "After 16 years of being held hostage, we are finally free."
With no legal recourse and no easy way to find alternate housing, the Burlington tenants began working with the LA-based Eviction Defense Network and a local chapter of the Los Angeles Tenants Union to organize a response. After considerable discussion, they agreed to a rent strike. "All they have are their rent checks," Trinidad Ruiz, a member of the tenants union told Marketplace earlier this month. "So they use that because they really don't have any other recourse."
Camero and other tenants say they began documenting mold, walls soft to the touch, dirty water flooding the building, and infestations of cockroaches. They held protests at their landlord's preferred farmers market. They filed lawsuits, with some tenants even going to court and winning. In one case, a jury found the condition of an apartment to be so poor that the legal rent should be just $1. (A judge later reversed that decision and converted it to a smaller rent reduction, according to Elena Popp, the tenants' lawyer and executive director of the Eviction Defense Network. In a comment to Jezebel, a representative for the Burlington Apartments called the tenants' claims "misleading or demonstrably false.")
Altogether, the strike lasted six months, ending in August with an agreement from the landlord to drop all pending eviction cases. In the months since, tenants have continued to organize, including around Prop 10. "We were not comfortable because the conditions of the building are really bad," Camero says. "We don't get that much money every year in our jobs, and all the money we make is for the rent. So I wondered what we could do to push back against a bad owner. To keep things in control of the tenants."
The Burlington strike was one of several launched in Los Angeles since 2016. Sometimes, as in Burlington, they allow tenants to stave off immediate rent hikes or maintain a version of the status quo. But in 2017, after tenants in Boyle Heights (a rapidly gentrifying, historically Latinx neighborhood) went on strike in response to a proposed 80 percent rent increase, they not only avoided eviction but also successfully negotiated collective bargaining rights with their landlord. The building was not rent controlled and the tenants had no clear legal protections; the victory was built on organizing alone.
While the rent strike is not the only strategy tenants are using to defend their homes, it is a clear response to living in a city with some of the highest rents in the country. In 2015, as the Los Angeles City Council voted to raise the minimum wage to $15 an hour by 2020, Curbed Los Angeles calculated that a single, childless adult earning the future minimum—$31,200, annually—still couldn't afford an apartment anywhere in the city while paying the recommended 30 percent of their monthly income on rent. In 2017, more than half of LA renters were considered cost burdened, spending more than 30 percent of their monthly income on housing; among those renters, more than half spent more than 50 percent of their income on rent.
Facing a housing shortage that is currently playing out alongside an affordability and homelessness crisis, tenants across the state began advocating for a legislative repeal of Costa-Hawkins. After the proposal failed to make it out of committee—the state legislature has a Democratic majority, but real estate money flows to elected officials of both parties—three organizations, the Eviction Defense Network, the Alliance of Californians for Community Empowerment (ACCE), and the AIDS Healthcare Foundation, began gathering signatures to put it on the ballot. (You may recognize the AIDS Healthcare Foundation for its somewhat infamous history with other ballot initiatives.)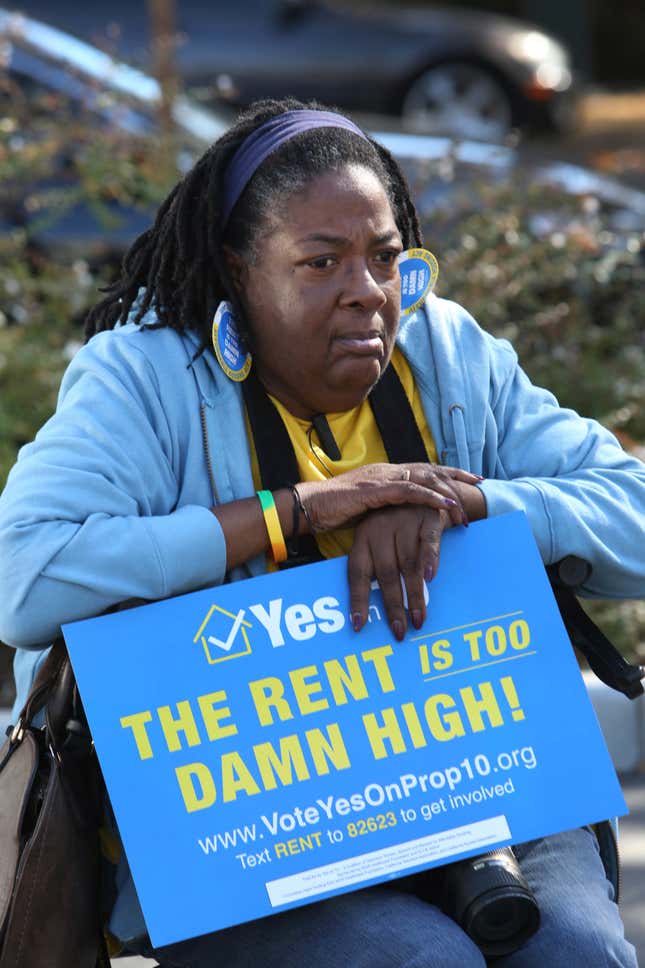 The network began mobilizing when "it became clear that the state legislature is in the pockets of big developers and big corporate real estate interests and was not going to get out of the way," Amy Schurr, the statewide campaign director for ACCE, tells me. In June of 2018, organizers had gathered enough signatures to put it on the ballot, but the fractures within Democratic leadership remain: while the California Democratic Party has endorsed Prop 10—alongside every major affordable housing organization in the state, the American Civil Liberties Union, and a slate of labor unions—the state's likely next governor, Democrat Gavin Newsom, strongly opposes it.
"People hold up California as perhaps the direction of our future in a positive way—California is figuring out how to be a more inclusive state and advance a politics and economy that works for everyone," she tells me. "But in fact, it is not working for low-income and working-class people."
The housing crisis Schurr describes is not unique to Los Angeles: according to a 2015 report from the Pew Charitable Trust, 38 percent of all renter households in the United States were rent burdened that year, up from about 19 percent in 2001. The percent of renter households that were "severely rent burdened"—again paying more than 50 percent of their monthly income on rent—had also increased by 42 percent during that same time. Seen in this context, Prop 10 and the success or failure of tenant organizing become more than just a referendum for Californians: they are a bellwether for the rest of the country.
---
Polling so far reflects a confused electorate: According to a survey released in late September by the Public Policy Institute of California, just 36 percent of likely voters support Prop 10 while 52 percent simultaneously believe that rent control is a "good thing." Unsurprisingly, support is strongest among the voters who are least likely to be homeowners: likely voters between the ages of 18 and 34 were the only group to hit 50 percent support.
The skepticism and occasional confusion around Prop 10 is at least in part born out of the spending coming out of the "No" campaign, which is led by the California Apartment Association. (It also has the backing of the California Republican Party and is being funded by almost every real estate developer in the state.) Though the repeal of Costa-Hawkins does not, on its own, bring rent control to any city or county, the "No" campaign sees it as an existential threat to current rule by developers. Eight of California's largest owners of apartment buildings "and their related business entities" have donated nearly half of the $74 million raised for the "No" campaign, according to a recent analysis from the Los Angeles Times. One of those donors, Blackstone Group, is the largest real estate management firm in the world. According to data from the California secretary of state's office reported by the Intercept, the private equity giant has so far donated $5,585,497 and an additional $1,284,250 by way of Invitation Homes, Blackstone's residential property arm. (In 2017, Invitation Homes owned 14,389 homes in California alone.)
Despite an initial infusion of $10 million from the AIDS Healthcare Foundation, the "Yes" campaign is currently outspent three to one. But tenants across the state have been working since this summer to turn out voters. Alongside community groups with deep roots in the city, the Los Angeles Tenants Union (LATU), which was founded in 2015, has been aggressively organizing mobilize voters come November 6 and build out a lasting tenants movement in the process.
"We don't just get someone's case, give them a little bit of information, and send them on their way," René Christian Moya, a 34-year-old LATU organizer and Los Angeles native tells me at a cafe in South LA, occasionally pounding the table, if lightly, for emphasis. "We fundamentally want to organize deep. We want to actually build out these connections in the communities so that you build, ultimately, a movement of tenants." As it stands right now, LATU has eight locals across the city, with two new ones currently forming.
At a member meeting at an art space in Highland Park, another historically Latinx and rapidly gentrifying neighborhood, a little more than 20 people are in a room lined with photos of a couple standing in various positions around a coffin. One woman who grew up nearby and currently lives in Eagle Rock had come after receiving notice, along with 44 of her neighbors, that her landlord would be raising her rent by $400 within four months. "There was no communication at all,'" she tells me later that evening, while members are sending out Prop 10 text alerts and eating pizza. "Just like, Here's the letter." Her building isn't rent regulated, she says, so she didn't know what rights she has as a tenant. That's why she came: "I just want to be informed, get more guidance," she says. "I know it's going on everywhere, but we didn't think it was going to happen to us."
Another woman in attendance, speaking in Spanish with translation from an interpreter provided by LATU's membership, says that she has come back for another meeting because the information she found last time was helpful. While her neighbors in her rent-controlled building were taking what's called "cash for keys" offers—money exchanged for vacating a rent-regulated apartment, at which point the landlord can raise the unit's rent to any market rate—she had declined one. After realizing that she knew her rights as a tenant, she says, the developer increased the offer from $20,000 to $30,000. But with many of her neighbors gone, she wonders who will be left to support her in her fight to stay. What, she wonders, is a number worth saying yes to anyway, given that even $30,000 would barely carry you much further than a year. "$75,000," one member offers. She nods, smiles: "That's why I like coming here."
---
"The frustration is very big," Jackelin Lopez says, gesturing around her small kitchen. "This is about the size of my last bathroom." Space is tight, with a table pressed against the wall, a metal shelf stacked with bottled water and dry goods, and a refrigerator that doubles as a television stand. Lopez, her husband, and her children have only been in this West Adams one-bedroom since August. Every 10 minutes or so, one of the men working on the building, which is currently undergoing major construction, knocks on Lopez's door for a set of keys that hang nearby. The 34-year-old mother of two is acting as the building's supervisor to earn money, she says.
Lopez's younger daughter, nearly two and currently in the middle of her breakfast, climbs on and off her mother's lap while we speak through an interpreter. Her previous apartment in Exposition Park—where her family had lived for six years before being served with an eviction notice along with more than 70 of her neighbors—was a three-bedroom near a large park, an aquarium, her older daughter's school, and easy access to public transportation. It was a nice life there, she says.
But in September of 2017, Lopez's building, along with six others on Exposition Boulevard, was purchased for $8.5 million by landlords Kim Chung Suk and Kim Hae Jung. According to the notices, tenants say, the building would be renovated and, with significantly elevated rents, likely rented to wealthier students at the nearby University of Southern California.
After an initial wave of panic, Lopez tells me, she and the other tenants met to discuss their options. Together with LATU and the Eviction Defense Network, residents went to court and began to organize, eventually launching a rent strike that went on for about 10 months.
While the tenants ultimately had to leave the building, many still viewed the strike as a kind of victory. Lopez's former neighbor, Steven Baldwin, would later tell me that the 10-month strike got him and his neighbors more time in their homes—and helped with crucial savings he needed to put toward the credit checks, rental fees, and other expenses associated with the pending move. "No eviction; they came with a settlement," he says. "So I just considered it 10 months rent-free. Not so bad." Plus, it caused a little trouble.
Baldwin, who is 59 and raising two sons while looking for permanent housing, describes the organizing he did with his neighbors much in the same terms as tenants did more than 110 years ago when they first came together around a "frail-looking" teenager to protest against impossible living conditions: the landlord had money and the law on his side, but there were just more of them. Until the law changes, they can fight. "We gonna get on your nerves," he says one night after a LATU member meeting, laughing a little. "We gonna make it real rough and tough for you. Y'all messed with the wrong block."
Correction: A previous version of this story said that Lisa Ehrlich did not respond to our request for comment, but a representative for Burlington Apartments did respond. Jezebel regrets the error. The comment, in full:
The ownership and managers of the Burlington Avenue Apartments enjoy excellent relationships with the vast majority of our residents. All of our units are up to standard and well-maintained. All claims by tenant activists are misleading or demonstrably false.

We welcome tenants to alert us to any issues, all of which we take seriously and inspect any unit that reports an issue and we address it appropriately. Our property managers handle all issues promptly.

The rent strike by tenant activists is failing. Forty tenants have accepted our offer to quit the strike, pay their back rent and pay the increased rents that are still below market average. We are going to prevail in court over the false and misleading statements made by tenant activist attorneys. We feel badly for the tenants who have been misled by the activist propaganda, some of whom have been evicted already.
Our top priority is to continue to resolve any issues amicably and directly with our tenants, but the LATU and their attorney Ms. Popp have fought us on this every step of the way to the detriment of the very people they purportedly want to help.
Halfway to Hell is Gizmodo Media's project covering the 2018 midterms; you can read coverage from across our network here and subscribe to our weekly newsletter roundup here.