Watergate fever took America by storm in the summer of 1973. Dubbed "the hottest daytime soap opera" by Variety, the daily Senate hearings were covered live by ABC, CBS, and NBC in rotating shifts. PBS carried each day's taped footage in an evening broadcast. In an August 1973 Gallup poll, 88 percent of respondents reported tuning in to at least some of the proceedings.

"Popular culture can also mean Watergate," Greil Marcus wrote in a 1977 New York Times piece summing up the cultural mood of the decade. In addition to the classic political thriller All the President's Men—adapted from Woodward and Bernstein's book bearing the same title—films such as the The Parallax View, Nasty Habits, and Three Days of Condor drew Watergate parallels and dealt in themes of conspiracy, investigation, and surveillance. Stevie Wonder, Frank Zappa, and Randy Newman each released Nixon protest songs, while Dan Aykroyd's Nixon impersonation was a fixture of Saturday Night Live's first three seasons.

Women's magazines didn't miss out on the action. Vogue lauded "won't quit reporters" Woodward and Bernstein and gushed about All the President's Men. A May 1973 Women's Wear Daily column described how the controversy took hold of a lavish charity benefit. "It was billed as 'An Evening with Bobby Short,' but it was more like a night with Watergate," remarked writer Sally Rinard. Attendees included a fair share of prominent Republicans including Ronald Reagan, who deemed Watergate "a very tragic thing," Rinard wrote. Walter Cronkite was quoted as saying "Nobody really knows whether [Nixon] was in on it or not," before pivoting to talk of sports.
Watergate invaded not only America's living rooms but also the kitchens, as well. As it turns out, you don't need to burgle, bug, or conspire about much of anything to get a taste of Watergate. In fact, you don't even need a functional oven.
G/O Media may get a commission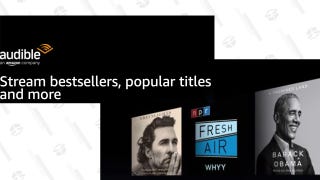 FREE
Audible Premium Plus 3-Month Free Trial
The scandal that culminated in the resignation of our 37th president left a peculiar and enduring culinary footprint. Recipes for "Watergate Salad" and "Watergate Cake" spread in newspapers and cookbooks throughout the mid and late 1970s, calling for heapings of pistachio pudding mix (of all things).
The two recipes first appeared together in a November 13 1975 edition of the Washington Post. (Yesterdish unearthed a 1974 "Watergate Cake" recipe pre-dating the Post piece, but neither item was linked to the hotel before the 1972 Watergate break-in.)

"Watergate Salad," a lime-hued concoction, is comprised of Cool Whip, pineapple, marshmallows, and walnuts, along with the pistachio mix. The idea being that one must "cover up" the nuts in a gelatinous mound.
"Although we try to erase Watergate from our minds (and probably shouldn't) we run across the word Watergate for many things," writes Joy Reil in a July 1976 column in The Emmetsburg Reporter. "This time it is the Watergate salad. However distasteful the word the salad is good." (On this point, I beg to differ, though the dish continues to be a staple of Southern cookbooks.)
The cake features similar ingredients — and often appears to mimic the "living shape" architect Luigi Moretti attributed to the Watergate complex. An October 21 1975 "Readers Recipes" column in the Winchester Evening Star claims that each of the cake's ingredients supposedly "in some way stands for the incidents which occurred in Watergate cover up." Certain iterations suggest adding "impeachment icing," while a 1976 Post piece notes the walnuts were meant to represent the "bugs" planted in the Nixon White House. So, you have some mixed metaphors going around there. It's fine!

Some confusion about the nutty sweets' link to the Nixon scandal has arisen due to branding. "Watergate Salad" remains in the culinary zeitgeist largely thanks to Kraft, who debuted the pistachio flavor and accompanying recipe — first-dubbed "Pistachio Pineapple Delight" — in 1975 and formally adopted the name "Watergate Salad" in 1993. However, as evidenced in newsprint, both the name and combination of ingredients pre-date Kraft's involvement.

In an April 1973 editorial syndicated in Georgia's Thomasville Times Enterprise, columnist John Keasler quips about the scandal-mired White House's efforts to curb food spending in the name of austerity, picturing D.C. socialites picking at leftovers and plopping Watergate Salads in the icebox. From the Times Enterprise:

In Washington, 28 dinner parties so far this month have featured yesterday's cottage cheese. The Watergate Salad is said to be catching on… a very popular kind of icebox salad, and easy to make. No matter what the ingredients of a Watergate Icebox Salad, you just put the lid over them and stick them in the back of the icebox.
Keasler also shares a tidbit of gossip: "Several leading publishers are vying for rights to the White House Non-Cookbook, showing how to serve leftovers."
Similar murmurs surfaced in a mid-May edition of (you guessed it) the Washington Post. In the Post, writer Tom Donnelly claimed to have obtained a manuscript by the name of The Watergate Cookbook, rumored to be the work of "persons who are deep in the soup" or a miffed D.C. hostess.
Two Watergate cookbooks were published in 1973, though neither was linked to White House staff or involved a bidding war between publishing giants.
In keeping with the source material, both were penned under pseudonyms. The Watergate Cookbook (Or Who's in the Soup?) was authored by a Boston-based group aptly named The Committee to Write the Cookbook. The Watergate Cookbook, published under the alias N.Y. Alphaus, included the Donnelly piece as a preface, and was penned by cookbook authors Jerome and Cynthia Rubia, according to Library of Congress Copyright Office records. Copies of both are available for purchase through Amazon and various used book sites.

Care for a pistachio, Mr. President?
This article originally referred to the writer Greil Marcus as Greil Martin; we regret the error.
Lucy Tiven is a freelance journalist, speechwriter, and poet living in Los Angeles. Follow her on Twitter @lucytiven.