A new round of self-congratulation among the fashion industry's boosters argues that this past season was great for "curvy" girls, such as the "womanly" Laetitia Casta at Vuitton. What are we really talking about here? Boobs.
Claire Brayford of The Daily Express is the latest to proclaim that "curvy girls are the future," and that the Victoria's Secret models at Prada and the supermodels at Louis Vuitton were some kind of sea change: "There is clearly a new benchmark being set for women of varying body types."
Glamour editor Cindi Leive also loved the Vuitton show for similar reasons, although she wasn't trying to rhapsodize about the coming revolution:
We'd welcome any divergence from a standard that can be hauntingly gaunt. But let's not get carried away with the Dove-style celebrations. These women are "curvy" in the way Lara Stone is curvy: They have tiny waists and very little body fat, but they have relatively large breasts. Neither feminine ideal breaks the mold particularly.
G/O Media may get a commission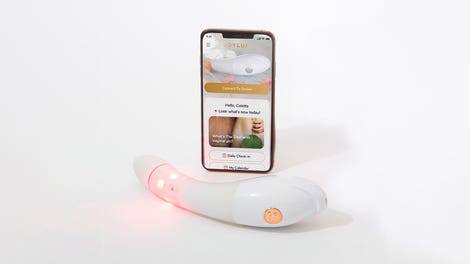 $50 Off
Joylux vFit Gold Device
Brayford is actually quite explicit on this point:
Not since the supermodel hey day back in the late Eighties have we seen so much bounce on the catwalks.
At the recent Prada and Louis Vuitton shows, boobs were definitely one of the defining features.
Brayford joins a party that includes noted advocate of women's self-esteem Bonnie Fuller, who wrote last week in the Huffington Post that the same two European fashion shows heralded "a victory for all women!" :
As stunning as these women are, they've been pretty much banished from top designer runways in recent years — they've been considered "too comercial" [sic] by snooty fashion insiders. In other words — us regular women might like to actually look like them and wear the clothes that they're modeling.
There is a grain of a point here: the lean, straight-down bodies of the runway may be preferred for not distracting from the clothes, as the usual argument goes, but they are also implicitly considered more "luxurious," while prominent breasts are deemed lower-class. Still, Fuller took it to a whole other level during New York Fashion Week:
Here are some recent images of the women she is calling "curvy" and "normal-sized."
That would be progress from a size 0 to... a 4? The breasts get bigger, but the waist stays tiny. It's the same sort of celebration of loving your body that Victoria's Secret offered us with the commercial below. Meet the new boss, same as the old boss.
Why Curvy Cover Girls Are The Future [Daily Express]
Why the Return of Gorgeous Curvy Supermodels to Fashion Runways is a Victory for All Women! [Huffington Post]
Earlier: "You Know They Mean Fat": Lara Stone, Crystal Renn And Body Diversity