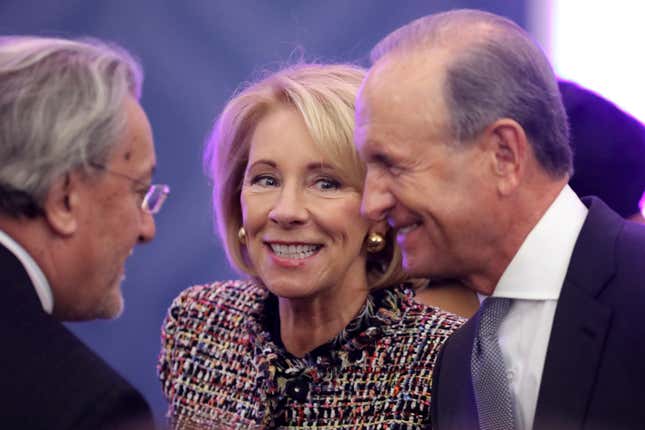 Winning for Women wants women to run for office, but not because they're women. The nonprofit and political PAC was formed in 2017 by prominent Republican donors to help elect women on the "center-right and the right" who are fatigued by identity politics but still feel they aren't "necessarily represented" in politics, according to the organization. This puts Winning for Women in the uncomfortable situation of being against the particular thing it was founded to do.
A Republican analog to the decades-old EMILY's List, Winning for Women leverages its connections and bundles donations for the conservative women candidates it deems most worthy in a given race—or simply most capable of winning. "Tired of people saying the Right is a bunch of old white men?" one recent Facebook ad reads. "We are too."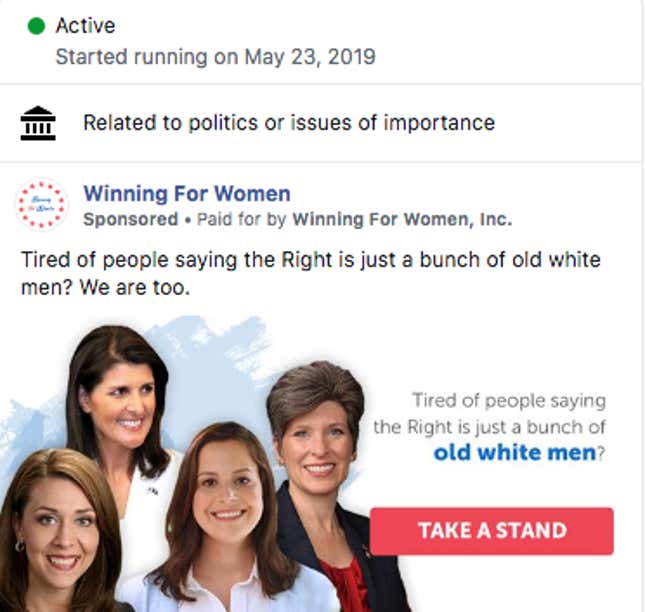 Early supporters included Betsy DeVos and Linda McMahon, the former WWE executive turned Trump Small Business appointee who now chairs a pro-Trump super PAC. Kelly Ayotte, the former conservative senator and district attorney of New Hampshire, also has a prominent role. Between 2017 and 2018, some of its largest individual donors were Frank Baxter, George W. Bush's ambassador to Uruguay; "vulture capitalist" and hedge fund manager Paul E. Singer; and the philanthropist wives of banker Charles Schwab and billionaire conservative Joe Ricketts.
EMILY's List is older and more established, but both organizations are appendages of their party's leadership structures, funded by partisan donors and operated by people who've given their lives to managing high-profile campaigns on their respective sides of the aisle. But where EMILY's List, decades ago, was founded to address what might now be considered an "identity" issue—its early campaigns were incubators for pro-choice candidates, and abortion continues to be a litmus test—Winning for Women is quite literal in its goals. It just wants women—well, any tax-hating, war-loving woman—to win.
This push to elect female candidates is, by Winning for Women's own admission, entirely reactive—the response of a party agitated by the number of Democratic women who have taken office over the last few years. But without addressing "identity" issues that might suggest women, as a class, have any particular political interests, the organization has settled for taking the broadest possible Republican agendas and grafting the word "women" into the occasional line.
It's a particularly inelegant example of what politicians (of any ideology) mean when they encourage women to "run for something," or prioritize electing women candidates less as people with ideas or priorities and more as avatars for the Party line. In Winning for Women's case, the logic goes, if more than half of white women are already voting Republican (and they are, reliably!), it would look a whole lot better for everyone if they were voting on resolutions in the Senate, too.
EMILY's List was fantastically successful in its endeavor do something similar. As the organization has developed into one of the more powerful lobbying organizations in the country, it's been criticized for adhering so closely to the desires of the Democratic Party it has abandoned candidates who might better serve its stated goals. Winning for Women may be equally successful, but it doesn't have much to do with putting women in positions where they might agitate for policy changes on their own: The organization's ideal woman is the focus-grouped, poll-tested woman, as she might most comfortably appear as a mouthpiece for the Republican Party's desires.
So women, according to Winning for Women, want "freedom" and "common sense"; women's two core values, in the logic of the PAC, are economic freedom by way of the deregulation of business and strong national security. (There are whole sections of its website devoted to each.) Women—in their totality—desire first and foremost stronger borders, the deregulation of business, and tax reform, says Winning for Women. On the subject of "women's empowerment," the PAC does concede, briefly, that women might also "bring alternative priorities to public life." From the organization's website:
Women work out compromises. Women are ethical. Women will fight to improve Americans' quality of life. Women just may be our best tool to reverse growing trends of voter fatigue and frustration with government.
During the Senate hearings for now-Supreme Court Justice Brett Kavanaguh, Winning for Women ran hundreds of Facebook ads in support of the Supreme Court nominee. More recently, its favored candidate has been Joan Perry, an anti-abortion pediatrician who will appear on a North Carolina ballot for a Congressional runoff in July. As Politico reported Monday, Winning for Women ran a six-figure ad deal against her primary opponent, a Republican man. But, as representatives have pointed out elsewhere, Perry's anti-abortion position is incidental to the organization's larger goals. Winning for Women believes an anti-abortion candidate will play well in North Carolina; in California, for instance, they would run someone closer to the center-right. After all, the real issues women care about aren't the laws and regulations that govern their bodies—it's whether the Charles Schawbs and Paul E. Singers of the world can do business, without the government getting in the way.