The heartbreaking story of a dog who was abandoned at a train station with a suitcase of his toys has a resolution of sorts, but it won't make you feel any better.
A dog named Kai was found tied to a railing at a train station in Scotland last week, left with a pillow, some toys, his bowl and a little bit of dog kibble. The whole thing was not only sad but utterly baffling—who the hell would do this and why? The Scottish Society for the Prevention of Cruelty to Animals began to search for the owner but hit a wall when they discovered the registered owner of the dog (found through his microchip) had sold him on Gumtree. Rescuers named the dog Kai and his story went all over the world.
The Daily Record has an interview with Fin Rayner, 39, the woman who admits she is the one who abandoned the dog (who we now know is actually named Pluto). So why did she do this? Because she was trying to buy the dog but when he didn't look as nice as his online pictures she got cold feet. Oh.
According to the Daily Record Rayner found the dog for sale on a website called Gumtree. She went to Ayr from her home in Aberdeenshire along with her nine-year-old daughter to purchase him for £400, but when she got there she's seem to have been unsatisfied with the way he looked.
She said: "I went to buy a dog but the dog was not the same as the picture advertised."

"The guy rushed out with a food chest and lead on the dog. But I could see there was something up because he was very skinny.

"I said I wanted to take the dog for a walk, so he asked me for £150 as a deposit in case I didn't come back. Then I saw him tearing off in his car. I phoned and said 'You better come back for your dog'. He never turned up."

Rayner said she panicked as she had to get to the last train to Aberdeen with her daughter, who suffers from asthma.

She said: "I thought I'd take the dog to Aberdeen but my son phoned and said the photo from the ad was an American picture from 2005. I said to a member of staff it was somebody else's dog. I said, 'I'm just going to tie him up out there', and I did that."
G/O Media may get a commission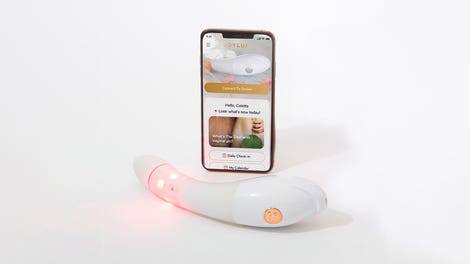 $50 Off
Joylux vFit Gold Device
So let me get this straight—she goes to purchase a dog, sees the dog is possibly stolen and in an unhealthy condition, witnesses the dog straight-up being abandoned by its owner and her solution is "fuck it, I'll just leave it here." This woman should not own pets. No. Never.
If you doubt that, don't forget her reaction to this story was "What about me and my daughter, what we had to go through? I told somebody, I made sure the dog was safe."
Clearly, she's the real victim. Stop sending your donations to Pluto/Kai and send them to "Poor Dog Snob Lady;" thank you.
As for Pluto/Kai, he is doing awesome now that he is away from all of these selfish idiots. If you want to give yourself a reason to happy cry, check out this way too adorable video of him with all his new stuff. The SPCA tells reporters they are flooded with offers from all over the world to adopt him, which is absolutely the best possible ending for this sad story.
Photo: Scottish SPCA