In eight seasons, Real Housewives of Beverly Hills has successfully strung together four decades of cultural history into a Lovecraftian Birkin bag. Continuing the metaphor, here's what's in the purse so far: Erin Brockovich, O.J. Simson, the Hilton family, Kelsey Grammer, Baywatch, Charlie Sheen, Days of Our Lives, the Kardashians, and some of the wealthiest women in the 90210. And more than any other Bravo flagship, this is clearly the franchise most obviously grappling with its standing in the Platinum Age of Television. Last night's premiere was thrilling, surely. It also left me with a primal urge for class warfare. Let's dive in.

Unless you've been living under a rock (which I highly encourage), you've likely seen the explosive allegations surrounding the premiere of season 9. At the center of the tabloid blitz is the increasingly public feud between Lisa Vanderpump and Kyle Richards. As original cast members, it feels fitting to start the season on a time skip to the climax of their rift: Lisa throwing her former best friend out of Villa Rosa. In a particularly venomous moment, Kyle accuses the Queen of Pink of "caring more about your image than your friendships." Invoking a higher power (who shockingly comes back into play later on), Lisa swears on the lives of her children in defense. I was immediately transfixed by the language of power coded into every moment of their argument. I love when the lines between familial allegiance and political alliance are blurred, especially when stoked by mutual participation in another's wealth accumulation. I cannot stress enough the need for class warfare!
We're then tossed 2 months into the past with a carousel of propaganda in defense of large, empty houses. For a show that telegraphs a message of glamour, I'm constantly looking at empty white spaces. I also love the vignettes that mark the start of a new season. They're the perfect foreshadowing device! Dorit Kemsley has expensive new hair extensions, Lisa Rinna raised aspiring Instagram models, Kyle Richards is exponentially richer, Teddi Mellencamp has successfully completed her Housewives metamorphosis, and Lisa Vanderpump is entirely alone. Even more ominous was the realization that it took 20 minutes to introduce Erika Giradi to a film crew and arch-nemesis Teddi landed the first confessional spot. These turned tables! Of the opening montage, I'm most obsessed with Rinna insisting that her daughter's Marie Claire Malaysia cover was the harbinger of supermodel status. Even better, she broke the news from inside a trendy workout franchise (per the official style guide of the Real Housewives.)
Thankfully, the premiere wastes no time arriving at the season's introductory feud. Vanderpump, stricken with grief over the loss of her brother, informs a wealthier Kyle that the Kemsley's abandoned a Vanderpump Dog at another shelter. In a particularly cinematic moment, her various business partners coalesce into a chorus of disgruntled homosexuals hurling accusations at Dorit's latest wig. But in an expertly written move, Kyle doesn't jump to her former friend's defense. How could she? After 8 seasons of mounting tensions, Vanderpump's reputation for manipulating the dynamics of the show are glaring. Enter a scene with passive aggressive accusations, insist that they don't bother you, pivot to picking on a friend's insecurity, and act surprised when it provokes a reaction. While a classic playbook that yields spectacular drama, it must be exhausting to sustain a friendship so produced. I'd also like to bring in Dorit's revelation that the repo men robbers who stole her jewelry led to her climb a mountain in Utah and find God. It was, I believe, the same God Vanderpump calls down on the health and wealth of her children. Cinematic parallels!
I could spend the next few sentences introducing Denise Richards, a tabloid fixture joining the cast this season. I won't! Instead, I'll focus on the pool party that serves as the women's first joint social interaction. The conjunction of children and alcohol usually spell disaster, but Kyle elevated the affair with the addition of a "charcuterie expert." The abject waste of watching children, dripping in pool water, rummage through $10,000 worth of luxury cheese and gold-plated table settings was shocking. Who wants chlorine sweat infused french Brie? I was also assaulted with a throwback to that one time Charlie Sheen licked Lisa Rinna's toes for money, a violence I could've lived without. Dorit, apathetically accepting a birthday party invite, proves herself as the perfect antagonist: "This is what we do in Beverly Hills. We put it behind us, put a smile on our face, and then pretend like we're having a good time." A callback to classic patriarchal roles for suburban wives backlit by a conversation about blocking a friend on Instagram? I cannot stress enough the genius of this premiere!
G/O Media may get a commission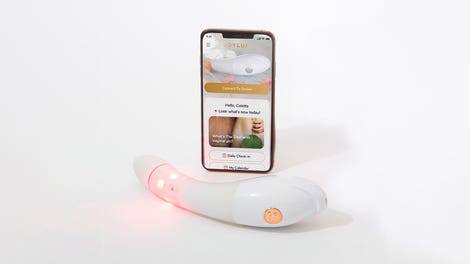 $50 Off
Joylux vFit Gold Device
Despite months of public feuds on its back, this was a shockingly brisk entry into the franchise's next chapter. It was expertly balanced between intrigue and absurd. As it should. Trendy workout routines do deserve the same narrative significance as the dissolution of a friendship! But by the end of this staggering first episode, I couldn't help but wonder: What happens when wealth erases the anxieties of the modern woman? What is left when you live removed from the trappings of human existence? What does life look like without the maelstrom of bills, racism, climate change, sexual identity, politics, and classism? How do you retain your humanity in the mercurial boundaries between tabloid fiction and scripted television? The Real Housewives of Beverly Hills left me with little answers to any of the previous. If this first episode is indication of anything, its that my calls for class warfare might be completely justified. Tune in with me every Tuesday on Bravo as we sort this out together.
In the meantime, enjoy these assorted thoughts!
Of course Lisa Rinna has a collection of eclectic mugs.
iMessage overlays are the best invention of 21st century television
The "Real Housewives Metamorphosis" includes: Sponsored Instagram content, a shady business, a wig purchase, a glam squad, an empty white house, and a lighted makeup vanity.

20 year olds with faces full of Juvederm is frankly apocalyptic.
Someone write the thinkpiece on the ethos of small dog ownership.

Classic Housewives haunts: Vaginal Rejuvenation Clinics, hotel bars, strip malls, charity gala bathrooms, and an extravagantly decorated veranda.

Are these women bickering over who bought a Porsche first?
I too fight with my friends over disinviting me to the DailyMail TV party.
When you're rich, you fight about your friend's participation in your wealth accumulation.
A CHARCUTERIE EXPERT!