What is the most annoying thing about Dorit Kemsley? An easy answer is her laughable accent. Or is it perhaps her inability to remember a conversation that took place days before? No, more likely, it is her toad of a husband who is getting entirely too much screen time on the Real Housewives of Beverly Hills.

PK is shaping up to be one of the worst Real Housewives husbands who isn't an obvious physical abuser or Kelsey Grammer. On Tuesday night's episode we were subjected to a cornucopia of his dumbass opinions and another blazer and t-shirt look that hasn't been popular since 2008.
It all began with him pontificating about Lee Harvey Oswald's possible innocence like a jackass and bragging about showing the "have nots" the finer things in life. Though, I should note that Dorit claims PK didn't actually make that comment and you can believe her if you like.
G/O Media may get a commission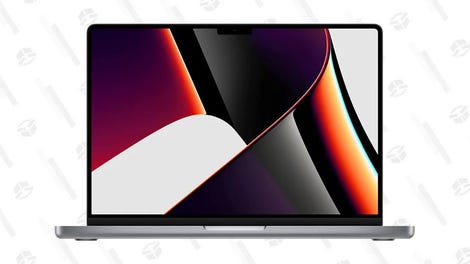 Save $300
2021 14" 1TB MacBook Pro
Somehow during dinner the conversation waded into Lisa Rinna's feud with Lisa Vanderpump last season—the details of which I can no longer remember. While discussing this, Lisa Rinna brought up her father's death, only to say that her general perspective on life has shifted. I'll admit, her segue into Eileen losing her mother seemed a touch unnecessary, but her point was clear.
During the reunion last year, Eileen was going through some shit and she didn't want to tell the other women because she didn't want it to color how they interpreted her opinions and reactions—because you know Lisa Vanderpump would have gone there.
Lisa Rinna made it very clear that those losses had nothing to do with her and Eileen's issues with Lisa Vanderpump but PK proceeded to mansplain the opposite because a man who was able to get Boy George a spot on The Apprentice really does know better.
Was it unfair for Eileen to not tell the other women about her mother's recent death? Only if your "definition" of fairness is rooted in an utter lack of empathy and a healthy dose of self-involvement! Eileen didn't owe those bitches shit.
When Eileen later tried to discuss the conversation with Dorit to clarify that no, what she was going through with her family had nothing to do with how she handled Lisa Vanderpump, Dorit brushed off the entire discussion because she simply couldn't remember what happened at the dinner party: "She wants to put credence on something I have no recollection of."
Imagine thinking that makes sense! If I'm unable to remember something, the rest of the world should behave as if that thing isn't true.
And it didn't stop there. Dorit spent the rest of the episode on the receiving end of Eileen's "is this idiot for real?" face.
Princess Camille Grammer graciously welcomed you into her "starting over mansion" and offered the services of her curiously mature assistant for an afternoon of Malibu views and takeout chicken and salad and you disrespect her freshly saged home by blurting out every stupid thought that popped into your head?

Dorit's biggest mistake was not taking a realistic stock of her adversaries. Erika can give you pithy clapbacks for days and Eileen will kill you with looks of contempt and rationality. There's no way this would end well for her.
The list of her gaffes grew as the sips of white wine contonued. Calling Erika a "young girl" makes it seem like Dorit literally doesn't understand how numbers work. Pretending to work in the music industry but not having any clue how an album rollout works is just sad. (Overpaying for a pair of shoes Kanye West ripped off from another designer does not a career in music make, boo.)
And then she snapped at Eileen.
I could never have predicted how much I'd grow to love Eileen—not because I disliked her but because there didn't seem to be much there. However, Eileen Davidson is the tortoise of this franchise. Slowly and steadily she is revealing herself to be levelheaded at all the right times and able to dish out the appropriate portion of messiness when she needs to. She and Vinny are also very cute.
Dorit fell into a classic Real Housewives trap: running your mouth about shit you weren't around for. I'm loathe to even call this a fight as much as Erika and Eileen rolling their eyes at Dorit's nothing nonsense words.
The confrontation continues next week and my money's on a few Botox crocodile tears from Dorit, a classic Camille Grammer non sequitur and Erika Girardi revealing that she's decided to go commando for the rest of the season just because it bothers Dorit so much.