Of the many valuable lessons I've gleaned from watching every single Real Housewives franchise, I've learned that rich ladies love a statement necklace. It seems only necessary that we begin to catalog them for posterity's sake.
Originally I thought: "What if there aren't enough statement necklaces to document?" Then I laughed hysterically to myself because of course there will be statement necklaces, dummy.
For the sake of time and my eyesight, we're going to stick with Bravo's current Real Housewife offerings. We shall begin with the queen of the statement necklace, the woman who quite possibly started it all: The artist formerly known as Countess LuAnn de Lesseps.
LuAnn, New York
G/O Media may get a commission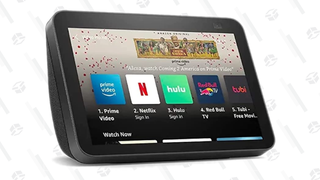 Wearing a statement necklace in the opening credits reveals her true dedication to the statement necklace as A Look. She's setting the stage—letting you know what she's about and what's to come. This also ensures that she'll be wearing an enormous necklace in every episode of the season.
Same dress, new source of neck strain.
LuAnn's ability to style her hair exactly the same way every single day of her life is rather remarkable. Only cartoon characters have that much consistency.
Kristen, New York

Kristen has kiiiind of been stepping into LuAnn's territory this season with her overzealous neckwear. Watch out for this youngin' coming in hot, LuAnn.
Gina, Melbourne
Gina is a barrister who hasn't seen a flat shoe in decades and goes through what must be literal vats of eyeshadow. I'll admit, I expected her statement necklace game to be stronger considering her propensity for wearing cocktail attire at all hours of the day and for events that are not cocktail parties.
This is Gina during her plastics phase.
Jackie, Melbourne
Jackie is a psychic. Feel free to write your own jokes.
Dorinda, New York
OK Dorinda. I see you with those gold lips around your neck for no apparent reason.
Sonja, New York
This almost seemed like a fluke for Ms. Sonja Morgan as she usually prefers pearls and the arms of 20-somethings around her neck.
Gamble, Melbourne
Pettifleur, Melbourne
Just like her attempts at being interesting this season, Pettifleur gave it a valiant effort.
Chyka, Melbourne
Chyka came out swinging and ready to take LuAnn's crown. Mind you—this isn't even a full season's worth.
Sheath dress, statement necklace. Sheath dress, statement necklace. Sheath dress, statement necklace. Sheath dress, statement necklace. Sheath dress, statement necklace.
Let's take guesses on Chyka's statement necklace budget.
Special Mentions
Atlanta's season is over and it's a shame because Phaedra could have given both LuAnn and Chyka quite a run for their money. So let us now take a moment and give it up one time for perhaps the most magnificently absurd statement necklace in the history of the Real Housewives.
While I cannot count embellishments as actual jewelry, I must give a shoutout to the statement collars of the Real Housewives because they have certainly earned some recognition.
First and foremost, nobody loves a bejeweled statement collar like Dorinda loves a bejeweled statement collar.
Atlantic City Chic
A statement pin? I'll count it.
And then there was this.
---
Contact the author at kara.brown@jezebel.com .