Over at New York Magazine's women's site The Cut, writer Anna Silman detailed her night out with environmentalist/actor Adrian Grenier (best known as Vincent Chase from Entourage) and I haven't been this jealous of a writer in years. The evening she captured was, well, magical.

Silman's night with Grenier begins with him lecturing a waiter from Roberta's, a popular restaurant in Bushwick, Brooklyn, about how plastic straws are one of the largest sources of ocean pollution (true). He's worked up, you see, not simply because he's debuting his Lonely Whale exhibit at Refinery29's interactive "29 Rooms," but also because he used to live in this gentrifying area of Brooklyn, and let's just say it's changed, man.
"The discussion turns to New York City, where Adrian grew up and still lives," Silman writes.
She continues:
I observe that the city has changed a lot. "I pioneered Williamsburg," says Grenier. "It got so gentrified that I had to come to Bushwick. I lived two blocks away, and then this place opened, and I couldn't afford to live in this neighborhood," he says, gesturing around Roberta's, which opened in 2008. "We used to have to walk three miles backward in the snow for a cup of coffee when we lived here. Now there's, like, baristas and cold brew."
G/O Media may get a commission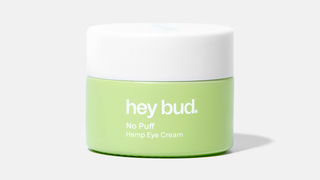 15% off
Hey Bud - No Puff Hemp Eye Cream
Entourage, it's worth noting, ran from 2004-2011—during the time of Grenier's brave exploration into the unknown north (of Brooklyn). According to CelebrityNetWorth, he was then making approximately $200,000 an episode, meaning he could (and still can) live quite comfortably on this land which he so valiantly settled. (The longtime working class residents of Williamsburg and Bushwick who are currently being priced out of the neighborhood by fellow "pioneers" might tell a different story.)
And lest you think that Grenier is not the wokest of baes, he also has some thoughts on feminism:
Everyone is very nice and very enthusiastic, if a bit intense, whether we're talking about the sea (we mostly talk about the sea), sustainable agriculture, podcasts, the upcoming election (I said I was Canadian and Grenier pledged to vote for Hillary "on my behalf"), or feminism. "I would consider myself a feminist," says Adrian when I ask him. "But women don't need my permission to take what is rightfully theirs after all these years, so I don't even need to declare my feminism as a righteous thing. I just am, because I recognize that it's happening, it's right. And I'm just in awe of it and excited about the prospect. Maybe our saving grace is if we can balance the male energy, which tends to be short-term thinking, overly aggressive, often indelicate, with the feminine energy, which is more careful study and frankly more sophisticated, we might actually be able to build a world that would be in balance."
I have read this paragraph several times and still don't know exactly what it means! Still, I am loving it—almost as much as I'm loving the extremely unsurprising news that Adrian is a Burner.
Grenier speaks like a guy who just got back from Burning Man for the first time, which it turns out he did, and he is eager to discuss his experience. "It's a bunch of people who are open, available to connect, and artistic, and are all conspiring to make the most amazing piece of art, which is everybody collaborating," he says. "It's fantastic."

I observe that one of the biggest problems with people I know who go to Burning Man is that they never stop talking about it.

"It's like, could you imagine having discovered America?" he says. "Would you stop talking about that? It's like, I went to this new land. There's nothing like it. And that's the thing. It's captivating, because it's unlike anything I've ever experienced. And I'm worldly, I've been around the world. And it happens to reflect the value system that I agree with."
He hasn't stopped talking about his discovery of Williamsburg yet, so why would you expect him to stop talking about Burning Man?
The rest of Silman's interview is just as good, but I can't in good conscience quote any more of it (again, as much as I wish I was the one to write this article, I was not not). Head on over to The Cut for the rest and laugh your butt off.
I love you, Adrian. For your earnestness AND your politics.