The Pyramid Collection catalog promises "myth, magick, fantasy and romance." And it delivers: Vampires, faeries, Regency-era heroines — the gang's all here!
What's awesome about this doormat is not that it reads, "Vampires Welcome." It's that it actually reads, "Tall, Dark & Handsome Vampires Welcome." Guess what? You're not invited, Mr. Paley McSparkleFace.
For some reason when I was 14 or 15 I decided that the Raven was my totem animal. It had something to do with reading Edgar Allan Poe, living near Edgar Allan Poe Street, going to the desert for the first time, and the movie The Crow. Anywhoozle: I love the "Raven Lunatic" shirt here, as well as the "Midnight Garden" dress, which comes in "goddess sizes," aka plus sizes. The "black widow" shoes with cobweb detailing are not for me, but I applaud the lady who can pull them off.
G/O Media may get a commission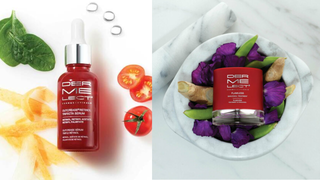 Save $19
Retinol Renewal Kit
It's kind of weird how everything in this catalog is gauzy and wispy and romantic or gothy and steampunky and fantastical… And then there are the "Starlighter" shoes, which seem designed for pole dancers.
The "screw-up fairy" visits my apartment at least four times a day. That bitch is mean-spirited.
I don't know about you guys, but my sister and I love to unfold our wings and hold each other in a Sapphic embrace.
Everything on this page is made of win. The "Forest Finery" top is perfect for a late-night screening of Robin Hood — and I mean the foxy one, not the Russell Crowe one; the "Morrigan" tapestry features "the Phantom Queen Of Celtic Lore," surrounded by "her raven familiars"; the "Age Of Romance" dress is perfect for your Elizabeth Bennet/Becky Sharp/Emma Woodhouse fantasies, and the "Witches' Bible" is clearly a must-have item, since it teaches "casting and banishing… spells, astral projection and more!"
Also, I want someone I know to get married in that Age Of Romance dress, but I don't want that person to be me.
Seems like it would be fun to pair the "Sun Goddess" cape with the "Innkeeper's Daughter" dress and just hang out at Whole Foods, eying the apples suspiciously.
You know that guy who dresses like Peter Pan? This is what I imagine his bedroom looks like. Enchanted forest sexytimes.
I really, really, really want the "Poe-etic License" necklace. A tiny skull and inky feathers? Sold! All the buckle stuff here is fun too — especially the Deadwood/steampunk skirt, which ought to come with a holster for your revolver, in my opinion.
Lady Islington lay down her walking stick, unbuttoned and shrugged off her handsomely brocaded coat, and kicked off her smart little boots. She stood before Sir Scarcliffe in a burgundy velvet frock, crosslaced at the waist. Sir Scarcliffe tugged a ribbon, and the gown began to fall…


Hey, sometimes a lady has enough "myth, magick, fantasy and romance," and just needs something battery-operated.
If I am ever a single old grande dame on a cruise, I will wear that glittery and bedazzled black widow tank top with jeans and those skull and roses cowgirl boots and hang out at the bar like, what. Want to try me?
Pyramid Collection [Official Site]
Earlier: Pyramid Collection: For The Steampunk Renaissance Faerie Pirate Wench New Age Witch Harlot In You