Days before the 2015 US Open tournament where a win would place Serena Williams at a tie for most Grand Slam wins by a tennis player, the new EPIX original documentary, Serena, captures her trying to sound nonchalant about the feat ahead.
"I have nothing to lose. It's not gonna change my career," she shrugs. By now, she has already achieved her second "Serena Slam," four grand slam wins in a row, and the world is waiting for her to overtake Steffi Graf's record of 22 major tournament titles.
As we watch her roll through wins—the Australian Open, the French Open, Wimbledon—the pressure is palpable. Many already consider Serena the greatest female tennis player of all time—if not the greatest female athlete—and now a victory at Flushing Meadows would put her one major away from making that unimpeachable.
She continues: "If I don't win this, it's not gonna be the end of the world." Looking out the window doubtfully, it's clear that while technically true, Serena doesn't fully believe her own words.
G/O Media may get a commission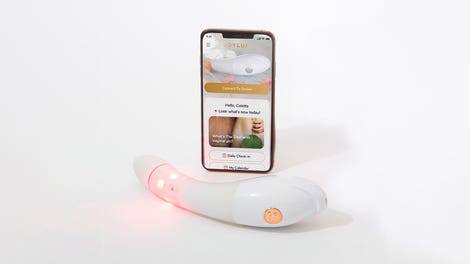 $50 Off
Joylux vFit Gold Device
For the even averagely-informed fan, Serena provides little new information. We already know that she failed to match Steffi Graf's record with a heartbreaking three set loss in the semi-finals. We also know the loss did little to undermine the dazzling success of her year, much less her career.

Still, while Serena does give us a look a close look at this brilliant athlete via insight from her coaches and family, the most telling moments come from Serena's face, her silent stares and the tone of her voice.
After the US Open loss, her sister Venus announces that Serena is refusing to see anyone. She silently walks out of the stadium and into a waiting car. Her coach texts her, to no response. He believes that she doesn't want to see people because she's ashamed—ashamed to have lost and let so many people down.
It's ridiculous of course—the idea that a woman who learned how to play tennis on the courts of Compton at age three, who has claimed 70 career titles, who has defied loaded criticism and outright hostility, could be anywhere near disappointing to anyone. For this black woman who grew up playing tennis and proudly hung a Venus and Serena poster in her room, it is downright blasphemous.
But it's also what you'd expect from someone who has only ever won gold medals at the Olympics, which she keeps in plastic containers in a storage chest. Winning is the natural order of things for Serena Williams.
Her coach Patrick Mouratoglou describes what he calls a "life instinct." Something that ignites when she's down or struggling, elevating her game. "When she's close to the taste of dying, I think, then she finds this energy and she becomes... incredible."
During a run-in with Billie Jean King, the two legends talk shop—Serena lamenting about what she could have better during her last match and King offering small tidbits of advice. As they walk away, King reminds her: "Pressure is a privilege."

We won't know if it was the weight of the pressure that got to Serena, or continues to get to her as she chases Graf's record. Perhaps it was the grueling labor of winning four Grand Slams in a single year, especially at the age of 33.
But if Serena Williams feels the pressure, then you hope she also feels the love. Love from all the young women who have grown up and continue to grow up watching her play. Appreciation from other professional woman athletes as she, the most famous face in women's tennis, tackles the issue of equal pay in the sport. Admiration from all women who have been told that their body is not exactly how the world wants it to be.
And, of course, the love from black people and black women in particular, because in 2016 you still cannot overlook the importance of watching a brown-skinned, full bodied, unapologetic black woman excel as the greatest at what she does.
In my favorite moment from the film, we meet her driver, a black man who was understandably shocked when he realized who he was picking up. He breaks down the precarious nature of being a black person in American striving for success—having to ignore the many naysayers and internal voices that you might not actually be good enough. He talks about how Serena and Venus made him a fan of tennis. His interview highlights the importance of both the existence of Serena Williams and the fact that she is a champion. "She makes us proud," he says.
When asked about how difficult it is to face her sister during tournaments, Serena explains, "When she loses, I lose." My sister and I are not world-class tennis superstars, but it's easy to understand what she means. There are times when I feel pain watching Serena lose, not because she didn't break some record or add another trophy to her mantle. As Serena says, winning the 2015 US Open or even breaking Steffi Graf's record will not truly alter her legacy. But when someone makes you that proud—affirms you in that way—you feel their victories and their losses.
And while, yes, that is an enormous amount of pressure for any one human being who happens to be exceptionally good at hitting a small ball with a racket, I hope she knows that while she does carry that pressure, it has been nothing less than a privilege to watch her play.
Serena debuts at 8 PM ET, Wednesday, June 22, on EPIX.
---
Images via EPIX.