On Friday, South Carolina Senator and Rev. Clementa Pinckney was memorialized in a packed auditorium at the College Of Charleston. As his wife and two young daughters sat and suffered what must be the worst moment of their short lives, President Obama delivered Pinckney's eulogy with fervor and deliberation. It was the blackest thing I've experienced in some time, and I had grits for lunch.

"Clem was often asked why he chose to be a pastor and a public servant, but the person who asked probably didn't know the history of the AME church," said Obama. "As our brothers and sisters in the AME church know, we don't make those distinctions." Later, he added, about the church's activist history: "To put our faith in action is about more than individual salvation, it's about collective salvation."
In his speech remembering Pinckney, the POTUS called out racism, slavery and the history of the black church as a target of homegrown terrorist groups like the Ku Klux Klan.
"The church is and always has been the center of African American life," he said. "Over the course of centuries, churches have served as hush houses, where slaves could worship in safety, praise houses where their descendants could say 'hallelujah,' rest stops for the weary along the underground railroad, bunkers for the foot soldiers of the civil rights movement." He called the church "our beating heart."
He added that Mother Emanuel was "built by blacks," and then burned to the ground when their leaders sought to end slavery—but still the church "rose from the ashes like a phoenix."
G/O Media may get a commission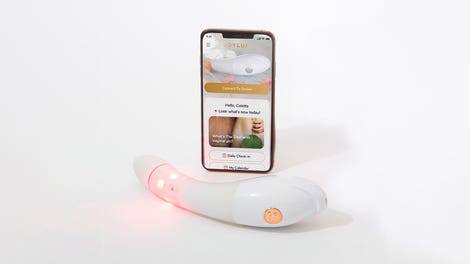 $50 Off
Joylux vFit Gold Device
Obama kept going. He talked about racial bias and hiring discrimination, how employers will call back "Johnny but not Jamal" for a job interview. He championed the removal of the Confederate flag but cautioned Americans not to be satisfied.
"For too long, we were blind to the pain that the Confederate flag stirred in too many of our citizens," he said. "It's true, a flag did not cause these murders but we must acknowledge that it's always represented more than ancestral pride.
"For many, black and white, that flag was a reminder of systemic oppression and racial subjugation. We see that now," he said. "Removing the flag from this state's capital, it would not be an insult to Confederate soldiers… it would just be an acknowledgement that the cause of slavery was wrong, the imposition of Jim Crow, the resistance to civil rights for all people was wrong. It would be one step in an honest accounting of America's history, a modest but meaningful balm for so many unhealed wounds. By taking down that flag, we express God's grace but I don't think God wants us to stop there."
And here's where the organist got fired up, and gave Obama some background, if you will, as the POTUS implored America to express God's grace by fighting for equality without hiding from the fact that certain inequalities might not affect each one of us personally. He called for gun safety laws and asked that we not go back to business as usual—it would be disrespectful to "everything Reverend Pinckney believed in."
He charged his audience—both the people in the auditorium and the thousands watching behind screens—with the assertion that America's had enough talk about race, and that it's time to do something about racial bias and implicit white supremacy. It's time to act differently and our actions as a country to that end will allow us to show God's grace, though we don't deserve it. (It was here that Obama was clearly if implicitly preaching to the white people who might've caught his speech, as the undertone was one that reiterated the fact that racism is less about what black folks can do and more about people in power choosing to not to be silent about the injustice swirling around them daily.)
Then, after all that, the first black President of the United States began singing his self-proclaimed favorite hymn, "Amazing Grace." It must be said here that, as an attendee of Brooklyn's Emmanuel Baptist Church, I've learned through my own pastor's warbling—God bless him—that it is many a reverend's dream to stir a congregation with a well-placed (and well-sung) spiritual. Obama did that, guys, and he's not even a preacher for a living.
As amazing as Obama's song and speech were, the very experience of watching Pinckney's service was sobering. The man, along with eight other churchgoers, were fatally shot during Bible study in one of the country's most historical black churches because a white kid named Dylann Roof wanted to start a race war. In 2015.
When news broke of the horrific act, I thought, "There by the grace of God go I." I attend church nearly every Sunday, I am a soprano in the choir, I could've been one of those victims. The ghosts of 1963's four little girls in Birmingham, countless lynchings, cross-burnings, black and white water fountains, back-door only entrances, the murders of Medgar Evers, Martin Luther King Jr. and Malcolm X, the LA riots and Rodney King, Trayvon Martin and Freddie Gray, all of them arose in my mind.
I remembered that all of this violence was in the name of upholding the idea that blacks are sub-human and should be kept in a cycle of fear and subjugation and I could barely breathe or function. I was suddenly so very tired and I couldn't believe it was happening again, with a black president in office no less. America is fighting the same demons my grandparents, great-grandparents and great-great-grandparents battled.
And in this context, watching Obama speak, then tune—do what black preachers do, revving up their audience with melodic vocal deliveries—accompanied by an on-point organist was simultaneously awesome and soul-crushing.
Awhile back, on Rembert Browne's podcast Rembert Explains, I talked to him about Baltimore's riots surrounding the death of Freddie Gray, I exasperatedly said I didn't want to have to pray my way out of another tragedy. However on Friday, with the church at the center of a yet another terrorist act, I found myself wanting to do just that.
I am praying that Americans will get their shit together and stop fighting over the same old bones we've been trying to hide in the closet for over 400 years. The jig is up. The world knows we've got a closet full of racism, that we're no poster children, that we systematically subjugate people of color and the poor. Dylann Roof's actions were the chickens coming home to roost and I pray that all the dog-whistling politicians on both sides of the aisle take responsibility for their roles in this tragedy. I am tired of the games that American politicians and media (hi, Fox News) play with real lives, their ability to feign surprise when people like Roof murder nine people for no other reason than their the color of their skin.
As Obama said, if we can tap into that grace, that reservoir of goodness, we might change this country for the better. I am praying that we still can.
---
Contact the author at Hillary@jezebel.com.
Image via Getty.