Alexander McQueen's untimely death only happened yesterday, but already the vultures are lining up to profit off the grief. The worst offender? A tribute domain listed on eBay for $1,000,000.
Seller Boxer1727 posted a listing for www.InMemoryOfAlexanderMcQueen.com on eBay at 10:11 a.m. PST. He's (she's?) asking one million dollars for the site - but he is also wiling to accept the best offer. Another eBay user, who goes by the name rockmebritney, is selling off AlexanderMcQueenMemorial.com and RememberingAlexanderMcQueen.com for $5,500. Someone who thought the eBay handle luvinthesouth was a good idea is asking $9,000 (as the "buy it now" price) for the domain HausOfAlexanderMcQueen.com. And we're not the only ones grossed out by this display of greed: in the question and answer section of Boxer1727's listing, one person said: "You are dispicable (sic). If you are such a huge fan of his, you certainly have sick way of showing it."
But there are other eBay-ers who want a little piece of McQueen, as evidenced by the rise in bidding for certain trademark McQueen pieces. Although most McQueen items on the auction site are experiencing a jump in popularity, the trend is most pronounced with the skull scarf, one of McQueen's most famous designs thanks in part to celebrity fans like Ashlee Simpson and Nicole Richie. Because the scarf is still currently for sale in stores, eBay bids haven't shot up higher than the retail price, but there is still a clear increase in the number of people looking for the distinctive swathe of cloth. A blue version, which retails at Neiman Marcus for $260 has jumped in price on ebay from $49 on Tuesday to $170.


A black version has also seen an increase in popularity, with 24 out of 28 bids entered in the past 24 hours. The price of a pink scarf has gone from $9.99 on Tuesday to $177 today, with 20 of the bids entered since yesterday morning. The pink skull scarf (which is marked new, with tags) still has two days left, and as anyone familiar with eBay knows, the bidding doesn't usually start getting really competitive until the day the item is about to expire. A hot pink and black version is for sale from a US seller, and while bidding doesn't end until the 15th, one persistent buyer has bid on it 12 times, bringing the price from $69.99 to $131.

G/O Media may get a commission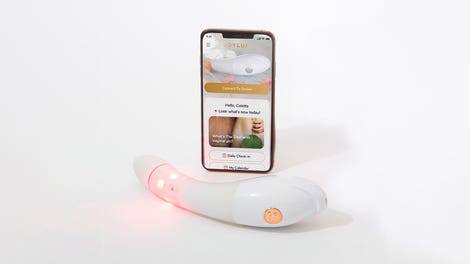 $50 Off
Joylux vFit Gold Device

The jump in sales isn't just limited to eBay. Selfridges department store in London noticed a "very significant and immediate uplift" in sales and Elle UK reports that Liberty has seen a spike in sales that begun just an hour after his death was reported. Liberty's Head of Press said:
Just after the news broke, all of our Alexander McQueen stock started flying off the shelves. Initially the signature skull print scarves were the most popular items, but now we've seen a surge in sales of the more serious fashion items like the dresses and jackets.
Although much of McQueen's work elevated clothing from the everyday into the realm of pure art, he did design some accessible pieces. Despite price-tags in the thousands, dozens of items have sold out on Net-a-Porter, including the reptile-print silk dress from the spring-summer collection and this gorgeous stretch lace bandage dress.


The scarves are probably seeing the biggest bump on eBay simply because they are cheaper - and more wearable - than McQueen's other designs, but if those amazing rhinestone encrusted shoes suddenly popped up on eBay, you can bet your life we'd be first in line.

Alexander McQueen Tribute Domain Name Listed On eBay For $1M [OC Weekly]
McQueen Sales Soar [Elle UK]
McQueen Fans Grab Fashion Mementos [News.com.au]