Amanda Seyfried recently complained to Esquire about her spinach-based diet (which disappointed some raw-foodies), but we're more drawn to the fact that she downed pills — birth control and, more interestingly, Lexapro — in front of her interviewer.
The diet, perhaps, is symptomatic of Seyfried's anxiety issues; she told Esquire, "It's intense. And sort of awful. Yesterday for lunch? Spinach. Just spinach. Spinach and some seeds." And Seyfried's statement that she has to diet to keep getting roles ("If I'd been a bit bigger, I don't think they would have cast me for Mamma Mia!") is yet another example of the pressures Hollywood heaps on women. But more unusual is this bit:
The anxiety rises in her as she speaks, and she cracks open her purse, shakes a Lexapro into her hand. She halves it, then pops a birth-control pill from its foil pack and swallows both. "Yeah, yeah, I'm anxious," she says. "And yes, I use birth control."
Now, Lexapro is mainly an antidepressant, meaning it can treat anxiety disorders but not necessarily acute anxiety attacks — so interviewer Tom Chiarella's suggestion that she popped it to quell "rising anxiety" may be a little off-base. But it's perhaps precisely because they're often misunderstood that it's a little surprising to see a star taking psychoactive meds in front of a reporter. (The birth control pill is a whole 'nother kettle of fish.) Seyfried is 24 — is it possible that among the MySpaceBook generation we hear so much about, both sex and antidepressants have lost their stigma?
I'm a little older than Seyfried (three years to be exact), but I wouldn't take my birth control pill in front of anyone but a close friend or sex partner. I consider it kind of intimate, like pulling a condom out of my bag. Of course, both condoms and pills can prevent unintended pregnancy, so as far as I'm concerned we should be encouraging people to whip them out when- and wherever — probably I'd do well to emulate Seyfried's nonchalance.
G/O Media may get a commission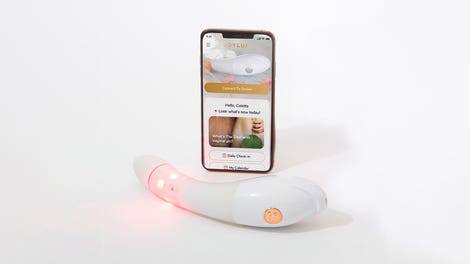 $50 Off
Joylux vFit Gold Device
Then there's the Lexapro. Jessica opines that comfort levels with flashing the Lex (or the 'Zac, the 'Loft, the, um, 'Xil) may vary by region: "In NYC, everyone's wonderfully open about their personal head case," whereas in the Midwest, "It's just not a topic." Seyfried lives in LA (which she apparently dislikes, maybe because so many people are on the fucking raw food diet), which, if not necessarily a bastion of mainstream Western psychiatry is at least pretty open to discussions of the psyche. And a friend of mine who's lived all around the country says of her psychiatric meds, "I do take pills in front of people I would not be comfortable ID'ing the pills with, but it's usually because I have to take them at that moment." She adds that the issue came up a lot "when I was younger and thought a lot about the cachet of being 'disturbed' or 'troubled,' and when I used to feel like people would 'show off' with their prescriptions."
Whether being 'troubled' is glamorized or stigmatized probably depends on what circles you run in, but it would be best if it were neither. I'm hoping that Seyfried is, in reality, as blase as she sounds about both her prescriptions — "Yeah, yeah, I'm anxious. And yes, I use birth control" — because that would actually be pretty healthy.
Amanda Seyfried Is A Woman We Love [Esquire]
Amanda Seyfried Only Eats Spinach On "Awful" Raw Diet [Us Weekly]
Eat More, Amanda! (Or, Beyond Spinach And Seeds) [Choosing Raw]