In the late afternoon on Tuesday, April 28, 2015, a petite Korean mother of one walked into the lobby of the Yolo County Jail wearing army fatigue pants, with tears streaming down her face. Convicted by a jury in February, she'd been locked up in the Northern California holding facility for a total of nine months. In the state's eyes, 43-year-old Nan-Hui Jo was a child abductor; Jo herself maintains that, when she left the United States in 2009, she was fulfilling her visa obligations and fleeing a long history of domestic abuse.
Before her return to the United States in July 2014—upon which she was immediately arrested at the Honolulu airport—Jo had been living freely with her daughter in Korea. She'd ignored the long succession of emails sent to her by her ex-boyfriend Jesse Charlton, an Iraq war veteran whom she alleges was physically and emotionally abusive. Their relationship derailed permanently during an incident in which, according to both of their court testimony, Charlton choked Jo, lifted her up by the throat, and slammed her against the wall.

Charlton's attorney says there was only one violence incident in the relationship, and that Jo's actions denied him a chance to watch his daughter grow up. Jo, in contrast, said in court that she left in 2009 with one-year-old Hwi—who she called Vitz Da, which means "light of everything" in Korean—simply because she had to: Her legal status was linked to a marriage that she fled in 2007 after what she alleges was a pattern of physical and emotional abuse. Her relationship was over with Charlton, she said; she didn't trust him around their daughter anyway, and she planned to allow the two to see each other when she felt it was safe.

As Hwi approached elementary school age, Jo started thinking about getting her an American education. In 2014, Jo applied for a tourist visa to visit schools in Hawaii; the application was approved. What she didn't know—or by other accounts, refused to acknowledge—was that Charlton had for years been helping to build a child abduction case against her. There was a protective custody warrant out for Hwi in Sacramento, and once the US Embassy received Jo's visa application, they tipped off the Yolo County police.
Arrested upon arrival in America, Jo was extradited straight to Yolo County. Charlton was given immediate sole custody of five-year-old Hwi, who spoke no English at the time, and has been parenting her ever since.
On April 28, Jo was sentenced to 175 days in jail and three years probation; she was subsequently released on time served. In the lobby of the Yolo County Jail, Jo's lawyers and a dozen or so supporters welcomed her, arms open. The group of local activists who had taken up Jo's cause were adorned in purple, a color symbolizing survival of domestic violence. They carried clothes for her to change into and a traditional Korean seaweed roll for her to nibble on. "Sad thing still. I couldn't see my baby," Jo murmured in English as she addressed the group. "My baby is strong. She will be okay."

Jo only got 30 minutes' reprieve before immediately being detained by the Immigrations and Customs Enforcement agents who hovered just outside the jail's door. She was moved to an ICE detention center in Yuba City, and she and Hwi, mother and daughter, have still not seen one another since the arrest.
Nan-Hui Jo's story looks different ways as the light changes. In the eyes of the state, she's a child abductor, an undocumented immigrant facing deportation; in the eyes of her friends and supporters, she's a domestic violence victim who lost her immigration status because of one abusive partner, who may lose her daughter because of another. Jo's relationship to Charlton and the subsequent child abduction case has been described as a "cross-cultural love story gone wrong," but her supporters took to Twitter to call it a horror story—a tale of a woman victimized by two men as well as the immigration and criminal justice systems.
G/O Media may get a commission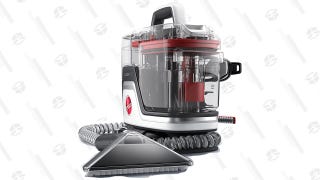 Save $10
Hoover CleanSlate Plus Carpet & Upholstery Cleaner
Yolo County Assistant Chief Deputy District Attorney Steve Mount, who re-tried Jo's child abduction case after it resulted in a hung jury the first time around in December 2014, told Jezebel that Jo "was not fleeing a household of continual abuse," and that she would have ended up with custody of Hwi if she had gone through the proper channels.
"I'm inclined to be a little bit doubtful of that scenario," said Hyejin Shim, a spokesperson for the Korean-American Coalition to End Domestic Violence. "She was still undocumented at the time. She was primarily Korean-speaking. I think those factors can count pretty heavily against you in a court of law."
"It's tough to know exactly what could have happened in 2009," Jesse Charlton's attorney Preston Morgan told Jezebel. "The one thing we know," he said, "is that Nan-Hui Jo didn't let that happen. So we'll never know that."
It's true that Jo could have changed her visa status after she fled her marriage, that she had legal recourse to address Charlton's behavior when she lived with him and Hwi. It's true that she could have taken advantage of specialized provisions for domestic violence victims to stay in the country and settle her daughter's custody case. If she had, she may have not ended up charged, jailed, found guilty, in the hands of ICE, cut off from the child she had never once before been apart from.

But, in order to take advantage of these special provisions, she would have had to trust the system to protect her—the same system that later jailed her and took her child away.

---

The prosecution of domestic violence, one of the most under-reported criminal offenses in America, relies heavily on victim testimony. For immigrant women, the strength required to confront and report an abuser is compounded by the fact that they may be reliant on their abusers for language assistance. Their abusers might also, as was the case with Jo's husband, literally hold their immigration paperwork (which is complicated even for native speakers) in their hands.

When survivors finally either gain the courage to report the violence perpetrated against them or take matters under their own control—i.e. leaving, as Jo did—they often find themselves on the wrong side of the law. Both the criminal and immigration systems have a bad habit turning on victims; when these two systems intersect, this bad habit can get even worse.

For one: Claudia Valdez, an undocumented mother of three without any previous criminal history, was arrested in Denver in June 2012 after the local sheriff's department mistakenly targeted her as the perpetrator of a domestic dispute. The department then turned her over to ICE, where she was separated from her children and began her deportation hearings.

Another undocumented woman, Isaura Garcia, endured severe violence from her boyfriend with documented history of 911 calls and visits to the ER. But in 2011, she called 911 and the police believed her boyfriend's story over hers. She was then arrested and turned over to ICE.

Theoretically, the US immigration system carries many provisions to provide relief and protection to abused women. In practice, this relief is harder to come by.
The Violence Against Women Act (VAWA) visa self-petition was designed for survivors of domestic violence, battery, and extreme cruelty to be able to apply for legal status independent of their abuser. But, according to a former senior official at the Department of the Homeland Security, the option often remains inherently hidden. By nature of their situation, immigrant victims of domestic violence are often not informed of the VAWA and forms of protection—even though immigration officials are technically required to notify recipients of fiancee visas of their legal rights and resources, including domestic violence protections.
Jo's case presented a clear opportunity for that point of contact, which, according to her immigration attorney and Jo's court testimony, never occurred.
Her Department of Homeland Security file acknowledges the restraining order against her husband that was court-ordered in Connecticut. The file bears a handwritten note from an immigration official, dated February 28, 2008. In it, the official acknowledges the protection order filed against "the Petitioner of I-129F" for the spouse.

In other words, immigration officials knew Jo had at least temporarily been in danger from her husband, who had a criminal record—but rather than granting her administrative clemency or even notification that she was eligible for VAWA's provisions, the acknowledgment that Jo had been in danger from her husband was the thing that put her in danger from the state.

"As such, the validity of the marriage is in question," the note concludes. Because of these concerns, ICE officials approached Jo's husband in 2009, who said that he no longer wished to sponsor the visa.
Jo would have also been able to avail herself of U Nonimmigrant Status (U-Visa), a visa for crime survivors who have suffered mental or physical abuse, and who have been helpful to law enforcement in the investigation or prosecution of the crime. Jo would have been eligible for this after the court ordered the TRO on her husband. She was never notified of this option either.
Currently, ICE detention centers all over the U.S. are filled with immigrant women living in deplorable conditions, separated from their children, just like Jo from her daughter Hwi. Many of these women wind up in there after seeking refuge from the local authorities, who in some cases—if the woman was physically defending herself, for example—will arrest all parties involved. These women then fall into the grips of the Priority Enforcement Program, formerly the Secure Communities Act: a program that dictates that, if an immigrant has been fingerprinted by local authorities, he or she is legally susceptible to receive an ICE "detainer" (a 48-hour hold in a local facility that often stretches much longer), a potential first step on the path to being deported.

Nina Rabin, an immigration attorney who focuses on women in detention, says that women in ICE custody rarely know their rights—that domestic abuse survivors are usually not told about VAWA until they are already in the detention center. There are a few NGOs that hold Know Your Rights clinics in the centers when the women are already being processed for deportation. But by then, it is too late.
---

Nan-Hui Jo came to the US in 2002, on a student visa, to study film at University of Southern California in Los Angeles. Shortly after arriving, she met the man who would become her husband. Jo returned to Korea, applied for a fiancé visa, and came back to the United States.

Now married, the two moved to a small town in Connecticut, where things soured quickly. Jo claimed in court that the man, whose name hasn't been made public, was physically violent as well as psychologically abusive toward her: he stole her car keys and passport in order to control her movements, and sometimes called her coworkers up to 100 times a day to check on her whereabouts. Additionally, according to Jo's immigration lawyer, her husband processed her green card application (which was dependent on their marriage) by himself; he didn't call in the aid of a lawyer, or work with his wife to complete the paperwork, as is often customary.

In July 2007, after an unspecified incident, a temporary restraining order was filed against Jo's husband to protect her. Later that year, still married, she fled her house and went back to California.
She enrolled in Sacramento Community College for the fall semester, and there, in a photography class, she met Charlton, a stocky man in his early twenties, a decade younger than her. Charlton had served two tours as a machine gunner in Mosul; he'd returned with severe PTSD and traumatic brain injury. He was on 70 percent disability, and has testified that he suffers memory loss and flashbacks. (Charlton's attorney declined to make him available to Jezebel for an interview; his recollections are drawn from court documents and testimony.)

Jo's English was spotty, Charlton said, but they shared interests: traveling, taking pictures. Soon, Jo—who introduced herself to Charlton as "Vitz," a nickname that means "light" in Korean—found herself in another rocky relationship.
Charlton, unemployed at the time, moved into Jo's trailer with just "a backpack, a camera and some clothes." The two argued frequently: Jo didn't like Charlton's drinking and relationship to pornography, Charlton didn't like Jo's expectations. In his testimony, he stated, "I always lived my life really cavalier, and I didn't take anything serious, but Vitz wanted me to be serious and around."

The differences between them became clearer in 2008 when Jo found out she was pregnant. It was a surprise to both of them: Jo had lost a baby close to term a decade and a half prior, and according to her, doctors had told her she couldn't conceive again.

In court, Jo described her pregnancy as a miracle—and says that Charlton was furious. "He wrote [a letter] saying that this baby would be a curse to us, all of us, and I had to solve this issue all by myself. So I was very afraid," she stated. He demanded she get an abortion, she adds, which he denied in his testimony—although he admitted that he bought her a one-way plane ticket back to Korea, which she took.
After a month in Korea, Jo returned to California at the end of July 2008. She had the baby by herself in early September, listing no father on baby Hwi's birth certificate. She moved into a friend's house, where she shared a room with her newborn daughter, and didn't speak to Charlton at all.
During Jo's trial, prosecutor Steve Mount pointed out that she—long since parted from the marriage that her legal status depended on—did not change her visa back to a student visa when she left Korea and re-entered the States. "Did you tell [the embassy] that you left your husband and now you were back to being a student?" he asked.
"No, I did not," Jo said.

As such, her legal status remained dependent on a marriage she had fled—and a man who, according to Jo's immigration attorney Zachary Nightingale, never filed her citizenship papers. The fact that she had returned to America on her rapidly expiring fiancee visa started the chain of events that would lead, more than six years later, to federal agents meeting her at the airport in Honolulu with handcuffs.
"Isn't it true that the reason you didn't ever apply for a divorce was because you would lose your status to be in this country if you did?" Mount asked Jo in court.
"No," Jo replied.
Later in her testimony, she explained: "I heard that to file a divorce you need a lot of money."


---
As Jo's status grew more precarious, her attention turned to the future that awaited her daughter. In October 2008, a month after Hwi was born, Jo applied for aid from the local Department of Child Support Services. In court, she said that her roommate and an interpreter had helped her do this; she claimed that she did not recognize the handwriting on the papers, just the signature.

Shortly afterward, the department served Charlton with child support papers. At this point, the two still weren't speaking, and Charlton demanded a paternity test just "to be mean"; Hwi, as they both knew, was his. In his testimony, he talked about coming to think of child support as having some silver lining. It was a "one-way connection with my kid," he said.

In early 2009, Jo and Charlton ran into each other at school, and tentatively began speaking again. Jo started allowing Charlton to come over and see the baby, and before too long, they rekindled their relationship. Jo's roommate moved out and Charlton moved in. He and Jo became an unsteady "family unit," as he described it, although their relationship stayed tumultuous. Charlton was still drinking more than Jo liked; she now suspected him of cheating, she still hated the fact that he watched porn, and Charlton was dealing with his PTSD.
"90 percent of the fights [between Jo and I], it would end up in me just leaving because I don't like confrontation," he stated in court. "I really don't like it. It freaks me out from Iraq. I just get mad, so I just leave."

In July 2009, Jo received notice that her green card application was denied. She understood the message of the letter: that she was now illegally in America, and that she would need to leave the country right away. But the notice was complicated, particularly to someone with Jo's English skills. She didn't understand that she had the right to get an immigration attorney, or that ICE would have to start a removal case against her to force her to leave. All she knew was that she needed to get out, or find a way to stay.

Consequently, the tension in their relationship escalated. Jo gave Charlton a ring for his birthday; Charlton thought she was proposing marriage. Jo stated in her testimony that this was just a birthday gift. (In Korea, couple rings are a common tradition—even teenagers exchange them.) It seems, anyway, that Jo understood that her marital status was at the center of her immigration problems. She couldn't marry Charlton without getting divorced, and Charlton didn't want to marry her. He also refused to help fill out her divorce paperwork, knowing, as he said in court, that it "was a big hurdle to her getting immigration." In a later email to Jo, he wrote, "You always talked down on me, and I knew I wasn't ever going to make you happy. This is why I didn't do your divorce paperwork or put that ring on."
The couple kept trying to sustain their relationship regardless of Jo's legal difficulties. In September 2009, Jo and Charlton made plans to give the baby a first birthday party. The day before the baby's birthday, the two got into a fight in the grocery store parking lot. "I went to the Korean market to prepare for the birthday, but Jesse didn't want to. He want to skateboard," Jo said in her testimony. Charlton slammed his hand against the steering wheel so hard he broke it, and left the car. Jo didn't hear from him until 2 a.m., she said, when Charlton called from the Sacramento jail, asking for a ride home.

They held the party the next day as planned. Charlton described it as happy: "friends, family, great Korean food and birthday cake and presents."
These, however, were the last two months of Jo and Charlton's relationship. During her trial, Jo was asked by public defender Dean Johansson if, "specifically in the area of September, October [2009]," she was frightened of her partner. She answered yes.
"Did you ever yourself experience any violence from Mr. Charlton?" Johansson asked.

"Yes, on several different occasions," she said, through her translator. "He was diagnosed to having brain damage. His personal characteristic completely changes, and you can see it from his eyes."
The events that led to Jo and Charlton's breakup took place on October 18, when Jo noticed that her one-year-old had, according to her court testimony, put a necklace in her vagina. Her "mother's intuition" kicked in, she said. She checked her laptop's history; Charlton had been watching porn while taking care of the baby.
In court, Charlton said that he "didn't see anything like that ever," when asked whether their baby had exhibited any strange or sexual behaviors. "But she thought that [the baby was acting strange], yeah," he said, adding that "Mrs. Jo hates porn."
After Jo checked her laptop history, she panicked and confronted him. During this argument, Charlton grabbed Jo by the neck and threw her against the wall. "I yelled her name with my kid in my left hand," Charlton testified, "and I grabbed her by the throat by the right hand, and I threw her up against the wall. And she's a lot smaller than me, and we were face-to-face, and I yelled into her face that everything is bad, something like that."
Jo called the police, who once again told Charlton to blow off steam. In court, he described the officer asking "me to leave and give her space between us. I remember the police officer told me that he was married, he got in arguments with his wife, and I just needed to leave and chill out."

The couple split up after the argument. They had another fight on October 30, when Charlton returned to the house. She called 911, running from Charlton; the police again left without arresting either party.
After this incident, Jo decided to get out of Sacramento and prepare for her return to Korea. "I lost my status. I didn't have a working permit. I didn't have a driver's license, and Jesse didn't care," she said in court, adding, "I couldn't survive here." She stated later that "Jesse continued to be way violent, and that was not good for my baby's safety." She went to stay with friends in Southern California and applied for a passport for her daughter. She flew to Korea with Hwi at the beginning of November—but not before Charlton filed for custody.
Out of the country, Jo missed the family court dates: first in November, then in December, and then again in January of 2010. She was notified that she could appear in court remotely, via telephone; she asked for an interpreter, but then did not follow up with the interpreter or call in for her dates. Finally, with no word from Jo, Charlton filed child abduction charges.

Jo stayed in Korea, withdrawing child support from her bank account. (She applied for continuing aid from Korea, a fact that Steve Mount suggested in court may imply a facility with procedural paperwork inconsistent with the idea that Jo could not cope with her immigration or custody obligations.)

She ignored all contact from the States. With Hwi, she lived a relatively peaceful life on Jeju-do, a tranquil island at the southern tip of Korea. She worked several jobs, including restoring houses and writing children's books.
For years, Charlton sent her regular emails, which he also submitted to the Yolo County Child Abduction Unit. In his testimony for the child abduction case, he read some of these emails out loud, their tone veering wildly from tender to furious. In one, he wrote:

My feelings about you are not easily defined or labeled. But as for my feeling for Da, I can only say that I've loved her unconditionally since day one… I believe our relationship between us would not only be healthy for me, but for her also. If you do deceive her from my presence, she will likely figure it out as I will constantly seek her out till I die.
He added, apparently referring to Jo leaving the country:

Can I forgive myself for pushing you to this? yes, but it takes a lot of painful introspection. I know I was ignorant of my consequences to a point where I avoided the truth and hoped that you would just stay with me unwed and illegal. Quite a selfish wish I admit.
The emails evince a sincere desire to see his daughter. In one, he fills Jo in on his day, using the affectionate nickname the couple had used for mother and baby alike: "Hey Mama Vitz, photograph [sic] and edited all day today, plus homework. It was good stuff, and wish i could just share it with you and Baby Vitz. Hope you had a good day as with Da Vitz. Guess she isn't a baby anymore, just in my head, because I haven't seen how she's growing up." He wrote wistfully that he'd gotten to spend time with a three-year-old child that day, which only increased his longing for his own daughter: "It was amazing and incredibly painful afterwards, but I was happy to be able to see a kid smile. I love you, Da Vitz."

He obliquely references the child abduction case at least once:

You'll probably be contacted by the federal government soon. Sorry, but the local cops got them involved, and they tracked you to Korea, but they don't know shit about you. They say you're really crazy. They say they can't see any pattern to your trail. Cops are so dumb sometimes, but their work ethic usually pays off. If you really are in Korea, there's nothing anybody can do to you.
And, in a few other emails, the volatility that Jo testified about in court becomes visible. In the message referencing Kelly, the bounty hunter, all affection is gone. "I have had to cut off Kelly. Just found out he used to abuse his wife, and now she's left him. I mean really abuse the s-h-i-t out of her. He rolled her up in a mattress and raped her."
If you do not respond to this letter, or the next few ones, I will write. I will come looking for you on Da Vitz's second birthday. I'm not talking about flying to Korea with a picture of you two and nothing else. I'm talking about spending thousands of dollars on a scary bounty hunter that I'm not at all friends with, but have known for six years and tried to avoid.
In court, Jo testified that she only replied to one of these emails: to say, after Charlton announced his plans to come look for her in Korea, that she was living in New Zealand. (She was not.) Steve Mount summarized the email in court: "the view and the ocean and how beautiful it was, as if you were there and you weren't."

Charlton came to Korea, and never made contact with Jo on the trip. "For me, Korea is awesome," he wrote in an email. "People here treat me very nice whether they like it or not. The Korea girls here really like me, but are very stupid, I think."

During this period, Jo was also receiving communication from the Yolo County Child Abduction Unit. In court, Jo admitted that she lied in response to Angela Smith, an enforcement officer in the Child Abduction Unit, saying that she was still in the States. Jo claimed that this communication came shortly after Charlton's email about the bounty hunter. "I thought that Angela Smith was from bounty hunter," she said. "Would not anybody be afraid of such a threat?"
Answering Mount's questions in court about why she didn't respond to Charlton's emails, Jo said, "I had responsibility for my baby. I mean, what else could I have done? What effort should I have put into [answering him]?" Jo said that she intended Hwi to meet her father "when Jesse is not dangerous to the child at the time." She insisted that she didn't understand that Hwi was considered abducted—that her actions could have been seen as a serious crime.

---

Jo was tried on child abduction charges for the first time in December of 2014; the trial ended in a hung jury. Steve Mount immediately stated his intention to retry Jo, saying, "Our Child Abduction Unit does its very best to help parents get into court. We only file charges in egregious cases where we have made contact and the defendants don't do the right thing."

Speaking to Jezebel, Mount acknowledged the activist communities who protested his decision, but suggested that the clear-cut motive they've attributed to Jo's actions—that she was attempting to escape an abusive relationship—is inaccurate.

"Yes, there was a domestic violence incident," said Mount, "and [Charlton's] reaction was completely inappropriate, and he probably could've been charged at that time, but neither of them told the cops that that had happened."

When asked by Jezebel if Charlton would refute the claims that he was abusive, Charlton's attorney Preston Morgan said, "It depends on how you use the term abusive. There may be abuse in a relationship. There may have been circumstances surrounding it that may not be indicative of an abusive relationship. That's not to undermine any physicality, and how it's inappropriate in any circumstance, but it does happen."
Steve Mount pointed out that Charlton had moved out of Jo's house by the time she was preparing to go back to Korea, and that he was only trying to secure visitation and contact rights. He added that Jo spent some time in Southern California before going back to Korea, and that she did so freely, even staying with Charlton's relatives for a short time. "She was not fleeing a household of continual abuse," Mount said.

Mount expressed sympathy for the distrust Jo might have had of law enforcement, or of the United States legal system. He noted that domestic violence is particularly underreported in the Asian-American community.

Jo "was running out of options," he said. "I think she was afraid of going to family law court, which is really sad, because she would've gotten custody. She would've been able to take her child to Korea. The court would've probably said that she had to let the dad come visit when he can afford to, and give him phone access. But she was clearly going to get custody; she was clearly the more competent parent." At the criminal hearing, Mount called her a "tiger mom," too competent to be a victim.

Is it possible to be too competent for victimhood? Would Jo qualify, if it were? Competence, interestingly enough, may be required to prove your victimhood in the first place. There's a section in the California penal code for parental child abduction that makes a custody exception for parents fleeing domestic violence—parents who believe that either they or their children are in imminent danger of physical, psychological or emotional abuse. This exception, however, requires initiating custody proceedings in court.
Jo stated in testimony that she was afraid that if she went to court, she would not—contrary to the opinion of the office that tried her twice for child abduction—be seen as a good parent. "I did not have legal status to stay," she says, "and what scared me most was to lose my baby and deported." This, of course, is the likely fate that awaits her now.

---
At Jo's sentencing, Charlton approached the podium in a wrinkled brown shirt. He read a prepared statement where he asked for the maximum sentence of three years. He stared at Jo as she sat shackled in her mint checkered Yolo County jail jumpsuit; the two of them locked eyes briefly. As he read about how the absence of Hwi affected him, he pounded his fists on the podium and muttered "fuck" audibly. Unable to control his emotions, he ran out of the courtroom, the door slamming behind him.

"He became emotional reading it," says Preston Morgan. "I think at a time like that, you realize we're coming to the end of one chapter of this, and there's a tendency to view everything that's occurred, from 2008 forward. He did get a little emotional."
The judge didn't sentence Jo to additional jail time. He ordered her released with time served. In the jail lobby, tears streaming down her face, she talked to her supporters and mentioned a letter she received from her daughter—the first and only contact since her arrest, facilitated through her lawyer. "It was short, just like "Mom I love you, I know you love me." She told a Korean reporter, "I'm scared."
At the front door of the lobby stood two male ICE agents, waiting. They had an order to take her into custody, but no jurisdiction inside the county jail.

Jo waved at them and pleaded nervously. "Please don't take me now," she said. But finally, she was led away, small in comparison to the ICE agents, who seemed twice her size. They led to Jo the jail parking lot and pushed her into an unmarked white van, while her supporters followed behind.

It is uncertain what will happen to Jo now that she's being held in ICE custody, with immigration, criminal and custody cases all pending. If she's deported, she will lose the opportunity to represent herself in family court, and she will not be able to return to the United States to see her daughter.

In the meantime, Jo's immigration attorneys are requesting Jo to be released on bail, while they begin to work on temporary visa options for her, and her criminal attorney has just filed an appeal to her criminal child abduction case to the California Supreme Court. The family courts have granted Jo telephone contact with Hwi, pending approval from a mental health professional. A close friend to Jo told Jezebel, "They [Jo and Hwi] never been separated since the baby was born—until last year." She added, "I want immigration to allow Nan-Hui to stay in the US so she can raise the baby."

The case still sustains wildly different interpretations. Jo's supporters describe this as an outrage: an immigrant mother and domestic violence victim arrested and jailed as a child abductor and separated from her daughter—all for following the law when her visa expired. Charlton's attorney told Jezebel that it was "an extreme act on the part of the mother, to leave and not maintain any contact for five years." He added, "It's hard when you look and say this is an extreme case. Really at the end of the day it's a misdemeanor with 175 days in jail."
Jo is currently looking forward to speaking with her daughter on the phone. In court, still reeling, she said, "To be completely frank with you, I learned about the word abduction when I was arrested."

Alyssa Jeong Perry is a journalist who has been published in The Guardian, Eloquence Magazine, and other publications. She is currently at UC Berkeley Graduate School of Journalism under the mentorship of the Investigative Reporting Program.
Additional reporting was contributed by Anna Merlan and Jia Tolentino.
Illustration by Jim Cooke, source image from Alyssa Jeong Perry