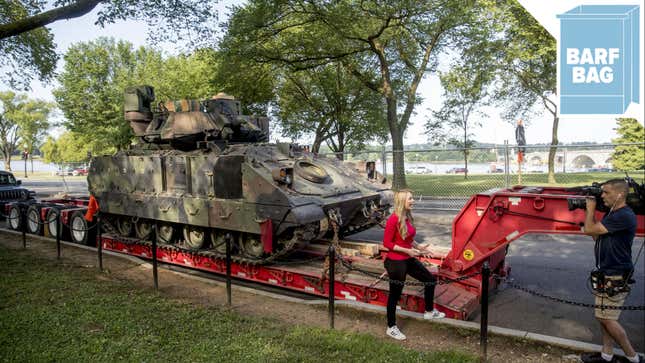 I'm ready to eat a corndog this weekend! How about you?
Here's all the shit we couldn't cover today:
Pentagon leaders have concerns—not about foreign policy, but about President Trump grabbing their tanks to put on a Fourth of July spectacle for Republican donors that shows off the United States's full military prowess. It's gross, but not entirely out of place in a holiday so full of nationalist and military-esque motifs that dogs have to hide out of fear that they're living amidst a war zone. But maaaaaybe Trump shouldn't have reallocated $2.5 million from the Parks Service for his posturing parade. [CNN, Washington Post]
The NRA has so much shit going on right now that it may not be able to stump for Trump in 2020, which would be a sad development indeed for the Cheeto-in-chief. [Politico]
If Beto O'Rourke were any more chill about running for president, he'd be asleep. [Politico]
Sorry, Joe. [Washington Examiner]
Wait, I'd wear these shoes:
Taylor Lautner Doesn't Even Remember Saying 'Bella! Where the Hell Have You Been Loca?'
Here are some tweets the president was allowed to publish:
This has been Barf Bag.