This was the year that the Whitney Biennial was supposed to reinvent itself. The biannual survey of American art is a staple of the art world's big shows but, like all of these exhibitions, it's been criticized for being too white and too male. Controversy swirled around the 2014 edition when the Biennial exhibited only eight black artists (they originally claimed nine but one of the artists, Donelle Woolford, was the invention of Joe Scanlan, a white artist and professor at Princeton). So when, in 2015, the Whitney announced that they Christopher Y. Lew and Mia Locks would co-curate this year's survey, the museum celebrated their selection as a departure from the past. "We decided to let the spirit of it be very fresh," the Whitney told the New York Times.
This year's Biennial has been well-received by critics who tend to agree that Yew and Locks have learned from the mistakes of the past and handled a politically contentious moment with restraint and intelligence. "Political causes register in mostly understated ways," Peter Schjeldahl wrote in his New Yorker review. And yet, while many (notably white) critics have found the Biennial a political oasis, black artists have not. Earlier this week, a handful of artists (including Parker Bright, depicted above and in the tweet below) protested Dana Schutz's Open Casket (2016)—a painting that depicts Emmett Till in his casket—forming a blockade around the work which obscured it from view. Now, in an open letter published on Black Contemporary Art, the artist Hannah Black asked the curators to remove Open Casket from the exhibition and destroy the work. "The painting should not be acceptable to anyone who cares or pretends to care about Black people," Black writes, "because it is not acceptable for a white person to transmute Black suffering into profit and fun, though the practice has been normalized for a long time."
Schutz's painting is based on one of the numerous photographs taken at Emmett Till's funeral after he was lynched in Mississippi after being falsely accused of whistling at a white woman (the woman who made the allegations against Till, Carolyn Bryant Donham, recently acknowledged that she was lying). Till's mother, Mamie Till Bradley, demanded an open-casket funeral so the nation could witness the racist brutality that had led to the death of her teenage son. Open Casket takes that brutality as its point of departure, rendering Till in Schutz's signature style: heavy brushwork that borders on abstraction, flat and constrained by limited space (Schutz has revisited this concept of space throughout her career. She is also exhibiting Fight in an Elevator (2016) which depicts Solange's fight with Jay-Z).
Though Black's call to destroy the work is likely performative—a response to Schutz's aestheticization of brutality—her critique of the work is trenchant. Black writes:
That even the disfigured corpse of a child was not sufficient to move the white gaze from its habitual cold calculation is evident daily and in a myriad of ways, not least the fact that this painting exists at all. In brief: the painting should not be acceptable to anyone who cares or pretends to care about Black people because it is not acceptable for a white person to transmute Black suffering into profit and fun, though the practice has been normalized for a long time.
Although Schutz's intention may be to present white shame, this shame is not correctly represented as a painting of a dead Black boy by a white artist – those non-Black artists who sincerely wish to highlight the shameful nature of white violence should first of all stop treating Black pain as raw material. The subject matter is not Schutz's; white free speech and white creative freedom have been founded on the constraint of others, and are not natural rights. The painting must go.
G/O Media may get a commission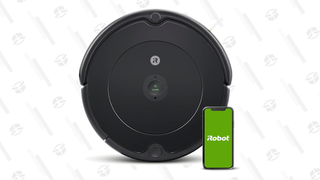 35% Off Black Friday Deal
iRobot Roomba 694 Robot Vacuum
Indeed, Schutz's intention is largely meaningless in the face of the work. Schutz treats her source as simply an object; as a photograph rather than a record of a teenager murdered because he was black. Her style, that big and bold brushwork that conjures up the history of American abstraction that, for better or worse, is often treated as a heroic manifestation of authenticity, is particularly troublesome in this context. Style is never neutral and it certainly isn't here; Schutz's work is making a not-so-subtle nod to the history of art, one particularly loved by big American museums. It's this very style that likely compels Schjeldahl to look this work and dub Schutz a "new master" who paints "powerfully volumetric, big-brushed forms that are at once lyrical and monumental."

Yet, it's Schutz's style that transforms Till from subject into object in just a handful of brushstrokes. Till's face—disfigured and unrecognizable—was made public because of his mother's insistence that America see the brutality that it had created. When Schutz takes Till's body as what Black describes as "raw material," Till is subsequently transformed into an aesthetic object; his face is a source of abstraction, conflated with the red flower at his waist. They are both simply objects. Schutz, however, defended her painting by framing it in the context of the universality of motherhood. In a statement to the Guardian, Schutz said, "I don't know what it is like to be black in America, but I do know what it is like to be a mother. Emmett was Mamie Till's only son. The thought of anything happening to your child is beyond comprehension."
Echoing the phrase "the painting must go," Black has asked the Biennial's curators to consider the scope of their exhibition in which "Black life and anti-Black violence feature as themes." She correctly points out that the exhibition has been celebrated this year for including those themes, for attempting to address past oversights and, as such, they should "move to make amends... and learn in the process."
In a statement to ArtNet, the Whitney defended its decision to include Schutz's painting:
The 2017 Whitney Biennial brings to light many facets of the human experience, including conditions that are painful or difficult to confront such as violence, racism, and death. Many artists in the exhibition push in on these issues, seeking empathetic connections in an especially divisive time. Dana Schutz's painting, Open Casket (2016), is an unsettling image that speaks to the long-standing violence that has been inflicted upon African Americans. For many African Americans in particular, this image has tremendous emotional resonance. By exhibiting the painting we wanted to acknowledge the importance of this extremely consequential and solemn image in American and African American history and the history of race relations in this country. As curators of this exhibition we believe in providing a museum platform for artists to explore these critical issues.
While the Whitney's statement didn't address Black's criticisms, it did confirm that major institutions need to continue to be more thoughtful when building "platforms" for exploring "critical issues."