Billionaire John Catsimatidis tweeted at me this morning to let me know that his offer of a $5,000 reward for info on the crime ring jacking ice cream from his Gristedes chains had born fruit. Ice cream bandits apprehended!
The New York Post originally wrote the story about a bunch of enterprising petty criminals who have been nabbing Häagen-Dazs from supermarket freezers, then selling them to bodegas. That's likely why bodega ice cream is generally cheaper and potentially a frozen bacteria soup waiting to re-melt in your tummy. Catsimatidis was fed up with it, and his money has bought him justice.
As Catsimatidis let me know via Twitter, the ring was busted in Chelsea, again according to the Post. I am personally very familiar with that Gristedes location, and they have a great candy selection and horribly overpriced fruit and produce, IMHO. Mark Hicks and Ebony Gillian were turned in for their alleged Bonnie and Clyde dessert partnership by a roommate, before being stopped in Chelsea, who claims the pair took orders for his favorite flavor and ate ice cream on the couch:
One of the suspects, Mark Hicks, "loved to brag about" his exploits — waving around a store worker's cellphone photo of him published in The Post while boasting, 'I'm famous!' " according to a man who identified himself as the pair's roommate.

"They used an 'I heart NY' bag that fits 50 pints exactly — two rows of five, stacked five high," the man said of the pair's alleged thievery, adding that he's the one who dropped the dime on the couple to cops. "[Hicks] said he would make $150 on that alone."
Hicks and Gillian had been staying with this backstabber in an apartment in the Brownsville Houses for $80 a day, and on Monday they were arraigned on petit-larceny charges at Manhattan Criminal Court. They're each being held in lieu of $1,000 bail due to outstanding warrants.
Catsimatidis told the Post, "If they were hungry and they stole it because they were hungry . . . we're not going to give them a problem... But if they're professional crooks that steal in order to resell it, then the hell with 'em."
G/O Media may get a commission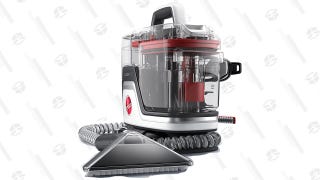 Save $10
Hoover CleanSlate Plus Carpet & Upholstery Cleaner
Because of Mr. Catsimatidis's tweet I know he wanted me to see that quote, and will likely read this post too. I guess you don't become a billionaire by sharing ice cream, showing mercy, or ignoring Google alerts for your own name.