Not a single person of color was nominated in any of the acting categories of 2015 Oscars. There also wasn't a single female director, screenwriter or cinematographer nominated. It seems that the response to this—and a few other mishaps—made the Academy finally recognize that they're not hiding their diversity problem very successfully.
So, last night, they made an effort to correct public perception by showing off the fact that they not only know a lot of black people—but that they like them, too. In other words, the Academy pulled a "Hey, I have black friends so I can't be racist" on us.
This strategy began with the promos, which featured Kerry Washington, Viola Davis and Will Smith. I understand why Washington and Davis were shown—the awards were broadcast on ABC and both star in successful ABC shows—but if I remember correctly, Will Smith wasn't even at the show last night.
Neil Patrick Harris opened the ceremony with a joke about Hollywood's "best and whitest." Get it? It's funny because the Oscars and are overwhelmingly white, which everyone knows is a problem but doesn't care enough to actually try to fix. How many people in the audience felt good about themselves for simply laughing at that joke?
During the opening number, we got some screen time from Jennifer Hudson and the beginning of the evening-long harassment of Oprah. Then, Lupita presented the first award like the pearl-draped goddess that she is. (We knew she would do this, because she won last year and had to.) Then somebody bothered Oprah again during a performance, and we got a nice appearance from Kerry Washington, whom I assume was contractually obligated by ABC to present.
G/O Media may get a commission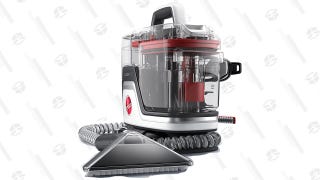 Save $10
Hoover CleanSlate Plus Carpet & Upholstery Cleaner
Then we were introduced to the unfunny bit that would not die wherein Neil Patrick Harris put Academy Award winner Octavia Spencer to work watching a box. The first time he made this joke it was unfunny. The second time it still wasn't funny. By the third time he brought up poor Octavia staring at that stupid box, I fully supported her getting up and slapping all of the show's writers across the face. Did it happen a fourth time? I might have blacked out. The joke was odd and dumb and Spencer didn't look particularly amused. There was also the uncomfortable overtone of this white man asking Spencer to serve as "the help" for the evening.
After Viola Davis presented (likely also out of contractual obligation), Neil Patrick Harris turned his attention to bothering the distinctively non-nominated David Oyelowo by asking him to read dumb jokes. Oyelowo was obviously unimpressed, and also didn't seem thrilled with being tricked into slamming Annie.
It was around this point that I, along with many others, started to wonder if he was about to talk to every black person in the audience. As the show moved on, we learned the answer: sort of. Harris proceeded to butcher Oscar nominee Chiwetel Ejiofor's name, more than once, because three months of practice wasn't enough.
Kevin Hart presented because they desperately need young people to watch this show, and as it turns out, he delivered one of the few funny jokes of the night. Zoe Saldana and Dwayne Johnson were introduced with the fun fact that "their movies have grossed more than yours," and I'm wondering if anyone caught the irony that a non-white woman and a non-white man consistently do better at the box office than most of the white people in that room. Then Questlove performed and Jennifer Hudson sang after the In Memoriam segment. Cheryl Boone Isaacs said some stuff. Throughout the rest of the evening, Idris Elba, Terrance Howard and Eddie Murphy also presented.
The least-white moment of the night came during Common and John Legend's performance of "Glory" which, thank god, won them an Oscar for Best Song. Perhaps other than Three 6 Mafia taking home the Best Song award in 2006, this was inarguably the blackest moment in the history of the Oscars.
It would be nice if the Academy could do with their nominations what they do during their broadcast. With major caveats aside—Jennifer Lopez as the designated stand-in for all Latinos, and the roll of the dice that is actually seeing any Asian people at the Oscars, ever—the award ceremony itself does a decent job of recognizing diversity. And of course, all these black stars deserved to be onstage—most of them are past Oscar nominees.
But their presence will not make the fact that few of them actually get to hold an award go unnoticed. Shooting for decent "optics" during an award ceremony won't change the fact that Academy voters are 94 percent white and 77 percent male, and that their median age is 62. These voters should know that there's a wide gap between bringing us out during the show and honoring our work. The Oscars' black friends don't change that.
Images via Getty.