Compared to last year's Oscar Nominees Luncheon, a sea of whiteness, this year's event was still a sea of whiteness, but with a few notable additions, Matt Damon-approved.
As you'll recall, the 2016 class photo quite embarrassingly looked like a weekly meeting for Avocado Lovers United. This year's lunch was held on Monday at the Beverly Hilton Hotel and wasn't just a coalition of white nominees. Smell that? In a speech about art having no borders, Academy president Cheryl Boone Isaacs made sure to note the fresh scent of inclusion in the room.
"This is a global community filled with storytellers domestic and international, one that is becoming more inclusive and diverse with each passing day," she said. "I am so proud to be part of that and to see all the new faces among this year's nominees. Wow! What a difference a year makes!" Wow, what a difference a year and an essential outpouring of criticism makes.
Let's look closer at this assemblage of rich misfits.
G/O Media may get a commission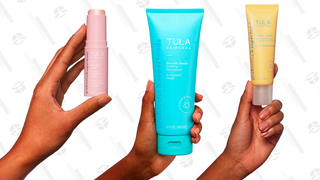 Here's Matt Damon trying to will Octavia Spencer to look at him so he can tell her, "When when I was talking about talking about diversity, this is what I meant."
Here's Casey Affleck, planning step three in his murder plot. It involves spaghetti.
Here's Nicole Kidman wondering why more people aren't congratulating her on becoming the new face of Neutrogena. Mel Gibson is preternaturally disgusted by the presence of the handsome brown man to his right whose name he can't remember but he knows the man starred in a movie with Nicole Kidman and has kind eyes.
Justin Timberlake's foot is caught in a bear trap.
This is not Ryan Gosling. Ryan Gosling couldn't make it because he's tending to his lady. This is his wax figure.
Here's Matt Damon thinking about talking about diversity. Emma Stone is going home later to watch La La Land on DVD to remind herself to dream. Natalie Portman is holding in pee.
Here's Pharrell—to the right. His body is but a shell because his spirit, exhausted from singing too many happy tunes, has left and he's turned into gold, sorry to say.
Natalie Portman is telling wax figure Ryan Gosling she has to pee and he's in her way. Matt Damon is about to tell wax figure Ryan Gosling, "See, I tried to tell them!"