The media world has a bright new shining star, and it is Jeffery Kraft, a bowtie-adorned kid journalist who asked Marianne Williamson on Tuesday night about her pets.

"So do you have a pet?" he asked Williamson.
"I had a cat, and the cat died," she replied sadly.
Watching the exchange, I asked myself—who is this, and can we replace Jake Tapper with him?

Now, thanks to the Washington Post, we know more about this wunderkind journalist. The 10-year-old Kraft hails from Culver City, California, and is the son of a single mom originally from Guatemala. A journalist with KidScoop Media, a non-profit based in Los Angeles, Kraft told the Post his goal was to, as the newspaper wrote, "ask the candidates the kinds of questions he didn't think the mainstream media was asking enough: about animals and their habitats."
Kraft is already an experienced reporter, having gotten his start as a food writer two years earlier, where he reviewed his favorite restaurants. His talent was apparent even at the age of eight. Here's part of his review of the Italian restaurant Pasta Sisters:
Listening to Chef/Owner Paola and her daughter Giorgia, made me realize that this restaurant is not just about food. It's about pride and pure love! Trying the burrata (cheese) that gets flown in twice a week fresh from Puglia, Italy was delicious. Handmade pasta is made fresh in-house every day. Sauce that takes a special person to come in at 4 AM (I'm sleeping then) to prepare and cook for hours with love. The gnocchi recipe was passed from Chef Paola's Grandmother (Maria Giovanna ). By the way, that was my absolute favorite!!!! Ricotta cheese made in Italy is heaven, I think!!! I'm sure if Darth Vader had a meal at Pasta Sisters he would have been, just a bit nicer. After having an amazing cappuccino I had to taste the chocolate Ricotta pie, sfogliatella napoletano and Tiramisu made and shipped from Italy. SUPER GOOD EMOJI HAPPY FACE SUPER GOOD! I didn't feel bad telling my mother that her gnocchi are more like golf balls, I'll still eat it but Pasta Sisters is perfection!. Walking out of the restaurant from the patio we looked at how happy people were.. the main entrance has a picture of the pasta sisters. My mother and I blew a kiss to them.
G/O Media may get a commission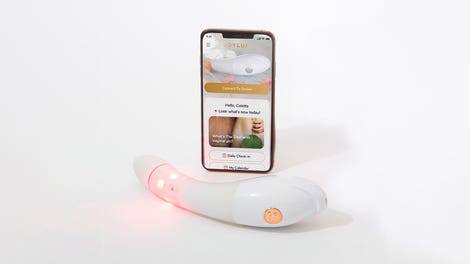 $50 Off
Joylux vFit Gold Device
He's funny! He understands that restaurants are about more than just food! He has an appreciation for good ricotta cheese! (More than I can say for Jake Tapper, am I right?)
But it's clear that Kraft's future lies in the world of political reporting. Just take a look at the questions he had hoped to ask the candidates during the debates:
For Sen. Bernie Sanders (I-Vt.): "When you become president, what would be the first thing you would do about our national parks and forests? As a Boy Scout, I am concerned."

For Rep. Tulsi Gabbard (D-Hawaii), a veteran: "Have you ever met a military dog?"

For anyone: "When you become president, what is your plan to stop the glaciers from melting?"
Unfortunately, Kraft has already internalized some of the terrible lessons of cable news, and rather than ask candidates the hard questions he had hoped to, he instead asked them one that he felt was the most fun: what pet they would bring to the White House.
But he explained his reasoning—and it was a subtle dig at Donald Trump:
President Trump does not have a pet. Jeffery was hoping the Democrats would commit to changing this, and all of them did.

"I learned a lot while I was there," he said. "The main thing that I would say is learning more about the candidates and what they feel they should do and how they feel about bringing a pet back to the White House. Most everyone said they would bring a dog or cat.
Kraft then added, "I was thinking about one thing: Maybe for a change, a hamster could be a White House pet." CNN, HIRE HIM IMMEDIATELY.
My favorite journalist working today has, sadly, also learned another important lesson about the media world as a result of his viral fame. Kraft was not traumatized or stunned, as some proclaimed, by Williamson telling him that her cat had died. As a Boy Scout and an environmentalist, I suspect he is well-attuned to the realities of life and death.
As he told the Post, "They exaggerated it on the Internet."