Donald Trump, a soggy cracker spread with spoiled shrimp compote, said and sniffed more crazy things at the debate on Monday than can be summed up in this opening sentence. Towards the end, after a long gurgling hork about Hillary Clinton's "temperament," she reminded him that actually he had been talking about her looks, not her personality. He loves talking about women's looks.
Clinton brought up the specific case of Miss Universe winner Alicia Machado, who says Trump called her "Miss Piggy" and "Miss Housekeeping." Machado has also said her experience with the Miss Universe pageant precipitated her eating disorder. Around this point Trump started yelling that he only called Rosie O'Donnell names, but she deserved it.
Donald Trump's response to questions about how he treats women continues to be that they deserve it. On Tuesday morning, he called in to Fox and Friends to goss about the debate, and was asked if Clinton managed to get "under his skin." Trump says she didn't until that last back-and-forth, because Machado was "the worst we ever had."
She was the winner and she gained a massive amount of weight and it was a real problem. We had a real problem—Not only that, her attitude. And we had a real problem with her. So Hillary went back into the years, and she found this this was years ago, and found the girl and talked about her like she was Mother Teresa, and it wasn't quite that way, but that's okay.
G/O Media may get a commission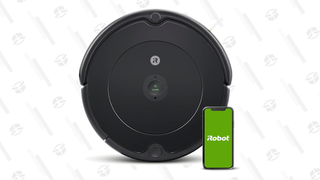 35% Off Black Friday Deal
iRobot Roomba 694 Robot Vacuum
Yes, he did call her fat, but it was years ago and she was fat and he's calling her fat. Couldn't be more clear.