In July, a Utah nurse named Alex Wubbels was dragged out of the hospital by Detective Jeff Payne after she refused his illegal attempt to draw blood from an unconscious patient. He has now been fired.
Deseret News reports that an internal investigation and viewing of the bodycam footage by Salt Lake Police Chief Mike Brown led him to the decision to fire Payne and demote his commanding officer, Lt. James Tracy, who directed Payne to arrest Wubbels if she continued to deny Payne's request to draw blood. She did, on orders from four of her own supervisors and in compliance with the law.
Brown wrote letters to Payne, Tracy, and Wubbels explaining his decision:
"Your lack of judgment and leadership in this matter is unacceptable, and as a result, I no longer believe that you can retain a leadership position in the department," Brown wrote. "I am troubled that an officer with your experience would fail to exercise sound discretion and good judgment in this matter."

Brown said Tracy's decades of service to the department were outweighed by the "complete lack of judgment in this incident."

Furthermore, Brown said Tracy's actions have caused "substantial damage" to the relationship the police department has with local hospitals, nurses and other health care officials that "will take considerable time and resources to rebuild."
Payne's lawyer, Greg Skordas, told the Salt Lake City Tribune that he believes his client will contest the decision, though he has been on the force long enough to retire. Skordas thinks that Payne was fired largely due to public pressure, as the video of Wubbels crying as she was manhandled off hospital property sparked national outrage:
"I'm really frustrated by the way this case has been processed," Skordas said. "I do think that Salt Lake City did a fair job of doing the investigation, and I think that their findings are, by and large, accurate. But I think the chief reacted to a lot of public pressure and scrutiny in making a decision that doesn't fit the conduct."
G/O Media may get a commission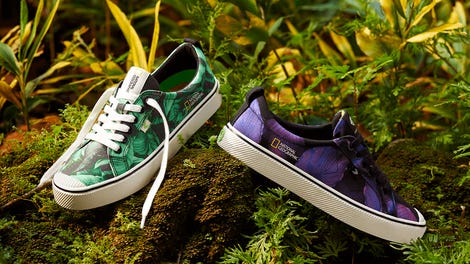 New New New
Cariuma + National Geographic
The availability of the bodycam footage certainly made a difference in how the case was treated, but Wubbels clearly believes that this is to the good, commenting that she was grateful the incident was recorded:
"I will say that the level of scrutiny that this case received would not have been the case had there been no bodycam footage," Wubbels said. "It would have been a he-said, she-said or multiple he-saids against a she-said. I do not think the truth would have been told without the bodycam footage."
Accountability in this instance is the result of both outrage and recorded confirmation of police violence, and it also helped that Wubbels is a blond white woman. Officers recorded while perpetrating violence against black men and women have a much higher job retention.