As Donald Trump made his final appearance in North Carolina on Monday afternoon, the state Republican party gloated in a press release that turnout is down among black voters and up among white voters in early voting: "The once dynamic Obama Coalition [is] crumbling and tired." From the release:
North Carolina Obama Coalition Crumbling

African American Early Voting is down 8.5% from this time in 2012.

Caucasian voters early voting is up 22.5% from this time in 2012.

As a share of Early Voters, African Americans are down 6.0%, (2012: 28.9%, 2016: 22.9%) and Caucasians are up 4.2%, (2012: 65.8%, 2016: 70.0%).

Young Voters Weak on Clinton

Age <36 are up 50,302, however, vote share decreased from 21.4% to 20.4%.

Age >65 are up 155,440, with vote share increasing from 22.1% to 24.6%.
The party is trying to frame this—along with the nationwide dip in African-American voter enthusiasm this year—as indicative of a lack of support for Hillary Clinton, but in North Carolina, at least, it is at least as indicative of the effectiveness of the voter suppression strategies Republicans have deployed. A memo was sent to GOP county election board members and other party members encouraging them to "make party line changes to early voting," the Charlotte News & Observer reported in August. The changes limited the hours that polling sites were open and mandated that they be closed on Sundays.
Since the 2013 Supreme Court decision in Shelby County v. Holder gutted the Voting Rights Act, North Carolina has discriminated against voters "with almost surgical precision," the U.S. Court of Appeals for the Fourth Circuit found in July. Altogether, According to a report from the Leadership Conference on Civil and Human Rights on poll closures, there are 27 fewer polling places in North Carolina in 2016 than in the previous presidential election. Cleveland County, on the outer edge of the Charlotte metropolitan area, has lost five polling places since 2012—down to 21 from 26:
In the summer of 2014, the county's board of elections merged five of these voting locations into two in the city of Shelby—which is 40 percent Black—over opposition from the Cleveland County NAACP. Rev. Dante Murphy, the Cleveland County NAACP president, said, "We know that this is part of a bigger trend — a movement to suppress people's right to vote."
On Friday, a federal judge issued a restraining order blocking the boards of elections in three North Carolina counties from cancelling thousands of voters' registrations. The state chapter of the NAACP had filed a lawsuit last week accusing state and county officials of violating the National Voter Registration Act. The Justice Department joined the suit, writing in a statement that "[t]he purge program at issue here rested on a mass mailing and the silence of voters largely unaware of the potential injury to their voting rights. A perfunctory administrative proceeding to consider evidence produced by a mass mailing does not turn an otherwise prohibited systematic process into an 'individualized' removal."

U.S. District Judge Loretta C. Biggs agreed. "[T]here is little question that the County Boards' process of allowing third parties to challenge hundreds and, in Cumberland County, thousands of voters within 90 days before the 2016 General Election constitutes the type of "systematic" removal prohibited by the NVRA," she wrote in her order.
G/O Media may get a commission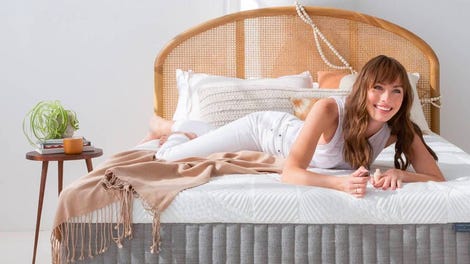 Sleep Sale
Sleep Sale - Brentwood Home
Jezebel has reached out to the NAACP for comment on the NC GOP's remarks and will update if we hear back.