On Sunday at Electric Daisy Carnival New York, it was 50 degrees, intermittently raining, extremely windy, and... Sunday. I wore a leotard, jeans, three sweatshirts layered on top of each other, and an angry expression. This set me apart dramatically from the other festivalgoers, who appeared to be having a reasonably good time and were not wearing any clothes at all.
The only defining characteristic of Electric Daisy Carnival "street style" is a defiant lack thereof. As far as I could tell, EDC is essentially a bunch of teens and rave nerds in a parking lot wearing whatever the fuk they want, and that does not include outerwear, mom!! Major themes included neon, tutus, scary masks/face paint, faux fur, fruit, spandex, bandanas, glitter, stuffed animals, and offensive headdresses. And butts! One million butts:
G/O Media may get a commission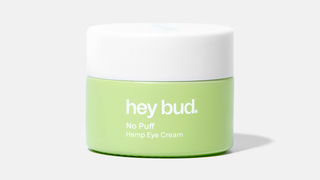 15% off
Hey Bud - No Puff Hemp Eye Cream
I cannot imagine ever wanting to have my butt out in a non-aquatic scenario, especially in 50 degree weather, but(t) to each her own!

These fluffy wookie boots were the accessory to beat at Electric Daisy Carnival, and in this specific weather situation I kind of wanted a pair:
As for these attendees' male counterparts, it was all about masks and full-body costumes, which was really not my bag:
What does this hand signal mean? I don't know! Did I like it inside this tent? Definitely not!

I identified with this banana, captured here during a moment of quiet reflection in between dance bursts:

I did not identify with these people in Native American headdresses:
Troops of women in elaborate costumes were shuttled around the festival and deployed at various locations to pose and giggle and march around in step, which was very exciting; their outfits were obviously a pretty steep hike up from everyone else's:

As was Baddie Winkle's, who was on the scene, for some reason, as a Smirnoff Ice ambassador:

What a day, and really, hats off to the women of Electric Daisy Carnival, who were determined to wear their festie looks no matter the physical cost.
---
Images by Ellie Shechet