Nic Pizzolatto, the enigmatic creator and mastermind behind True Detective, hasn't revealed much about the next season of the show that drove many of its fans to the brink of insanity and led me to the brink of redecorating my entire apartment in a "rock bottom Rust Cohle storage locker office" theme, complete with deer horns. But now, finally, finally, finally, thirsty fans have a few succulent details about what's ahead.
In a very long podcast interview that of course I will listen to in its entirety, Pizzolatto dissected the first season of his HBO show. But he also told the folks at To The Best Of Our Knowledge that casting rumors about True Detective's second season are false because casting won't begin until this month. And there will be three leads. Via Uproxx:
Right now, we're working with three leads. It takes place in California. Not Los Angeles, but some of the lesser known venues of California and we're going to try to capture a certain psychosphere ambience of the place, much like we did with season one. The characters are all new, but I am deeply in love with all of them. We have the entire season broken out, and I have a couple of scripts, and we'll probably start casting within the coming month.
THREE LEADS? This really throws #TrueDetectiveSeason2 into a tailspin. Unless...
G/O Media may get a commission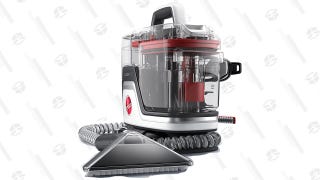 Save $10
Hoover CleanSlate Plus Carpet & Upholstery Cleaner
A moidah? Nyuk nyuk nyuk.