Interesting news, everybody: the next Bachelor will not be hot, boring Peter, or hot, immature Dean, or anybody from a recent season of The Bachelorette—instead, it's Arie Luyendyk Jr., a 35-year-old racecar driver from Scottsdale, Arizona who was a runner-up on Emily Maynard's season a whopping five years ago. Okay!
Arie was a big fan favorite on Emily's season, although she eventually chose a baby-faced Mormon named "Jef" with one "F" over Arie, much to viewers' chagrin (Emily has since moved on). If you need a refresher, there are a healthy number of thirsty YouTube compilations devoted to his allegedly high-caliber makeout skills:
But why now?
"It's been an ongoing conversation through the last couple of years," Arie told People. "The timing was never right"—although now, he says, "I want to find my person and will do whatever it takes!"
G/O Media may get a commission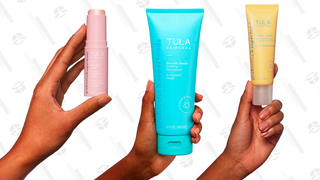 People notes that in 2015, former Bachelor Sean Lowe revealed that Arie was supposed to be the Bachelor that year before network executives changed their mind and picked Chris Soules, a human corn husk. (And what a great decision that was!)
"They actually told Arie he was gonna be the Bachelor," Sean had said. "They flew [him] down, had a camera crew, filmed him telling his family he was gonna be the next Bachelor—then pulled the rug out from underneath him and made Chris the Bachelor."
It's not exactly clear what went down with Peter Kraus, the runner-up on Rachel's season who was widely anticipated to be the network's pick, although a People source indicated prior to today's announcement that Arie was not the first person the show reached out to. Peter published a fairly cryptic tweet last night suggesting that he'd been reluctant to take on the Bachelor mantle and is now, for some reason, regretting it:
Peter, if we'll recall, said on Rachel's season that he wanted to be with her but refused to propose, because he's a normal person who wasn't ready for that kind of commitment after like four dates. This makes it seem like he might not have been a very cooperative or happy Bachelor.

From People (which had previously published some very anti-Peter content around the time rumors were flying that he'd turned the show down, suggesting ABC was on the defensive):
"Suddenly it was like they needed him more than he needs them — he didn't think he was going to get it, anyway, so he doesn't care if it all goes away again. He's not bending on what he wants," the source says. "Really, the producers feel like ANY demands coming from Peter are a bit much; they always think everybody should be falling all over themselves to get this honor. And Peter just doesn't play that way. He doesn't play by any of the rules — if he did, he'd have just proposed to Rachel even though he knew it wouldn't work out, and then broken up with her a few months later, like Nick just did. But he couldn't be forced into it."

The source adds: "That might have also been a sticking point: the show likely would want him to promise to propose at the end — Nick definitely had to say he would go through with it — and it's highly possible Peter just refused to promise, just like he refused to go ahead with Rachel."

"They have nowhere to turn now," the source says, pointing to Fleiss' previous tweet that no one from JoJo Fletcher's season of The Bachelorette would become the new suitor; furthermore, Luke Pell "hasn't been contacted," Robby Hayes' reputation took a dive during Bachelor in Paradise, Wells Adams "isn't leading man caliber," and Eric Bigger "doesn't have the charisma and attitude you need." (Last week, Bigger confirmed to PEOPLE Now he hadn't been approached.)
(I'm going to have to strongly disagree about this source's take on Eric and Wells, but that's an analysis for another day.)
So: Arie! This should be interesting. Sources tell me that fans are extremely excited.