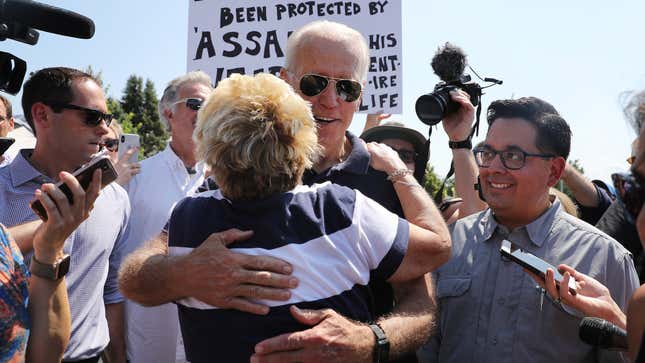 I would personally like to never discuss Joe Biden's penchant for hugging and kissing women and girls in awkward, inappropriate ways ever again, but unfortunately for me, the New York Times has come out with a bizarre story about how some women continue to delight in hugging the man. And beyond just loving to wrap their arms around Biden—which is their choice to make!—these Biden super fans seem to see their hugging him as an act of defiance, which is certainly also their choice to make, I guess!
When asked by a Times reporter why she hugged Biden at a recent campaign event, 55-year-old lifestyle blogger Juliette Daniels explained, "He's just so warm." She added, "I told him, don't apologize, never apologize for anything, ever." That includes not apologizing for speaking fondly of working with white segregationist senators, which Daniels brushed off because, as she put it, "He was already vetted by Barack."

Another woman shared that she views her hug of Biden as a way of defending him against similar criticism around his well-documented role in maintaining and deepening racial inequality. "Racism exists but Vice President Biden did not cause the racism," Brown, a 51-year-old administrative assistant who also hugged Biden at a campaign event said. "He is not the problem." Biden, she said, "has not a racist bone in his body." (My eyebrows have now vaulted to the stratosphere.)
Of course, it's perfectly fine for women who want to hug and be hugged by Biden to embrace him. But as has been made clear by the numerous accounts from women who were disturbed and made extremely uncomfortable by Biden's boundary-crossing hugs, touching, and kisses, it can too often be not only unprofessional, but an inappropriate violation of one's personal space. (Biden, it should also be pointed out, doesn't tend to nuzzle or kiss too many men that he meets, seemingly reserving that behavior for women.)
As Lucy Flores, a former Nevada assembly member who detailed an encounter she had with Biden in an essay in the Cut, wrote, "In this case, it shows a lack of empathy for the women and young girls whose space he is invading, and ignores the power imbalance that exists between Biden and the women he chooses to get cozy with." Amy Lappos, who met Biden in 2009, described earlier this year how Biden grabbed her by the head and tried to rub his nose against hers. "There's absolutely a line of decency. There's a line of respect," she said. "Crossing that line is not grandfatherly. It's not cultural. It's not affection. It's sexism or misogyny."
It shouldn't be hard to acknowledge that a near stranger shouldn't feel naturally entitled to try to rub noses with people or put their hand on someone's thigh or sniff their hair, yet apparently it is, for Biden. Though he did release a tepid apology earlier this year, he has spent plenty of time on the campaign trail making fun of the allegations about his conduct. In that apology statement, he said, "In my career, I've always tried to make a human connection. I shake hands. I hug people. I grab men and women by the shoulders and say they can do this."
He continued: "Social norms have begun to change. They've shifted, and the boundaries of protecting personal space have been reset, and I get it. I get it. I hear what they're saying. I understand it. And I'll be much more mindful. That's my responsibility."
Biden gave another non-apology when he appeared on The View in April. "Sorry I invaded your space! Sorry this happened. But I'm not sorry in the sense that I think I did anything that was intentionally designed to do anything wrong or be inappropriate," Biden said to the hosts.
His lukewarm mea culpa has not satisfied Flores, who told the Times, "Joe Biden has demonstrated he's not very interested in changing his behavior or attitude."
Flores added: "It doesn't have to rise to the level of sexual assault or illegal sexual harassment in order for it to be wrong. Because it is at the lower end of the spectrum in terms of bad behavior, and women are just now starting to speak out about it, people are of course dismissing it, minimizing the behavior, both women and men."
Aimee Allison, the founder of She the People, echoed Flores. "It's nothing to be proud of, that you have women saying, 'I'm going to go in for a hug!' That's not the point," Allison said. "The point is for us all to evolve."
But it seems that it's not only Biden who needs to evolve.
Mary McWhorter, a 72-year-old supporter who also embraced Biden at a recent event, seemed to suggest that it was perfectly fine for Biden to touch his supporters, as she herself had no issues with him doing so. "I was thrilled to get to hug Joe Biden," she told the Times. "Hell, I'd be happy—he can put his hands on my shoulder any day of the week. I might return the favor, with my husband right here."