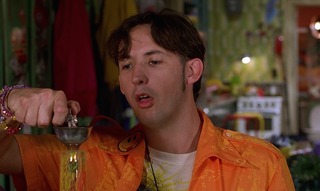 First thing you need to know about Per Se: it's fancy. The Thomas Keller-owned New York City establishment offers a $325 tasting menu that today features "compressed chicories," "oat lavash," "garlic pudding" and "cocktail artichokes" (for an additional $125, you can have... tagliatelle). Second thing you need to know about my old neighborhood watering hole is that the average tab comes to $851 per person, making Per Se reportedly the third most expensive restaurant in the world. Third cool fact about my favorite restaurant Per Se: IT TASTES LIKE BONGS!
Pete Wells delivers the slow but undoubtedly first-degree burn in the New York Times today, deeming Per Se a "no-fun house" full of "struggling" and "failing," which in its current incarnation "rang[es] from respectably dull at best to disappointingly flat-footed at worst." He suggests that the formerly ballet-dancer-trained staff has been re-educated in the arts of rugby, with their "hard shoves" and the sommelier arguing with a customer that didn't like his wine. The salad vs. foie gras ($30 extra on today's menu) decision is fraught with "menace," and the salad itself "felt like extortion."
"With or without supplemental charges, though," writes Wells, "Per Se is among the worst food deals in New York."
But here's the line in the review that changed everything for me:
I don't know what could have saved limp, dispiriting yam dumplings, but it definitely wasn't a lukewarm matsutake mushroom bouillon as murky and appealing as bong water.
Bong water? I love bong water—so murky and so appealing! I see why Wells let the place keep a two-star rating. I'll be calling Per Se for a reservation today.
---
Contact the author at jia@jezebel.com.
Image via Universal