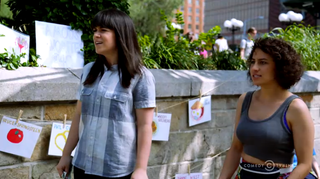 The first trailer for season two of Broad City has arrived and if you don't like it, you can suck Ilana's fucking dick.
Abbi and Ilana have grown up a lot since their freshman season. Both are pursuing loftier careers (cha-chinga!), Ilana is wearing black lipstick and Abbi is continuing to work her way towards becoming the best parkour athlete in the world. (Bevers, however, remains stagnant in the cesspool of his own making.)
The new season also promises guest stars (Seth Rogan!), more Hannibal Buress and the introduction of Ilana's family. To quote the trailer, "Yas yas yas yas yassssss!"
Broad City
Get More: Comedy Central,Funny Videos,Funny TV Shows