The 24-Carat Campbell video game — in which you throw pebbles and diamonds at a cartoon version of Naomi — is not especially fun to play, but that's not the point.
Your mission is to give Naomi what she wants. The copy reads:
Try to deliver diamonds to Naomi! She gets gifts all the time, even at night! When Naomi needs a gift you're holding, click it and deliver before she cries but don't throw the wrong gift. Remember that she hates dirty-looking pebbles and is used to big, sparkling diamonds in a box.
What's strange is that level 1 involves giving Naomi dirty-looking stones… which she is asking for.
G/O Media may get a commission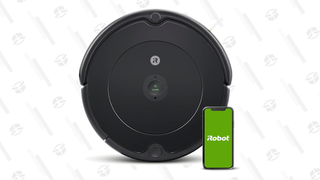 35% Off Black Friday Deal
iRobot Roomba 694 Robot Vacuum
On level 2, you throw diamonds displayed on red velvet.
Level three: A huge diamond.
On level four, you're tossing tiaras and necklaces.
In the end, it's an amateurish program, not designed for quality gameplay but so you can send the link to your friends and giggle. It's dumb. And mocking the supermodel — who's had a reputation as a diva for years — feels old. But what's really unfortunate is how it misdirects the attention in the case; Charles Taylor is the one on trial — for "serious crimes against humanity, including murder, the use of child soldiers, and the mutilation of his own countrymen." But it's much easier — and more hilarious, supposedly — to villainize the pretty lady with nice hair and clothes. War crimes are terrible, but portraying a woman as a needy, demanding gold-digger? Now that's fun.
UK Firm Creates Naomi Campbell Blood Diamond Game [Lucire]
24-Carat Campbell [Super Fashion Stars]