In the first couple episodes of Hulu's The Handmaid's Tale, there are two aerial shots depicting the handmaids, dressed in vibrant scarlet, flocking together in an animalistic swarm. The first is when they murder an accused rapist at the behest of their totalitarian government. The second is when one of their own has her baby pulled from her arms immediately after giving birth, only this time, the handmaids move in to comfort her. Though depicting opposite ends of the spectrum of human behavior (on one side brutality and on the other compassion), the scenes are bonded by violence because that's what drives a handmaid's life in this brutal 10-episode adaptation of Margaret Atwood's 1985 dystopian novel.
In the series' opening scenes, we are introduced to Offred (Elisabeth Moss), our narrator and a handmaid in the house of the wealthy and powerful Commander Waterford (Joseph Fiennes) and his wife Serena Joy (Yvonne Strahovski). But, as we quickly see, her life wasn't always that way. Before the United States crumbled into the theocratic society of the Republic of Gilead, she was your average college-educated woman, living in Cambridge, Massachusetts with her husband (O. T. Fagbenle) and daughter. When the U.S. government fell to right-wing religious extremists, that identity was taken from her and she became, to borrow her own words, "a womb with two legs" with not even a name to call her own. (In Gilead, handmaids take on the name of their head of household. "Offred" is derived from "Of Fred.") In a time of decreased fertility, she and the other handmaids are the only ones left with viable ovaries and so they're assigned to wealthy families for the singular purpose of breeding. Once a month, they must lay between their assigned wives' legs and get fucked by their husbands, all in the hopes of getting pregnant with a baby that they must then give up to the wives immediately.
The concept of The Handmaid's Tale is wildly disturbing, but hardly unfathomable as we enter an era of increasingly draconian abortion law and a far-right leaning federal government that—during the brief time that the Trump administration has been in office—has shown little regard for the constitution and human rights in general. In the world of The Handmaid's Tale, and the world we live in, it takes very little time for a governing body to strip you of your freedom, especially when you already belong to a discriminated class like women, people of color, and non-Christians.
In this new world order of Gilead, women are divided into four roles, all of them suppressive to varying degrees. There are the wives, privileged but barren women who are married to powerful men, the Marthas who make up the kitchen and house servants, the fertile handmaids, and the Aunts, government lackeys who train the handmaids through cruel and often violent means. (Atwood has a brief cameo as an Aunt in "Offred," the first episode of the series.) The women who fall outside these categories—because they are too old, too poor, too rebellious, etc.—are dubbed "unwomen" and are sent to the colonies where, rumor has it, their lives are short and spent laboring in nuclear waste fields. Abortion doctors, practicing Jews, and gay people are executed, their bodies put on public display to warn Gilead's civilians against resistance.

The setting depicted in Hulu's version of The Handmaid's Tale is an unforgiving and incongruous as it needs to be in order to be truly scary and unsettling. It is both futuristic and antiquated—government spies have modern surveillance technology, but women are forced to wear pilgrim-esque color-coded dresses that go down to their ankles; the cars of the rich are shiny and luxurious, but only men can drive them; the paved banks of the Charles River are clean and well-suited for pedestrians, but hanging bodies decorate the walls, a medieval threat akin to heads on a pike.
G/O Media may get a commission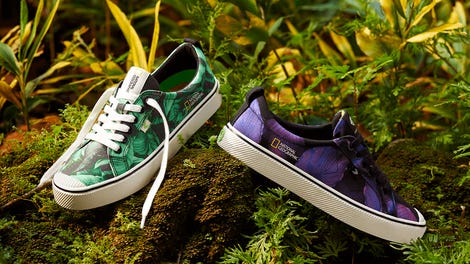 New New New
Cariuma + National Geographic
What I've seen of the series so far (the first three episodes) is jarring, successfully keeping me on edge and leaving scenes in my brain that I'm still chewing on. Impressively, the show both honors and expands on its source material, providing more backstory into how Gilead was created and exploring the lives of some of the other handmaids, particularly Offred's shopping partner, Ofglen (Alexis Bledel), a lesbian who's spared execution or banishment because she's able to remain fertile. In the book, it was integral for the story to be told by a singular unnamed voice, a nod to how suffering women have been recorded throughout history, but it's hard—and maybe even unwise—to limit a 10-episode series around it.
Still, Offred is the center of the story and Moss plays her with the appropriate balance of fear, resentment, sadness, and simmering rage. Bledel, for whom I had low expectations, pulls out an unexpected dry sense of humor and—in one of the series' most horrifying and heartbreaking sequences—palpable sense of grief and terror. Orange Is the New Black's Samira Wiley—playing Offred's college best friend Moira—is predictably engaging, capturing a character who is dangerously boisterous and rebellious. It's a good thing Hulu decided to diversify a previously all-white story (in Atwood's novel, Gilead, as a white supremacist society, killed or exiled all people of color, calling them "Children of Ham")—not just because the last thing we need is another overwhelmingly white TV show, but also because we're now graced with the solid performances of Wiley and Fagbenle.
The Handmaid's Tale is not without the occasional misstep. Fiennes and Strahovski are woefully miscast as the Commander and his wife, though Strahovski impressive portrayal of Serena Joy is so rooted in pain and resentment that she almost makes you forget that the character is supposed to be an older former televangelist in the vein of Tammy Faye Messner. Fiennes as Commander Waterford is not often seen in the first few episodes, but he's oddly dashing and youthful for what's supposed to be an older man who commits government sanctioned rape once a month. Max Minghella, playing the boldly flirtatious driver Nick, also fits strangely into the Handmaid's puzzle (and not necessarily in an intentional way), but—and this goes for both Minghella and Fiennes—I have faith that the series will work it out. After all, there are several scenes, like the one that shows Offred—newly confident because of a minor triumph—strutting in her handmaid's robes to Simple Mind's "Don't You (Forget About Me)," that initially struck me as ridiculous to the point of stupidity, only to evolve into some of the most disconcerting moments of the series.
The Handmaid's Tale is arguably the largest undertaking in the directing career of Reed Morano, though she also directed the feature film Meadowland, as well as episodes of Showtime's Billions and AMC's Halt and Catch Fire. (Her DP credits are extensive.) From the first three episodes, it's very clear she is up to the task as she handles Atwood's source material with such care that her shots make you long to run your finger over a Scrabble tile (a thrill for Offred as she's no longer allowed to read or write) or scream with primal frustration as you watch these women get abused with a casualness that is foreign and recognizable all at once.
But even in its bleakest moments, Hulu's The Handmaid's Tale serves as a strong reminder for both fiction and reality: Nolite te bastardes carborundorum. Don't let the bastards grind you down.
---
The Handmaid's Tale premieres April 26 on Hulu.