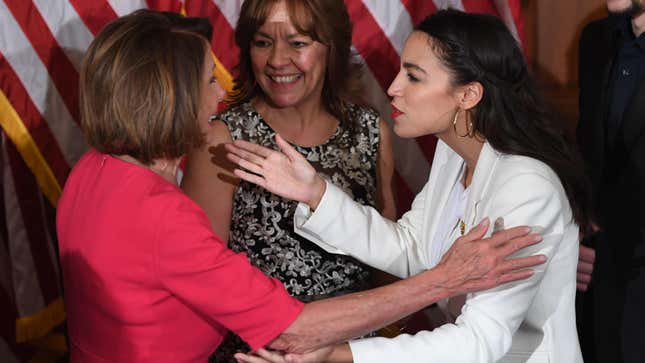 After President Trump posted an abhorrent Twitter thread telling the so-called Freshman Four—Congresswomen Alexandria Ocasio-Cortez, Ilhan Omar, Ayanna Pressley, and Rashida Tlaib—to go back to their countries of origin, their most fervent defender was House Speaker Nancy Pelosi. She swooped in, with a flawed but animated take, accusing Trump "Make America Great Again" moniker of ultimately being about making America white again. "Our diversity is our strength and our unity is our power," she wrote. But this call-out would have landed better if Pelosi, along with a grouping of centrist Dems, hadn't spent the last week belittling these same women.
Betsy Wolfe Reveals the 'Most Embarrassing Thing That's Ever Happened' to Her on Stage
The rhetoric is obviously muted compared to Trump's, but the accumulation of sights, essentially, landed a target on the four women's heads, so that when Trump lashed out, his words hit their mark.
For days a seemingly endless feud between Nancy Pelosi and Ocasio-Cortez has dragged on, snowballing as Congressional Democrats got in on the action. Last week, Pelosi expressed skepticism that the 'the Freshman Four' wield genuine influence. She mused that the Four made themselves "irrelevant" by voting against a House border-funding bill—a bill that the congresswomen argue is a blank check for the Trump administration to inflict pain on the U.S.-Mexico border. (The House's border funding bill was ultimately blocked by moderate Democrats and the Senate's version—which doesn't provide as many protections for migrant children—was brought to the floor instead.)
These smaller slights quickly snowballed. The weekend brought a deeply condescending op-ed by Marueen Dowd titled "Scaling Wokeback Mountain," in which she lays out the last week of intra-party infighting and lays blame on Ocasio-Cortez and progressive Democrats for not being team players. Then, Axios published internal polling from an anonymous group which shows Ocasio-Cortez and Omar (and socialism!) with low approval numbers among a share of white, non-college swing voters, a demographic some Democrats are apparently eager to prioritize even if it means publicly throwing a few Freshman Democrats under the bus. Axios quoted one "top Democrat" involved in the 2020 congressional races as saying, "If all voters hear about is AOC, it could put the [House] majority at risk. [S]he's getting all the news and defining everyone else's races." This poll was conducted in May; strange that it's leaking now.

Earlier in the week, Ocasio-Cortez said she felt disrespected by Pelosi's "explicit singling out of newly elected women of color." Thus began an increasingly mindnumbing intra-party war on race, with Pelosi evangelists coming to her rescue. Politico reports that Rep. Lacy Clay, a member of the Congressional Black Caucus, said Ocasio-Cortez used the "race card" against Pelosi. An anonymous senior House aide compared Ocasio-Cortez to a Goomba puppet from Mario Kart and said she's "only a woman of color when it's convenient."
Moderates were fuming over two-week-old tweets from Ocasio-Cortez's chief-of-staff, in which he compared centrist Democrats to pro-segregationist Democrats of yesteryear, suggesting the Democrats who eagerly accepted the Senate's border funding bill were complicit in the kind of racism that encourages disgraceful conditions for migrants in detention facilities and along the border. Pelosi hosted a closed-door meeting with House progressives, imploring them not to tweet their grievances and to respect the value of centrists Democrats. But perhaps that request should have been more broad, because the official House Democrats Twitter account tweeted an incredibly corny targetted attack at Ocasio-Cortez team two days after Pelosi laid out her "never tweet" agenda.
And in the midst of this in-fighting came an opening. President Trump added his two cents in a racist thread of tweets, encouraging the Freshman Four to go back to the "broken and crime-infested places from which they came." He added that he's certain Pelosi would handle travel arrangements. Trump resorted to the oldest form of racism around, but he also hijacked the shit pile that Democrats spent an entire week cultivating.
And now, the Freshman Four have become a common denominator for centrist Democrats and the crypto-fascist in the Oval Office. After Democrats and pundits spent days undermining a handful of young, hungry, and harmless progressive freshman congresswomen, the very same Democrats and pundits have found themselves going "wait, hold up" after a racist attack from the most predictable source.
They may not agree with the white nationalist ethos of Trump's tweet; in fact, the resulting discourse has been reduced to elementary level discussions about how racism is bad (no shit) and how Trump is a hypocrite because his wife is foreign-born (irrelevant). But underneath the blatantly racist tweet was the assertion that both Trump, Pelosi, and other congressional Democrats agree on: the Freshman Four don't know their place, that they're loud and wrong. That sums up the critiques directed at the Four this past week and throughout their short tenure; a tenure which has been riddled with condescension and depreciation from within the Democratic party and chauvinism and death threats outside of it.
Pelosi probably meant well in her tweet condemning Trump's comments, but it's a cold comfort when she and her allies have spent days dogpiling Ocasio-Cortez, Omar, Pressley, and Tlaib in the press and on Twitter. None of this has made her or moderate Democrats look like the adults in the room. Instead, they look like fellow instigators who are more comfortable kowtowing to hypothetical white swing voters than inspiring confidence in a new generation of Democratics.