Let me begin by saying, I adore Maya Rudolph. I watched Up All Night for her, I tuned in for Away We Go, Friends With Kids and The Way Way Back. I live for her "asshole" speech in Bridesmaids and just thinking about her impression of Beyoncé whispering with Prince on SNL makes me smile. She is one of my favorite contemporary comedians, and I was thrilled to learn of her NBC self-titled variety special, despite the channel's hit-or-miss track record with sketch shows these days. So what's this fan's verdict?
Variety shows are a bit of a lost art in today's reality show driven world, and while The Carol Burnett Show was delicious, the only place viewers seem to actually want to hear actors sing and dance is Glee or on all those singing and dancing competitions I loathe. When Maya opened the show with My Show, a song and dance number introducing her cast members Andy Samberg, Fred Armisen (when does this dude sleep?), Sean Hayes and Chris Parnell, I was apprehensive. The song, explaining her history and the show's premise, was cute, but I really wanted to laugh, like belly laugh, so I waited.
The first sketch was a Frozen 2 bit where Maya, flanked by Frozen actress Kristen Bell, pretended to hatch a sequel to the Disney hit with Rudolph as the lost sister who melted everything. I smiled, but it wasn't very funny. Maybe if I was a parent and my child had subjected me to hours of Frozen on end? Then there was a doctor sketch, where Hayes played a physician that merely repeated everything his patient, Samberg, said, along with Parnell, who played a nurse whose only verbal phrase was, "Oh, honey." It was OK.
G/O Media may get a commission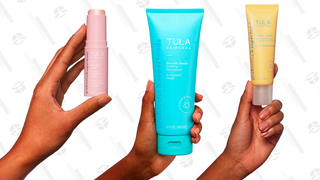 Ultimately, only two sketches really made me giggle and those were the "Dee's Nuts vs. Pam's Clams" number with Craig Robinson, Bell and Hayes along with "The Garmyns" featuring Armisen, Samberg and Bell. Everything else elicited only slight smiles or a light chuckle but I couldn't laugh out loud because the material just wasn't there.
If this show starred anyone else, I would've jumped ship after Frozen 2.
I'm clear that Monday's was just the first installment of The Maya Rudolph Show (which NBC is treating as a "special" as opposed to a weekly series) and I will be sure to tune in for the rest, because as I said, I love her. But I really hope someone at NBC reads this fan appeal and takes it back to the writer's room; please bring The Maya Rudolph Show into 2014. No more Saturday Night Fever references, I want "Veganville"-type shenanigans or comedic cookie fights of epic Bridesmaids proportions. Give me the funny because Maya is hilarious and so are her co-stars. It's nearly impossible for most of the cast not to be funny, so we're talking about material here.
Bring it NBC.
Sincerely,
A Maya Rudolph fan.