The Mary Tyler Moore show was the first television sitcom in America to portray a single working woman's lifestyle in a way that was not dreary or overly pitiful. That it dovetailed so perfectly the rise of the second wave feminist movement was partially kismet, but its impact can still be felt today, particularly from the beloved memories of women who watched it, obsessively, when it first aired.
Progress takes time, however, and upon its premiere episode in 1970, The Mary Tyler Moore Show was almost universally loathed by the television press. As Jennifer Keishin Armstrong wrote in her show history Mary and Lou and Rhoda and Ted, the morning-after reviews were a mess, and the writing staff and actors felt it. Time called it a "disaster," condescending to its cheery concept and disdainful of her supporting characters, who said they "do an injustice to even the worst of local TV news." The cast had taken photos of themselves crossing their eyes to send to disdainful critics, Armstrong writes, but once the pans actually began surfacing and they were copious, co-creator Allen Burns threw them in the trash.
As Armstrong chronicles, these early reviews both loathed the format of the show—which would eventually become the time-honored template of the contemporary situation comedy—and really loathed the context of single ladies doing their thing. TV Guide, for instance, called Mary "unmarried and getting a little desperate about it"; the St. Petersburg Times called her a "30-year-old spinster." A character that would have been a foil or a device in another show was suddenly the star of it, and she was not unhappy at all; furthermore, Mary Tyler Moore's pristine housewife in The Dick Van Dyke Show's Laura Petrie had been shattered forever. It must have been a little uncomfortable, at first, for all these poor men watching and reviewing (at cushy critic jobs women still have a hard time procuring nearly 40 years later).
When The New York Times finally ran a piece on The Mary Tyler Moore Show once it was renewed for a second season, the nose-held sentiment still seemed to proliferate. The paper's John J. O'Connor wrote a piece that ranged from middling to scathing, and while he admitted there was something funny about it—he actually described Moore's character as "a most agreeable bundle of leggy charm"—there was a modicum of dumbness that he ascribed to it which came off as just slightly more aligned with an intellectual/holier-than-thou viewpoint on liberal society than his viewpoint as a television critic:
The plots tend to be breezy, somewhat inane and, after three minutes, utterly predictable. It's all much like your average Broadway comedy. And of course there are the contemporary "swinging" touches, much in the way pre-marital sex and a certain eight-letter word were used to update the cliché format of the film Love Story.

By '74, though, the Times couldn't deny the show—it had 30 million viewers—and as such, its reception to it improved. In a truly fascinating piece from that year's April 7 edition, Tracy Johnston was dispatched to unravel the je ne sais quoi of The Mary Tyler Moore Show and Mary Tyler Moore, an attempt to dig into why both were so popular. Naturally, the answer was women, though CBS's then-Vice President of programming perhaps didn't know exactly why; he credited her appeal to being "beautiful without being threatening." And when Johnston asked him whether the feminist movement had anything to do with the show's popularity, he responded with a curt and decisive "No." Ha!
Despite that retort, Johnston's piece framed The Mary Tyler Moore Show as both a cultural reflection and parallel—she quotes a feminist sociology professor from California as saying "If I'm stoned, it's the only show that doesn't make me feel like committing suicide." And Moore's real-life persona reflected her character, as well, which elevated her status among feminists (even if she was a Republican) and, as the piece describes copiously, the men who drooled over her too. (Really: the Times piece cites a New Yorker cartoon depicting a man watching The Mary Tyler Moore Show and drooling.) She was independent and charming, but she also appealed to a certain Middle America whose nuclear-family values were being upended by change at the time, as though Laura Petrie had showed up in disguise to guide them into the future. (Moore herself was ideologically challenging. In 2009, she called herself a "libertarian centrist" and Fox News acolyte who was also a lifelong animal rights activist.) And her show was dreamed up by a room full of men when it dawned on them that a woman in her 30s could have a job and be single.
G/O Media may get a commission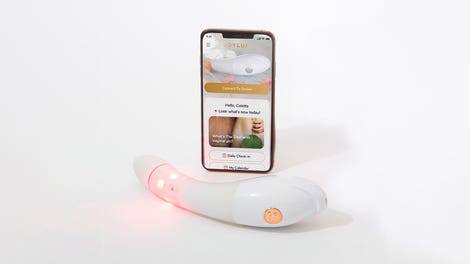 $50 Off
Joylux vFit Gold Device
By The Mary Tyler Moore Show's end in 1977, women were DIY'ing t-shirts that said "Oh god, what are we going to do without Mary?" according to the Times. And when it began re-running in the early 1980s via late-night syndication, it reinvigorated its fanbase and found a new audience—even at 3 a.m.
"They're like old friends who make you laugh all the time," says Debra Schildkraut, a Bayside, Queens, torch singer who sets her alarm clock for the event "just in case I fall asleep early."

Mrs. Schildkraut watched the original run and says she "doesn't like people who don't like Mary." Fortunately her husband, Victor, a psychologist, does, although his practice necessitates his turning in earlier than his wife. Does he mind her late hours in Mary Land?

"Comedy never ruined anyone's marriage," Dr. Schildkraut says philosophically.
As the show's theme song became a mantra for a generation of young, hopeful feminists, so too did its premise of all the single ladies. In the New York Times's obituary for Moore, who died Wednesday at the age of 80, former TV critic Virginia Heffernan wrote, "Many nonactresses said that Ms. Moore—by playing a working single woman with such compassion and brio—inspired their performances in real life." As the tune goes, we're gonna make it after all.