In the past decade the median bra size in America increased from 36C to 36DD. And so manufacturers are designing attractive bras in bigger sizes — but how to label these big bras? Obviously, larger women can't be labeled "normal."
WWD reports that between 2008 and 2009 the number of bras sold in sizes DD and up rose 7.4 percent to 158.8 million units, and dozens of bra manufactures are responding by cranking out lines of larger bras with better "fashion, color, innovation and styling" — i.e., not those nasty grandma bras.
WWD attributes the jump to the obesity epidemic and Oprah Winfrey doing a "Bra Fit Interventions" show last year. According to WWD, "Celebrities such as Mo'Nique, this year's Oscar winner for best supporting actress, and her Precious co-star, Gabourey Sidibe, have raised the profile of full-figure women," and the "combination of girth and glitz in the overall full-figure segment... is adding a level of acceptance to what is considered attractive, fashionable and sexy."
We know that the obesity epidemic has gradually worsened over the years, but that doesn't explain the sudden 7.7 percent increase in sales last year. Instead we're supposed to believe that after numerous reports on finding the right bra size, Oprah mentioned it once and women bought new bras en masse. Or maybe two "plus-size" actresses finally made it to the Oscars, so larger women are now allowed to buy attractive underwear, just like regular people. Thanks Gabby and Mo'Nique!
There's a lot of information in the WWD article on how to categorize these newfangled bras, and the women who wear them. I thought that since I wear a 36DD (the new median) or 38DD that I was finally wearing an "average-size" bra, but WWD set me straight:
Manufacturers and retailers are careful how they market and merchandise full-figure products because of the sensitive nature of how the message is perceived among large-size customers who want the same colors, embellishments and styles as average-size women. As a result, the category in intimates is often a confusing mix of terms such as full-figure, full-busted, full-fitted, DD plus, or plus size.
G/O Media may get a commission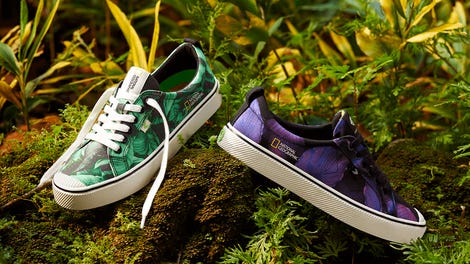 New New New
Cariuma + National Geographic
Well, it's nice to know manufacturers and retailers are being sensitive about how they inform me my median-size bra is a giant and freakish. But there are even more measurements to categorize my abnormal figure:
Band size defines a clear distinction between a busty woman with an average figure who wears a 28-to-34-inch band but is a G cup, and a plus-size woman who may not have large breasts, but whose band size ranges from 36 and larger and is a C or D cup.
Yes, it's important that we separate the woman with a 28-inch band and G cups from the woman who wears a 36C, because one may be a hot porn star with implants, while the other is just a fatty.
Whatever they wind up calling them, I'm still excited about the prospect of less hideous bras in larger sizes. Even as someone who is only on the cusp of being "full-busted," finding a bra in the right size that doesn't involve itchy fabric, ugly designs and five hooks has always been nearly impossible.
If I do find a DD at Victoria's Secret it usually doesn't fit, perhaps because bra sizes are being inflated and "DD is becoming the new C." My friends who — thanks to Victoria's inflated-boob advertising — feel their B-cup is inadequate have no sympathy for my plight, despite my insistence that the company is surprisingly unkind to the big-breasted. But it's true; the only decent bras I've found in a true DD are at Lane Bryant — I got a tip from a "plus-size" friend, who wears a dress size 8 but a 36DD bra.
If this shift among bra manufacturers really does allow me to give up my never-ending quest for semi-attractive 36DD bras, I'll accept whatever ridiculous term they create for them. It's probably too much to ask that they just call them "bras," since the clothing industry still insists on using the label "plus-size." At least now the president of Frederick's of Hollywood understands, "Women want to look sexy no matter what size they are." Maybe she can explain that to the rest of the clothing industry.
Bigger Bra Sizes Bolster Sales [WWD]
Earlier: The Tender Trap: Not Everyone Wants A Bigger Bra Size
Squidoo." />