Everyone who cares about showcasing funny women knows there's a lot riding on the success of Bridesmaids, opening this weekend. Director Paul Feig has said, "I kept thinking, 'If I blow this, I'm going to ruin it for these women for years and years.'"
There are even impromptu campaigns by women in the industry exhorting people to give Bridesmaids a good box office showing. But judging from the press and marketing for the movie, the belief is that women can't do it alone. Dudes have to like it too.
Getting them to see the movie means butting up against the widespread Hollywood belief that, in the words of The New Yorker's Tad Friend, "male moviegoers would rather prep for a colonoscopy that experience a woman's point of view, particularly if that woman drinks or swears or has a great job or an orgasm." By contrast, it's believed that women will go with men to movies that singlehandedly target guys.
G/O Media may get a commission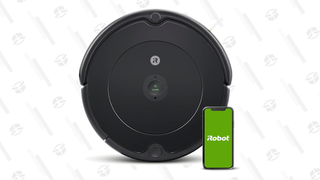 35% Off Black Friday Deal
iRobot Roomba 694 Robot Vacuum
Short of winning that battle, here are some of the ways the folks behind Bridesmaids have had to bend over backwards to assure men that viewing a funny movie that happens to star women won't involve castration.
Making Fun Of The Title.
Feig has also said, "A lot of angst went into whether it should be called 'Bridesmaids,'" and that he wanted it to be called Single instead. Star Kristen Wiig joked, "To get guys in, we were just going to call it Naked Boobs and Guns, but we didn't have either one of those things, so we changed it."
Saying It's Not A Chick Flick.
And saying it again.
And again. Did they mention it has poop in it?
Saying It's A Chick Flick, But It Doesn't Suck Like Other Girl Movies Do.
Including in the poster, which also deliberately poses the women looking tough and girl-gang-like.
And in the tweets Judd Apatow has retweeted, including this one from a woman.
Saying It's A Movie "For Everyone."
Surely even heterosexual men will agree that everything sounds better coming out of Jon Hamm's mouth, including, "It's not a movie for women, it's a movie for everyone." Co-writer Annie Mumolo also insisted, "We didn't set out to target any demographic. When we started, we just wanted to write a story showing women being funny the way we know them to be funny." Confusing! Can you put that in a quadrant?
Naked Begging.
Hey, why not? As long as it's guys doing the begging.
Earlier: The Stakes Are High For The Funny Girl Movie
Hollywood Insiders Admit That Hollywood Hates Women