A unionized strip club run by its own crew of dancers garbed a little more alternatively than your average stripper might sound like a dream, but until this weekend, it was alive in San Francisco and it was called The Lusty Lady.
Ana Gasteyer Satirizes the Girl Boss in 'American Auto'
The Lusty Lady was originally two clubs, one in Seattle (which closed in 2010) and one in San Francisco. It was the San Francisco location that gained true notoriety, for unionizing in 1997, a move the New York Times said at the time was "sure to hearten some women's rights advocates and anger others" and which was chronicled in the 2000 documentary Live Girls Unite (unfortunately not available on Netflix Instant any longer). In 2003, the dancers turned the club into a co-op, buying it from its original owners. After some tense years, the club's lease was not renewed by its landlord this year, who some believe is trying to monopolize the sex club industry in the city.
At The Atlantic, writer Lily Burana wrote a great essay about her time stripping at the club, explaining what a unique place it was:
When the opaque window slid up, I was oddly charmed—four nude girls behind the glass were twirling in this tiny mirrored room, like some pervert's idea of a music box. Some of them had tattoos, one of them had piercings, none of them were tan. It seemed, as these things go, almost demure—as if Riot Grrls had infiltrated Madonna's "Open Your Heart" video. Fairly confident I wasn't destined to run for public office, and therefore fairly insulated from future scandal, I decided to give it a whirl. As I waited to audition in the manager's office, I inspected the schedule, noting that the dancers' stage names fell well outside the "Brandy/Candy" norm. You could call yourself Jinxxx or Quasar or Cruella or Petite Fromage or Amnesia or Lil' Chaos or Theremin Blue Thunder—no one would mind.
G/O Media may get a commission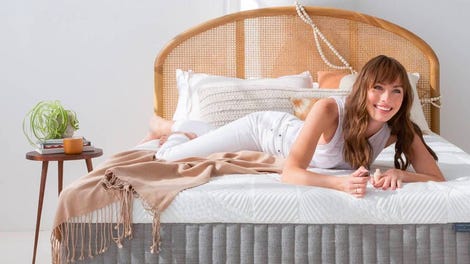 Sleep Sale
Sleep Sale - Brentwood Home
She notes that the unique atmosphere of The Lusty Lady meant that customers weren't allowed to tell the women how to perform or what they wanted to say:
If this seems an insignificant detail, it is anything but. That the terms of interaction were non-negotiable underscored for many dancers a valuable aspect of sexual self-awareness: This is mine. In private or shown for hire, clothed or bare, it's mine. After a few weeks at the Lusty, when I walked down the street, I felt less threatened by men talking shit to me. My posture changed. If it wasn't liberating, it was certainly uplifting.
The Lusty Lady closed its doors early in the morning on Labor Day, and a slew of San Franciscans came out to celebrate its long history in a very festive fashion:
In a explanation of the club's history on their website, the women wrote:
We have many different hopes and dreams, depending on who you talk to...Some of us hope to last another 30 years and some hope we last at least until the end of this one. Some of us even dream of helping other businesses to do what we have done, only maybe a little more smoothly. All of us hope to make the Lusty Lady Theater the most triumphant peep show on Earth. And we hope to see you here soon.
Image via Thomas Hawk/Flickr