Miss America requires its contestants to be legally single. But what about the married beauty queen wannabes—who no longer qualify for the big leagues, but still want to wear the sash and crown?
Ana Gasteyer Satirizes the Girl Boss in 'American Auto'
Never fear: Mrs. America is here. The Mrs. America pageant, which has existed in one form or another for over 75 years, offers married women the chance to compete for cash, prizes, vacations, and the honor of representing America's (straight) married women for a year on the national stage. Over its fragmented, strange history, the pageant has weathered the fall of live theatre and the rise of television, women's rights as a recognized political topic and changes in the institution of marriage itself. It's taken many turns to end up fairly close to where it started: an event that puts the nation's invisible laborers in the spotlight, recognizing "America's greatest natural resource—the contemporary married woman."
Dr. Sarah Banet-Weiser, author of The Most Beautiful Girl in the World: Beauty Pageants and National Identity, told me that "there are nationalist rituals for men in the U.S. that symbolize a quintessential American man. The first is the military, and sports. There's not a similar sort of nationalist ritual for women in the U.S."—except for beauty pageants. A reported 2.5 million adult women compete in 100,000 pageants across America every year (and of course, as documented by Toddlers and Tiaras, there are pageants for kids, too—even nonverbal infants). With a handful of exceptions, Mrs. America chief among them, pageants skew very young; their emphasis on conventional beauty is so strong that entrants tend to be "it's a scholarship contest!" age. But beauty pageants are as standardized as any good ritual; despite their superficial differences, they tend to be in many ways the same.
Mrs. America began in the summer of 1938, when public relations man Burt Nevins was looking for a novel way to keep crowds on the boardwalk of New Jersey's Palisades Amusement Park boardwalk after the summer died down. To get there, he copied an existing idea: the Miss America pageant, which had been taking place in Atlantic City for 17 years already. And so, he
G/O Media may get a commission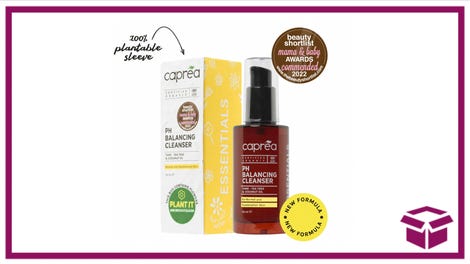 Save $9
47% Off Essential Organic PH Cleanser
Sustainable beauty
Caprea's Essential Organic PH Cleanser is just $10 with promo code TEN. Normally $19, this foaming face wash is crafted with organic Monoi oil. It's meant to target the production of oil secretion while protecting your skin against air pollution. Normally $19, you can save big on this richly-lathering face wash while supporting a brand that keeps the environment top of mind.
created Mrs. America. It was a novelty act (Nevins called it a "publicity stunt" in a 1950 interview in the New Yorker), but it filled a gap: around the same time, the Miss America pageant had determined that its contestants could not be married or divorced, which allowed Nevins to promote his pageant as the big exception.

The Mrs. America pageant had a similar format to Miss America: contestants paraded on the boardwalk for onlookers, and were judged on their looks and personality. The winner that first year was Mrs. Margaret Chamberlain, a former model. LIFE magazine placed a photo of Mrs. Chamberlain in its "People" section that week, with the caption: "Only entrance requirement: a marriage license."
The pageant fizzled a bit during World War II, but became a more established entity in 1946, when Nevins created Mrs. America Inc., and the crowning of Mrs. America 1946, Mrs. Janice Pollock of Columbus, Ohio, got the attention of the New York Times.
A photo of Mrs. Pollock and her family ran in the paper under the headline "Mrs. America and the family she doesn't want to leave." The wording was accurate: Mrs. Pollock abdicated her crown because she did not want to leave her family for the six-month tour of the country included in her reward. (Another version of the story, written by Dr. Nogin Chung, has Mrs. Pollock abdicating because her husband didn't want her to go.) So the runner-up, Mrs. Freda Acker of South Carolina, was granted the title instead.
In the next couple of years, Mrs. America continued to make headlines: less than a year after winning the crown in 1949, Mrs. Frances Cloyd got a divorce that was covered by the New York Times. Also in the Times was an article about 1952's winner, Mrs. Evelyn Joyce Schenk, who was so surprised upon winning that she fainted onstage and had to be revived before collecting her $10,000 prize.
In 1954, the pageant moved to Ellinor Village, Florida, a family resort northwest of Orlando. The traditional boardwalk pageant had been theatrical and slightly seedy—in 1953, Billboard magazine called the pageant "a cheesecake parade"—but the Mrs. America pageant in Florida was decidedly tamer. Nevins had decided that, instead of a beauty pageant that simply featured married women, Mrs. America would become a pageant that celebrated homemaking. The fairly straightforward catwalk routines would be replaced by contests of household skills like ironing, cooking, baking, sewing, and cleaning.
The beauty element was still important, of course, but not integral to winning. Nevins was clear in his reassessment of the judging categories: he wanted Mrs. America to be something of a domestic talent show, and beauty was just a bonus. Nevins also started taking the "America" part of the pageant more seriously, inviting contestants from around the country (instead of just from the immediate vicinity, as he had done in New Jersey) to bring their families to the contest, set up households in small beach cottages, and participate in a week-long series of challenges as part of the pageant.
At the 1954 pageant, the women paraded (still beautiful, of course) against the backdrop of the ocean, frolicking in the sun with their husbands and children—the perfect picture of postwar affluence and carefree living. The cottages were outfitted with the latest domestic appliances, and judges would drop in on the families unannounced to inspect their cleanliness levels, so the women were constantly cleaning and organizing outside of the scheduled events.
The popularity of Mrs. America in the 1950s and early 1960s was an important part of the government and corporate encouragement of nuclear family units, women's domesticity, and a rigid division of labor. This was perfect timing for Nevins; the pageant was never more in line with American values than in the 1950s, a period that celebrated conformity, consumerism, and traditionalism. The Leave it to Beaver model of a nuclear family with a male breadwinner, a female homemaker, children, and (for white people) a suburban home with all the trappings of modern life, was held up as an aspirational image in advertising, political rhetoric, and fiction. Mrs. America made a great fit.
Perhaps the peak of the pageant's relevance came in 1955, when its organizers published a book, Mrs. America's Homemaker's Guide, "written" by Mrs. America herself, Mrs. Wanda Jennings of Missouri. The Homemaker's Guide was a housekeeping tome: 300 pages of advice and instructions on subjects like weather-stripping a house, applying rouge, building a tool kit for minor repairs ("Is there any reason why we can't be clever with a pair of pliers, a small wrench, or a roll of wire?"), and cooking low-calorie meals. The book also invited women across the country to enter the pageant themselves, outlining some of the contest's rules and recommendations: "The Mrs. America contest is a test of HOMEMAKING ability... cooking, sewing, housecleaning. It is NOT a beauty contest."
In other areas of the book, Mrs. America writes about the importance of housekeeping over looks in the pageant's judging process, making it seem as if the pageant was less superficial than everyday life:
"As you know, the judges considered homemaking skills most important. Beauty and attractiveness counted for only about 10% of the points awarded to each contestant. But in everyday life, your appearance can be a much bigger factor toward making a happy home life. To stay young, to please your husband, and to feel well, turn the page."
One of the most important parts of the Homemaker's Guide was its notes on housekeeping as a career, which echoed other advertising and promotional literature that called on women to treat their new suburban lives as seriously as they treated their wartime jobs.
"If your husband is in business, he may have 'efficiency experts' visit his office or factory. I consider homemaking a 'business' and a career to be proud of. And we, too, can do things the efficient way!"
Housewifery, according to Mrs. America's organizers, could be considered as a career that required constant development, learning, and expertise to improve, and Mrs. America offered all of this to its contestants. It was regressive in its presentation of how a woman should behave; nonetheless, it was a rare example of women's unpaid, at-home work being rewarded.
Unlike their counterparts around the country who got no respect or compensation for keeping their households running in the 1950s, the contestants of Mrs. America were presented as the highest achievers in their field. They won travel vouchers, hotel stays, products, and, of course, money, for these achievements, and as such were the few women whose household work was rewarded as men's work was at the time. Nevins and his fellow organizers weren't espousing the rhetoric of The Second Sex (which was published in 1952), or The Feminine Mystique (released in 1963), but in their promotion of housework as a task worth rewarding, Mrs. America was, in some way, acknowledging that it was work at all.
The Mrs. America pageant continued to be held in Ellinor Village into the 1960s. While the pageant's brand was entrenched by then, social changes necessitated something of an update. It wasn't enough to just show the women using new ovens and dishwashers, in full skirts, adhering to the wishes of their husbands and popping out kids before the age of 30. By the time Nevins died in 1966, the Pill was on drugstore shelves, consciousness-raising groups were forming in the suburbs, and marriage rates were on the decline.
And of course, this was the era of civil rights. In 1968, Mrs. Kay Dunham, one of the first black women to compete in the pageant, was the subject of a New York Times profile, in which she said: "I got into this thing because I felt a responsibility to my race... it shows young black girls that they can win beauty contests, too." Mrs. Dunham didn't shy away from discussing hard political issues in the article, either, saying: "I'm becoming more militant... but militant in my definition is one who recognizes the Afro-American heritage, is aware of what is going on in the black community, and wants to stay in the community and reshape and remold it." Change was showing up everywhere, and sharply: this was the the time period when Miss America was subjected to the famous "bra-burning" protests.
Mrs. America stopped running in its original form after the 1968 pageant, due to Nevins's death, rumors of incompetence among pageant organizers after sponsorship issues, and no clear direction about where the pageant should focus itself, given steadily declining marriage rates and changing attitudes around the value of marriage in general.
When it re-emerged in 1977 under the leadership of David Marmel, Mrs. America was a different pageant. Gone were the kitschy competitions and the focus on housework as a defining characteristic of the contestants' talents. It was back to a Miss America clone: celebrity judges (who, in 1977, included Olympian Jesse Owens), evening gown walks, swimsuits, personal interviews, a personality component, and a talent event.
In the spirit of the pageant's new direction, Ruth Johnson, a former actress from California was crowned Mrs. America in 1977. In a 1983 AP article, a spokesman for the pageant stated that the pageant's new mission was to show "you can be beautiful and still be married." Emphasizing this point, Marmel told the Los Angeles Times in 1985 that the goal of the pageant "is to recognize the single most discriminated against person in the history of international beauty competition: the married woman."
The adaptation was necessary to survive. Banet-Weiser points out that pageants are "dependent on money and advertising, so they have to keep up with the times and make these gestures towards these new identity markers for women that go beyond 'married women' and 'single women.'" And yet, the '50s model lingers: the pageant website highlights "family values" as a foundation of its mission. "[Pageant organizers] want to maintain a particular message about the ideal American woman," Banet-Weiser says, "and that ideal is very conservative and conventional."
Since 1977, the pageant has enjoyed a steady run in Las Vegas, and has bounced around cable channels and online streaming channels for its broadcasts, now often hosted by Brady Bunch mom Florence Henderson. It's also experienced its fair share of negative press. In 1992, Mrs. Jill Scott of Arizona admitted that she had gotten divorced halfway through her reign as Mrs. America, saying she felt guilty for pretending to appear happy in her marriage when she won the crown. On February 7 1992, AP reported that Mrs. Scott "would advise young married women to avoid the pitfall of marital dependency" after she faced high debts and a lack of workplace skills following the end of her marriage. Slate advice columnist Emily Yoffe participated in a preliminary competition for Mrs. America in 2004, detailing her experience trying to feel comfortable in butt glue, a swimsuit, or an evening gown, and most recently, the pageant was in the news for Marmel's decision to hold a joint Mrs. America-Mrs. Russia pageant in Crimea in 2014 amid political tensions with Ukraine. Of course, Mrs. America hasn't escaped the reality TV treatment either, with Bravo's Game of Crowns, a short-lived 2014 show that followed six potential contestants from New England as they prepared for various stages of the pageant.
So what happens to Mrs. America when marriage is no longer a defining feature of a woman's life? Today, Mrs. America's niche status offers contestants publicity without turning them into media spectacles (like the contestants on Miss USA and Miss America so often are). The pageant has also begun to focus more on the contestants' work outside the home. In an email, the pageant's 2014 winner, Oklahoma's Michelle Evans, said that competing in Mrs. America was instrumental in improving her public speaking skills, especially as she started a statewide campaign to raise awareness about prescription drug abuse. Similarly, 2014's Mrs. New York Jennifer Lahr was a pageant newbie, deciding to enter the competition to "give [herself] a platform" to promote the importance of volunteering. Elsewhere in the Mrs. universe, 2015's Mrs. Universe, Ashley Callingbull-Burnham, an Aboriginal Canadian woman, competed on a platform of ending domestic violence, and has remained vocal about politics and Aboriginal issues upon returning to Canada.
Historically, Mrs. America was important as an example of a literal and figurative stage for housewives to display their skills and gain recognition and monetary rewards for them, when they could never do so otherwise. In some ways, it's revolutionary that this conservative facet of American society would celebrate the work of a wife, which remains largely invisible and unrewarded to this day. Today, it's hard to know what Mrs. America might look like as more women marry later, or more than once, or not at all. But even if Mrs. America ceases to exist, Banet-Weiser says that pageants in general are too embedded in American culture to ever truly vanish. "You can compete with beautiful women for your whole life," she says, citing children's pageants and seniors' pageants as examples. "Mrs. America at least seems like an attempt to valorize the older woman—maybe not older in age, but older in life stage. It's trying to address that tension and say, 'We can look as good as the single people. too.'"
Manisha Aggarwal-Schifellite is a writer and editor based in Toronto. She has written for The Awl, The Hairpin, Lucky Peach, and more.
Top image via YouTube/screenshot; other images via Life, the New York Times, the Mrs. America Homemaker's Guide, screenshot