In addition to being the most ridiculous story in recent memory, the Rachel Dolezal saga is also laughably confusing. Almost every piece of new information we receive makes the story even more baffling than it was previously.
We may never find the answers we're looking for under the piles of delusion, lies and general idiocy, but dammit, we can try. Here is a look at the life and times of Rachel Dolezal: the white woman who dared to be black.
---
August 1831: Nat Turner's Revolt

February 3, 1870: The Fifteenth Amendment to the United States Constitution is ratified, barring states from prohibiting people from voting on the basis of race.
1963: The Reverend Martin Luther King, Jr. and other civil rights leaders embark on The Birmingham Campaign.
October 1970: Civil rights activist Professor Angela Davis is arrested after spending months on the FBI's Ten Most Wanted List. Upon her capture, President Richard Nixon calls her "a dangerous terrorist."
G/O Media may get a commission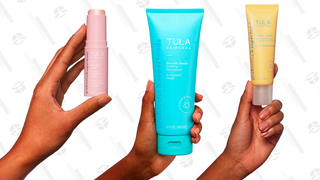 November 12, 1977: Rachel Dolezal is born a white baby to Ruthanne and Larry Dolezal. She grows up in Troy, Montana.
June 28, 1978: The Supreme Court case Regents of the University of California v. Bakke upholds the constitutionality of affirmative action.
November 30, 1982: Michael Jackson's Thriller is released. It is widely considered one of the best pop albums of all time.
1993-1995: Rachel's white parents adopt four black children, Ezra, Izaiah, Esther and Zachariah.
1995: Rachel graduates from high school and goes on to attend Belhaven College in Jackson, Mississippi. During college Rachel becomes involved with a "racial reconciliation ministry," according to her father.
October 16, 1995: Organized by Minister Louis Farrakhan, The Million Man March takes place in Washington DC.
1998: Rachel becomes a "freelance hair artist," specializing in black hairstyles, according to Facebook.
October 5, 1998: Pulitzer Prize winner Toni Morrison refers to Bill Clinton as "our first black President" in The New Yorker.
May 21, 2000: Just seven months after the premiere of The Best Man, Rachel and Kevin Moore—who "identifies" "as" "a" "real" "black" "man"—marry in Jackson, MS.
Around 2000: Rachel Moore enrolls in Howard University, a historically black institution. While at Howard, she pursues a masters in fine arts. Her thesis advisor describes her as "a blue-eyed blond woman," while she attended Howard.
March 24, 2002: Halle Berry becomes the first African American woman to win an Oscar for Best Actress in a leading role.
2002: Rachel Moore sues Howard University for discriminating against her because she is white. Upon receiving the suit, the entirety of Howard University rolls their eyes and mutters, white people.*
Around 2002: Kevin and Rachel's first and only child, Franklin, is born.
2004: Rachel Moore files for divorce from her husband.
February 2004: Rachel's lawsuit against Howard University is dismissed.
November 2004: Barack Obama is elected United States Senator from Illinois.
2005: Kevin Moore accuses Rachel Dolezal of making "strange" comments to their son.
"He mentioned that you stated something ... about 'handcuffs' and something about 'me never seeing him again,'" Moore wrote. "He also stated that you said I have 'monsters' in my house."
August 2005: Rachel begins teaching art classes at North Idaho College.
2006-2007: Ruthanne and Larry Dolezal claim that around this time, their daughter begins to "disguise herself" as a black woman.
2006: According to an interview with The Easterner, Rachel is diagnosed with cervical cancer and undergoes chemotherapy.
During chemotherapy, she decided to keep her incredibly long, blonde dreadlocks she had had and still puts them on today. She was considered cured in 2008.
April 2007: White radio DJ Don Imus refers to Rutgers University's women's basketball team as "nappy headed ho's." He then blames the black community for inventing the word "nappy." His show is cancelled.
2007: Rachel Dolezal becomes a part-time instructor at Eastern Washington University teaching classes in the Africana Education Department.
2008: Rachel begins work as the director of the Human Rights Education Institute in Coeur d'Alene, Idaho. During her time in Coeur d'Alene, Rachel claims, in the same interview with The Easterner, that she and her son were victims of hate crimes by local white supremacy groups.
In Idaho, Doležal took on the role as director of the Human Rights Institute, where North Idaho white supremacy groups burglarized every home she and her son lived in. Doležal said she believes the white supremacy groups felt threatened by female power. According to Doležal, they hung nooses in her home, vandalized and stole from her property, directed death threats toward her along with threatening to kidnap Franklin while he was in the second grade.
January 20, 2009: Barack Obama is inaugurated as President of the United States of America.
2010: Rachel Dolezal's adopted brother Izaiah seeks emancipation from Ruthanne and Larry Dolezal and asks to live with his sister "in a multiracial household." Rachel is eventually appointed his legal guardian and raises him as her son.
2012: Rachel moves to Spokane, Washington. She reportedly tells her brother Ezra not to "blow her cover" as a black woman.

August 2, 2012: Gabby Douglas becomes the first African American woman to win gold in the women's gymnastics individual all-around at the Olympics.
2013: Rachel's biological brother Joshua Dolezal is charged with four felony counts of sex abuse of a minor. Ruthanne and Larry Dolezal claim that the allegations were orchestrated by Rachel in order to win custody of her younger brother, Izaiah.
November 11, 2013: Rachel Dolezal embraces her natural hair.
December 13, 2013: Beyoncé releases her surprise eponymous fifth studio album. It is a critical and commercial success.
January 6, 2014: The Pew Research center confirms the existence of "Black Twitter."
April 2014: In an application to the police ombudsman commission, Rachel Dolezal identifies herself as white, black and Native American. Spokane's Ethics Commission has been asked to explore whether or not she violated the city's ethics code.
August 9, 2014: Unarmed black teenager Michael Brown is shot and killed by Officer Darren Wilson in Ferguson, Missouri, spurring months intense protests and a newfound nationwide focus on police brutality against communities of color.
November 2014: Rachel Dolezal is elected president of the Spokane chapter of the NAACP.
June 11, 2015: The Spokesman-Review publishes their report claiming that Rachel Dolezal has been masquerading as a black woman.
June 12, 2015: Ruthanne and Larry Dolezal appear on HuffPost Live and continue to assert that their daughter is, indeed, white.
June 12, 2015: Eastern Washington University spokesman Brian Meany announces that Rachel Dolezal " is no longer employed by the university." Her position in the Africana Studies Program was on a "quarter-by-quarter basis."
June 15, 2015: Rachel steps down as president of the Spokane NAACP.
June 16, 2015: Rachel sits down for an interview with Matt Lauer and claims that she "identifies as black." MSNBC host Melissa Harris Perry asks her if she's a con artist. Rachel says she is not.
June 16, 2015: Rachel sits down for an interview with NBC News's Savannah Guthrie, during which she tells the anchor that there's "no biological proof" that her white parents are really her parents.
June 16, 2015: My brain collapses on itself.
*Unconfirmed, but strongly suspected.
---
Contact the author at kara.brown@jezebel.com .
Images of S. Chisholm and A. Davis via Wikimedia Commons; Dolezal photo via Dolezal family; Illustration by Jim Cooke.